Today's Political Headlines – 7 December 2017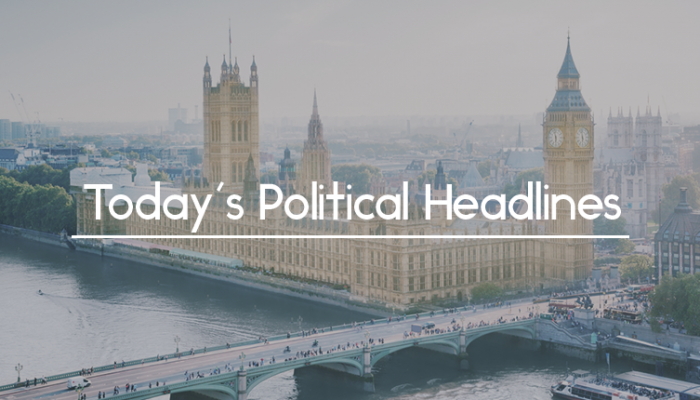 A round-up of the latest political headlines, including several Brexit issues, supporters of David Davis to oust May by Christmas and Hammond's remarks. 
Brexit: 48 hours to agree deal
According to The Guardian, the EU's chief Brexit negotiator, Michel Barnier, has told member states that the UK has just 48 hours to agree to a text on a potential deal, or negotiations will not move on to the next stage. A DUP source told The Sun that there would be no deal on the Irish border this week, saying that 'This is a battle of who blinks first, and we've cut off our eyelids.' The Daily Telegraph adds that European Commission President Jean-Claude Juncker has indicated his willingness to continue discussions into next week.
Brexit: Davis admits impact assessments don't exist
The Financial Times reports that David Davis has avoided being censured for alleged contempt of parliament by the Brexit select committee, after admitting that 'There's no sort of systemic impact assessment.' Critics have suggested that this contradicts statements made by him in the past. Liberal Democrat MP Wera Hobhouse said 'Whether it is through incompetence or insincerity, David Davis has been misleading parliament from the start.'
Brexit: Article 50 extension amendment attracts Conservative rebels' support
The Times says that as many as 24 Tory MPs are prepared to rebel against the Government next week, in support of an amendment to the EU Withdrawal Bill, allowing MPs to seek an extension to Article 50 negotiations if there is no satisfactory trade agreement by March 2019. Tory MP Anna Soubry and Labour MP Chukka Umunna have written an article for the paper supporting the amendment.
Supporters of David Davis plot to oust Theresa May 'by Christmas'
An exclusive in The Sun claims that supporters of David Davis are plotting to out Theresa May as Prime Minister. His ally Andrew Mitchell is organising drinks evenings with Davis and the new generation of Tory MPs, whilst an ally said that May will 'be gone by Christmas'.
Hammond causes a storm with remarks on defence, disability and Brexit
The Guardian reports that remarks made by Philip Hammond to the Treasury select committee have offended disabled groups, after he claimed that the UK's low productivity could be attributed to disabled people in the workforce. The Daily Telegraph reported that the Chancellor said that Cabinet members still have not been allowed to discuss the end state of Brexit. The Times adds that Hammond told the committee he'd welcome a chance to discuss the defence budget with new Defence Secretary Gavin Williamson once Williamson had got 'his head around the defence budget'.
Drug shortage causes patients to wait
The Times also reports that a shortage of drugs is causing patients with cancer and severe mental illness to go without essential medicines. The shortage has cost the NHS £180m in six months, with ministers now investigating fears that the market is being manipulated.
Labour Lords' chief whip to stand down over expenses claims
Steve Bassam, Labour's chief whip in the House of Lords is to stand down in early 2018, following questions about his expenses, The Guardian reports. He has offered to repay the claims in question, but insists that he has not breached parliamentary rules.
Gavin Williamson interviewed by the Mail
Defence Secretary Gavin Williamson has claimed that British citizens who fought for Islamic State should not be allowed to return to the country in an interview with the Daily Mail. He told the paper that 'Quite simply, my view is a dead terrorist can't cause any harm to Britain.'
Get Vuelio political services to help you.
https://www.vuelio.com/uk/wp-content/uploads/2017/11/Todays-Political-Headlines.png
430
760
Jake O'Neill
https://www.vuelio.com/uk/wp-content/uploads/2019/09/vuelio-logo.png
Jake O'Neill
2017-12-07 09:30:22
2017-12-07 09:30:22
Today's Political Headlines - 7 December 2017