Today's Political Headlines – 8 November 2017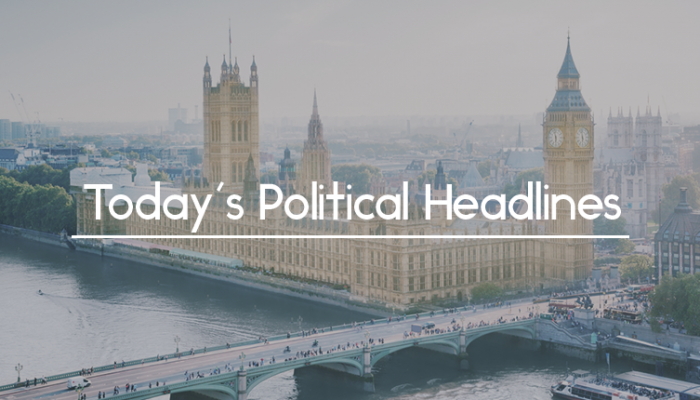 A round-up of the latest political headlines from the UK's media, including Priti Patel, Brexit, Paradise Papers and the NHS. 
Priti Patel returns to London amid further accusations
Priti Patel, the International Development Secretary, is flying back to London, following further revelations about unauthorised meetings in Israel. The Times reports that she breached Government protocol by visiting the Golan Heights, had further unauthorised meetings after returning, and that Lord Polak, 'a leading figure in a corporate lobbying group', sat in on meetings. The Daily Telegraph claims that Priti Patel departed for Uganda earlier than originally planned yesterday, missing questions in Parliament.
Brussels says that the UK needs to concede to secure trade talks, banks warn of job moves and Government handling of negotiations faces public disapproval
The Guardian has been told by Brussels officials that there is less than a month for the UK to make a concession to secure trade talks. The Financial Times says that a group of large financial institutions warned the US commerce secretary that slow progress with Brexit planning and an unstable government may force them to move thousands of jobs out of London. The Daily Telegraph has a poll showing that the Government's handling of Brexit negotiations has a 66% disapproval rating.
Paradise Papers revelations continue
The BBC and Guardian are continuing to publish revelations from the 'Paradise Papers'. Recent revelations include that the Prince of Wales has a 'conflict of interest' (according to Sir Alistair Graham, former chairman of the Committee on Standards in Public Life) between his investments and his environmental lobbying, and the use of the Isle of Man as a tax haven, with Margaret Hodge suggesting that Lewis Hamilton should not receive a knighthood. The Times has revelations about the use of tax havens by Labour councils.
NHS will need £24bn more funding by 2022
The Guardian reports that Jim Mackey, Chief Executive of NHS Improvement, told the NHS Providers conference that the NHS in England could need as much as £24.2 billion more funding than currently pledged by 2022, or it will have to scale back services. A report produced by the King's Fund found that 'there will be a significant and growing gap between the resources given to the NHS and the demands it faces'.
Corbyn aide suspended
The Mirror says that David Prescott, Jeremy Corbyn's aide and son of the former Deputy Prime Minister John Prescott has been suspended 'amid the sexual harassment crisis'. He has not commented on the allegation, and the Labour Party would not comment on this specific case.
Carl Sargeant, former Welsh minister, found dead
Carl Sargeant, former Welsh communities secretary was found dead yesterday, after being sacked from his job and suspended from the Labour party on Friday following accusations about his behaviour. The BBC reports that Welsh First Minister, Carwyn Jones, is facing criticism about his handling of the situation.
Johnson says words were 'taken out of context' in Iranian prisoner remarks
The BBC reports on Foreign Secretary Boris Johnson's said that his remarks about Nazanin Zagheri-Ratcliffe, currently imprisoned in Iran, were 'taken out of context' and that he intends to visit Iran to discuss the case before the end of the year. Her husband said that Johnson's clarification was a 'good thing'.
IFS warns of uncertainty surrounding Scottish income tax increases
According to The Daily Telegraph, research by the Institute for Fiscal Studies has found that Scottish First Minister Nicola Sturgeon's planned tax increases could backfire, with there being 'a lot of uncertainty' over whether more money would be raised. The Scottish Government said that it had considered 'a range of potential revenue impacts'.
Get in touch for more information about Vuelio political services. 
https://www.vuelio.com/uk/wp-content/uploads/2017/11/Todays-Political-Headlines.png
430
760
Thomas Stevenson
https://www.vuelio.com/uk/wp-content/uploads/2019/09/vuelio-logo.png
Thomas Stevenson
2017-11-08 10:09:12
2017-11-08 11:02:01
Today's Political Headlines - 8 November 2017