Today's Political Headlines – 9 November 2017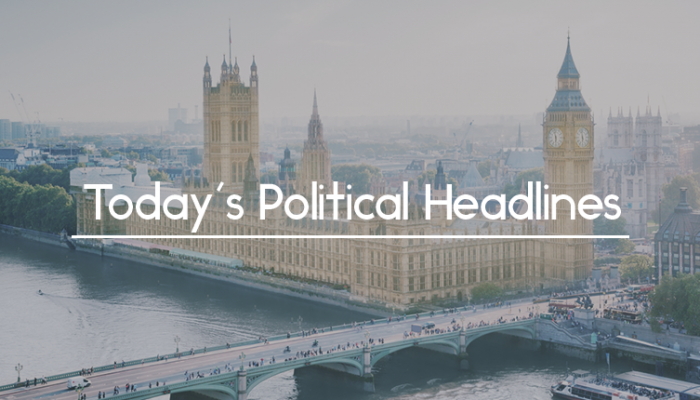 A round-up of the latest political headlines from the UK's media, including Priti Patel's resignation, a Brexit 'crisis', the sexual harassment scandal and Corbyn's call for sprinklers. 
Priti Patel resigns amid unauthorised meetings scandal
Yesterday evening Priti Patel resigned as International Development Secretary, having been summoned back to London by Theresa May following further revelations about her authorised meetings with Israeli officials. The BBC explains the scandal, whilst The Times says that friends of Patel believe that the story was leaked by the Foreign Office to kill off an attempt by her to change Government policy towards Israel. The Daily Telegraph reports that allies of Patel claim that she is 'livid' and 'could do some pretty hard damage' to the Government from the backbenches.
EU leaders fear Government instability could lead to Brexit crisis
The Times says that 'fears are growing in Brussels' that instability in the British Government could lead to a new Prime Minister or new elections, resulting in a Labour victory. Brussels is therefore planning for a disorderly 'no deal' exit or even for the UK to decide to stay in the EU. The Financial Times reports that the UK will offer more clarity on budget commitments if the EU simultaneously outlines a transition deal, but that the EU will only do this the UK makes 'sufficient process' on financial issues, quoting a diplomat who described this as a 'chicken and egg' dilemma.
Sexual harassment scandal: bar manager speaks out and Welsh First Minister criticised
Alice Bailey, a former bar manager at Parliament's Sports & Social Bar spoke to The Sun about her experiences of harassment by MPs whilst working at the bar. When she asked bosses about reporting one incident, in which an MP followed her onto her bus home, she was told that she would not be believed. Meanwhile, the Daily Mail reports calls for Welsh First Minister Carwyn Jones to resign as a result of his handling of allegations against Carl Sargeant, who was found dead earlier this week having been sacked from his cabinet post.
NHS Chief Executive warns of soaring waiting lists
The Guardian reports that Simon Stevens, Chief Executive of NHS England, has called for NHS England to be given at least £4 billion more in 2018-19, and for the Government to emulate German, French and Swedish levels of health spending. He warned that waiting lists could reach 5 million if action wasn't taken.
Corbyn calls for high rises to be fitted with sprinklers
Labour leader Jeremy Corbyn is to call for £1 billion to be set aside in the budget in order to fit all social housing blocks with sprinklers, starting with those over 30m (ten storeys), to prevent a repetition of the fire at Grenfell Tower, The Mirror says.
Gove backs ban of neonicotinoids
The Guardian reveals that Environment, Food and Rural Affairs Secretary Michael Gove is to back a proposed ban of neonicotinoids across the European Union. In an article for the paper, Gove writes that 'the risks neonicotinoids pose to our environment, particularly to the bees and other pollinators which play such a key part in our £100bn food industry, is greater than previously understood'.
Iranian prisoner's husband asks to accompany Boris on Iranian visit
The husband of the Iranian prisoner Nazanin Zaghari-Ratcliffe has told The Sun that he will ask if he can accompany Foreign Secretary Boris Johnson when he visits Iran. Richard Ratcliffe told the paper that he had not seen his wife for 18 months and that Johnson had repeatedly turned down requests to meet. The Foreign Office told the paper that Johnson would meet Ratcliffe and try to arrange a family reunion.
Leading US General warns against cuts to the UK's armed forces
Lieutenant-General Ben Hodges, who commands the US Army in Europe, has told the BBC that if the British armed forces 'got any smaller', the UK's position as a US ally and leading NATO member would be at risk, and the country would struggle to meet is global commitments.
Find out more about Vuelio political services. 
https://www.vuelio.com/uk/wp-content/uploads/2017/11/Todays-Political-Headlines.png
430
760
Jake O'Neill
https://www.vuelio.com/uk/wp-content/uploads/2019/09/vuelio-logo.png
Jake O'Neill
2017-11-09 10:21:02
2017-11-09 10:21:02
Today's Political Headlines - 9 November 2017