Travelling the world with blogging giants Two Monkeys Travel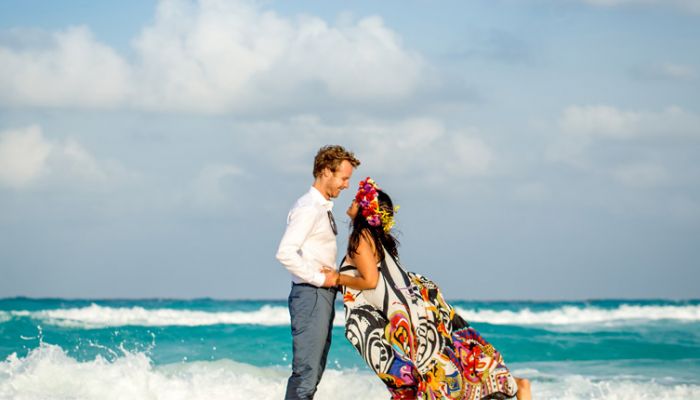 Two Monkeys Travel is one of the world's biggest travel blogs, created by Kach and Jonathan. Now leading a travel group, the pair have been sharing their incredible travel experiences for five years and have once again ranked in the Top 10 UK Travel Blogs. We caught up with the pair to find out what makes their travel style unique and talk about the joys (and perils) of sailing and the best way to get creative with brands.  
What makes your blog unique?
Maybe it's our constantly changing travel style. We started out as low-budget backpackers, became English teachers, then yoga teachers, before starting to experience luxury adventure travel and now we live on a sailboat and ride a motorbike around the Dominican Republic. We never truly know what we're going to do next!
How has travel blogging changed since you started?
There are certainly a lot more travel blogs out there, thousands in fact! The best change has been the travel industry's approach to blogs and social media; they have been increasingly recognising the benefits but also demanding more in terms of quality and new ideas. All of this pushes blogs to grow and improve if they want to have any success – the market is starting to drive quality control.
What's the community of travel blogs like to be part of?
Like any community it has its good and bad points, but most of the time it is a very positive one that shares ideas and experiences, partnering with each other on posts and campaigns to help each other make a go of it. Of course, if you hang around in a Facebook group for long enough you'll see some mud-slinging-gossip-drama going on, but that happens in any large group!
What's the best travel experience in the world?
For us it is still hitchhiking the Carretera Austral down the length of Chilean Patagonia. We have done a huge amount since then, but that place is just so beautifully raw that nothing has captured us in the same way since.
What's the best mode of transport you've ever experienced?
This is a tie between our sailboat, SV Empress, and motorbikes! The boat gives us the slow-paced freedom and peace on the water, while the motorbike lets us explore inland on our own time. I also get to let off some steam on the dirt tracks after being on a roly-poly boat for a few days!
What's your scariest experience while travelling?
A few hours into our first real sailing trip, crossing the Gulf Stream from Florida to the Bahamas, we got bashed around pretty badly and shredded the mainsail – all my fault, beginner's mistakes! The scary part was climbing inside to find the floor covered in cold salt water. It turned out to be a small problem I could fix in 30 seconds, but my first thought at the time was, 'We're in the middle of the ocean and we're sinking!' I think that one's going to stay with me.
What should PRs know about you?
We have worked on a wide variety of campaigns including consumer gadgets, luxury hotels, destination marketing, airlines, travel operators and car manufacturers, plus all the rest. The most important thing that we have learnt across all these campaigns is that as long as we start by understanding the goals of the client and how our own brand can satisfy those, then everything else will follow. That's when we can start getting creative and having fun!
What are the best campaigns you've worked on?
One of our favourites was Mazda USA, which was essentially a big road trip through the Californian desert to show the new range of cars off in incredible settings. We camped out around campfires by night and drove fast cars by day! The pinnacle though was working with Hurtigruten to promote their Expedition cruises to Antarctica on a 13-day cruise from Patagonia, across the Drake Passage to Antarctica. We've since worked with them again on a Norwegian coastal adventure!
Do bloggers need their own industry association?
Please no! Blogging is not its own industry; it's simply another form of online media and marketing. We are already covered and very well protected by very clear regulations and guidelines that are easy enough to follow. I'm sure someone must be planning to set one up though, some people just love making more work for the sake of it!
What other blogs do you read?
I can honestly say that we have not read another blog in at least a couple of years! If we're not working on our own then we're out doing something, or fixing something that broke on the boat (again), or sailing. Occasionally we sleep.
Kach, Jonathan and Two Monkeys Travel are all listed on the Vuelio Influencer Database along with thousands of other bloggers, vloggers, journalists and opportunities.
https://www.vuelio.com/uk/wp-content/uploads/2018/06/Two-Monkeys-Travel-1.jpg
430
760
Merryn Williams
https://www.vuelio.com/uk/wp-content/uploads/2023/09/vuelio-logo-200px.png
Merryn Williams
2018-06-29 10:49:17
2018-06-29 10:49:17
Travelling the world with blogging giants Two Monkeys Travel