Trends for December: What are the UK media writing about?
The end of the year is in sight now and while many will be starting to wind down for the holidays, journalists are still looking to get those final few pieces of Christmas content out or starting to plan features for the new year.
The ResponseSource Journalist Enquiry Service enjoyed its busiest month of the year in November and a 4% increase in enquiries compared to this time last year. Below we have insights and analysis on what journalists covered last month as well as features they may need contributions for in the final few weeks of 2022.
Sign up for the ResponseSource Journalist Enquiry Service to start receiving requests from the UK media straight to your inbox.
'Christmas' has been the top keyword on the enquiry service since September and it appeared in 17% of all enquiries last month. This has also been accompanied by two regular key phrases cropping up as well in 'Christmas gift guide' which was in over 4% of enquiries in November and 'advent calendar' which made up just over 1%.
Both the figures for the key phrases were down though compared to the trends we saw in October. PRs should still have an opportunity to get gift guides and advent calendars featured as many outlets and journalists will look to cover 'last minute deals' or even update or add to current gift guides.
The Women's Interest & Beauty category received the most enquiries in November as journalists looked for beauty products to review as well as the trends in hair and cosmetics ahead of the Christmas/party season. The Consumer Technology category increased by 6% and, like the Women's Interest and Beauty category, a lot of the requests were surrounding review products for Christmas. One enquiry summary was 'Looking for tech products for the home to include in a Christmas guide' while another wanted 'Christmas gift ideas for tech lovers'.
These Christmas requests have come from a wide variety of different media types with 32% from blogs, 29% from consumer media and 22% from national newspaper/current affairs. Within the consumer media category, titles sending out requests have included House Beautiful, Mother & Baby and Closer while national press requests have come from the likes of the I paper, HuffPost and the Metro.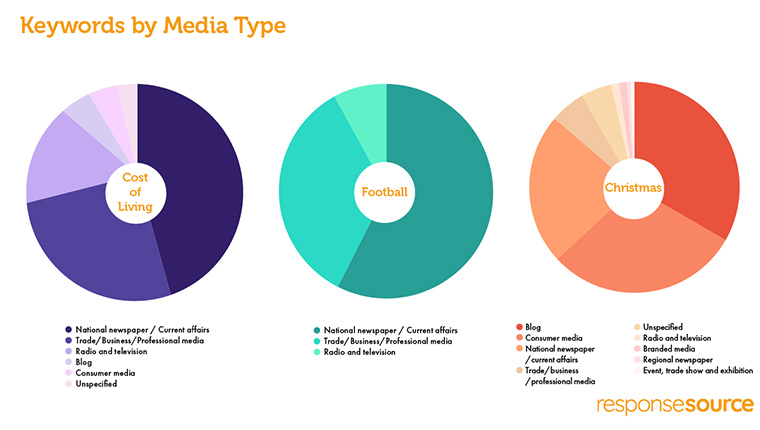 The caveat here is that a number of these requests containing the keyword 'Christmas' have also related to the cost-of-living crisis, as journalists look to offer advice and tips on how people can enjoy Christmas on a lower budget or where they can make savings. The key phrase 'cost of living' was seen in just over 2% of all enquiries and this in turn meant a large increase for the Personal Finance category as it went up 27%.
The breakdown for the cost-of-living requests sees the majority of them coming from national press/current affairs titles at 45%, followed by trade/business/professional media on 24% and then radio and television at 15%. This has included requests from journalists at the Telegraph, Daily Express, The Grocer and BBC News.
Away from the on-going trending topics of Christmas and the cost-of-living crisis, the new trend we saw appear in November was of journalists looking to cover the World Cup. However, they haven't necessarily been looking to cover what is going on on the pitch and are more interested in covering issues that have surrounded the tournament. This has meant that categories like Media and Marketing (31%) and Public Sector, Third Sector & Legal (26%) have grown substantially.
Enquiries have mainly come from national newspaper and current affairs outlets and have included looking for 'comment from a human right charity about Joe Lycett shredding £10,000 in a stand against Qatar'. Trade media have also released several requests, but looking instead at how the World Cup is helping the hospitality industry and the impact it is having on trade.
Overall, in November, the Journalist Enquiry Service was used mainly by staff journalists (58%) and freelance journalists (25%). Consumer media requests made up 37% of the service followed by national newspaper/current affairs on 27% and then trade/business/professional media at 19%. Journalists looked for a spokesperson or expert in 38% of all requests, with information for an article (27%) and review products (16%) making up the top three enquiry types. Eight of the top ten outlets using the service are from national press.
December should see Christmas and cost-of-living among the top key phrases again. This should in turn mean that the Personal Finance category performs well again as well as Women's Interest & Beauty. With journalists now planning features for January and beyond, categories like Health and Food & Drink should perform well, with both Dry January and Veganuary coming up. The Sport category could also see a spike if England continue to progress in the controversial but widely-covered World Cup.
https://www.vuelio.com/uk/wp-content/uploads/2022/12/What-journalists-want-from-PRs-in-December.jpg
430
760
Andrew Strutt
https://www.vuelio.com/uk/wp-content/uploads/2019/09/vuelio-logo.png
Andrew Strutt
2022-12-08 10:11:49
2022-12-08 17:11:32
Trends for December: What are the UK media writing about?