What are UK journalists writing about? Media trends for November
Did you know that it is just 47 days until Christmas? The festive season seems to have snuck up on us this year but journalists and media organisations have been planning their Christmas content since August. The ResponseSource Journalist Enquiry Service has seen a steady increase in festive-themed requests over the last few months – here is a deep dive into what exactly the UK media were researching in October and are writing about now.
Sign up for the ResponseSource Journalist Enquiry Service to start receiving requests from the UK media straight to your inbox.
The Journalist Enquiry Service enables the media to ask for exactly what they want from PRs, and around 17% of those submitting requests in October used the word 'Christmas'. Particularly popular phrases were 'Christmas gift guide', of which there were 7%, and 'advent calendars', which made up just over 2%. These demands are only going to increase throughout November and probably into the first few weeks of December too, giving ample opportunity to get products out to the press for review and write-ups.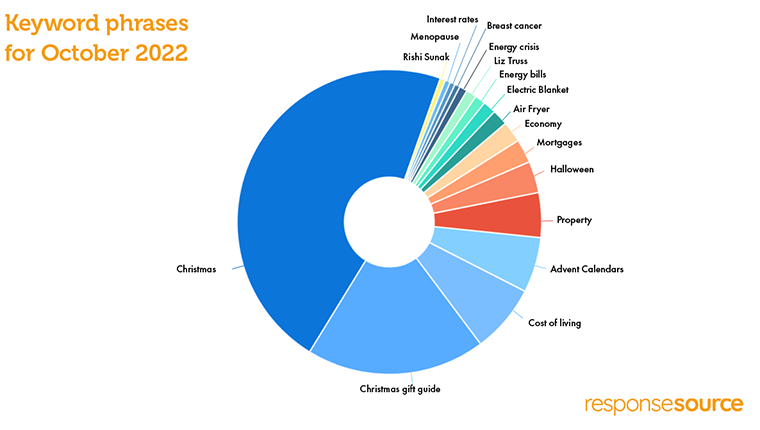 However, Christmas isn't just about the presents. Food and drink is a massive part of the day and as a category on the service it saw a 5.5% rise from last month and was the second most popular category of enquiry for journalists. There were numerous Christmas requests within this and enquiry summaries varied from 'Looking to hear about and sample the best non-alcoholic spirits for Christmas' to 'Looking to speak to a chef/foodie on what Christmas dinner items you can cook in the air fryer'.
The media is also finding different angles to cover the festive season including Christmas decorations. Consumer magazines banked plenty of responses from PRs with 'Best Christmas and 'Christmas hallway decorating ideas' requests.
The other trend around Christmas requests in October came from both sustainable and low-cost viewpoints due to the cost-of-living crisis.
This 'environmental angle got plenty of help for its journalist and the consumer title they write for:
'I'm looking for suggestions for having a greener Christmas – from the most eco-friendly tree, gift-wrap and decorations (and recycling them afterwards) to sustainable gifts that will really make a difference.'
While this high-profile national press website wanted to connect with those planning Christmas on a budget:
'Urgently seeking to speak to people who may be cutting back on Christmas this year amid cost-of-living crisis – whether that's having a smaller budget for presents, cutting back on buying new decorations, having a smaller Christmas dinner with family, etc.'
The cost-of-living angle has been a big focus for the last few months – around 3% of all requests from journalists used this key phrase. Breaking this down further, 44% of those enquiries have come from the National Newspaper/Current Affairs media type. This has included titles such as The I paper, the Daily Express, Metro and The Guardian.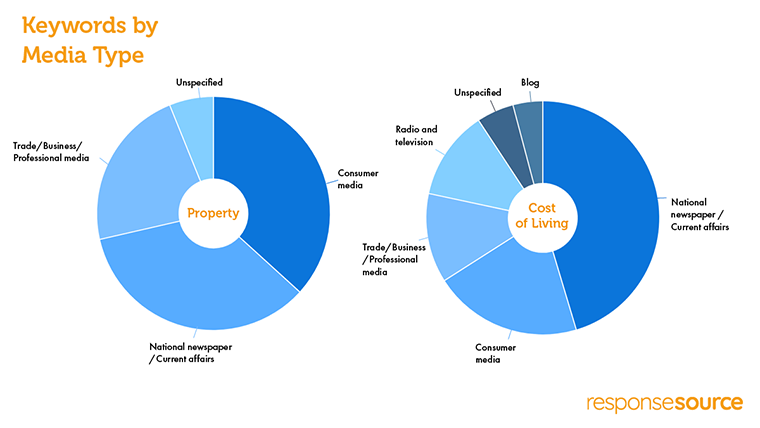 National press journalists have tended to focus more on getting experts and case studies to talk about issues such as the energy price cap, rising interest rates and the impact on certain industries such as the food sector. This has resulted in categories like Manufacturing, Engineering & Energy increasing by 23% compared to September's flurry of requests.
Cost-of-living reporting is big among journalists writing for consumer media – 20% of requests used this key phrase, sending enquiries for more information, advice and tips on how to save money or reduce costs in the home. The Home & Garden category has seen an increase (6%) in use by journalists since September.
Radio and television have also been busy covering the crisis and made up 12% of requests in October. These tended to be more for personal case studies and secure location/venues to film at. 5 News and ITV News were among those broadcasters.
'We are looking for a restaurant/takeaway affected by the cost-of-living crisis for a filming opportunity tomorrow. Especially interested in businesses which tend to use a lot of energy in the kitchen such as working with large ovens or fryers.'
The political instability in October had a major effect on the property market with mortgage rates rising rapidly – as a result, 2% of all journalist enquiries in October contained the keyword 'property'. It was an even spread among the media types, with 36% coming from Consumer Media, 34% from National Newspaper/Current Affairs and 22% from Trade/Business/Professional media. Requests varied from seeking mortgage/property experts to case studies of first-time buyers to information on whether house prices would crash next year.
The Journalist Enquiry Service as a whole for October was used predominately by Consumer Media (35%) followed by National Newspaper/Current Affairs (24%) and then Trade/Business/Professional Media (18%). Staff journalists make up just over a half of users, at 55%, with freelance journalists back at 24%. Enquiries are predominately for a Spokesperson or Expert (35%) with Information for an Article at 24%, Review Products just behind on 22% and then Personal Case Study on 10%. Six of the top ten outlets using the service are national press.
November is likely to see Christmas requests increase even further while the cost-of-living crisis continues to be topical and should prove popular again with the Manufacturing, Engineering & Energy category as well as Personal Finance and Business & Finance. Charity sector PRs could be in demand in the next few weeks with Movember and Alcohol Awareness Week from 15 to 21 November. The ResponseSource Journalist Enquiry Service team also expect to see a significant amount of requests around Black Friday (25 November) which should see a spike for the Retail & Fashion category.
Want to receive requests like these from journalists writing about your topics of interest and expertise? Check out these 6 reasons to stop searching #JournoRequest and start using the Journalist Enquiry Service.
https://www.vuelio.com/uk/wp-content/uploads/2022/11/Trends-in-November-on-ResponseSource.png
430
760
Andrew Strutt
https://www.vuelio.com/uk/wp-content/uploads/2019/09/vuelio-logo.png
Andrew Strutt
2022-11-08 10:45:00
2022-11-08 13:00:42
What are UK journalists writing about? Media trends for November