Will the food delivery sector survive the cost-of-living crisis?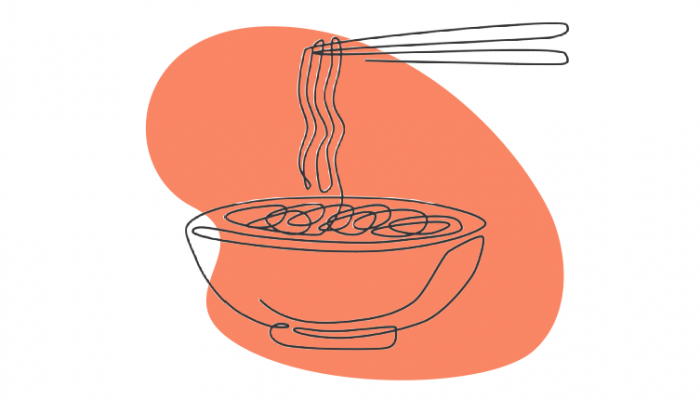 Between the pandemic and increase in energy prices, scarcity is a familiar feeling for the UK's independent pubs and restaurants. As a result of such consumer limitations, food delivery has been at a record-high across the country. The sector grew by £11.4bn in 2020 and was quoted as a 'winner' of the lockdown period by 162 national hospitality publications.
While the past few years have been fruitful for brands like Deliveroo and Ocado, a shift in consumer attitudes — created by the cost-of-living crisis — has sent sales storming in the other direction at a sudden and alarming rate; while providing much-needed restoration for the indoor dining sector.
Key takeaways
National media outlets have identified food deliveries (including takeout, supermarkets and veg boxes) as a major cost-of-living victim sector
Deliveroo's Buy Now Pay Later [BNPL] partnership with Klarna has been the top cost-of-living delivery sector story since August and received a 68% negative sentiment score, largely driven by Martin Lewis' highly syndicated criticism
Revenue losses, rider strikes and senior resignations were some of the highest sources of negative coverage affecting all major takeout brands
Deliveroo and Uber Eats briefly diluted negative coverage with philanthropic press releases
Both national news and business publications continue to discusa Just Eat's pathway to industry leadership
Towards the end of lockdown in 2021, more than 25% of consumers increased their delivery usage and nearly 75% planned to continue after restrictions were lifted. Fast-forward to April of this year and the complete opposite appears to be true — takeout has been deemed one of three major 'victim sectors' and 61% of consumers plan to cut their usage by December.
Alongside a significant drop in sales, the brand reputation of some of the UK's leading delivery services have also taken a hit. As the media reported on rider strikes across the country, regional news sources published specific case studies of workers saying they 'won't survive' and are 'begging' for tips.
UK delivery sector: Share of Voice (1 Aug – 19 Oct)
*Volume and sentiment data measures all regional/national  cost-of-living-related coverage on UK delivery brands 1 August – 19 October.
Approximately 2,686 articles across general news sources, food and business-related publications explored the biggest areas of impact due to 'down-trading' across the UK's food delivery sector. Of this volume, 42% explored major structural changes happening within specific brands.
Throughout this period, Deliveroo consistently held the strongest share of voice due to several high-reaching and controversial partnerships shared across print, online and broadcast media. An upsurge in rider strikes and its decision to leave the Netherlands after failing to compete with Just Eat followed closely behind. The strikes were also a prominent source of negative coverage for Just Eat and Uber Eats between 10 August and 9 October, but only Uber was mentioned in the headlines.
Almost all of Just Eat's coverage was negative due to the aforementioned protests, as well as significant losses – the most prominent being a 7% loss in orders throughout H1 2022 compared to the previous year. However, discussion around their 'clear path to profitability' was covered in 286 outlets between 1 Mar – 1 Aug and has picked up again since 19 October. While Uber Eats had almost the same volume of coverage, a tactical press release announcing its '£250k offer to 25 restaurants owned by people from minority backgrounds' made up 100% of positive coverage, peaking just one week after the brand was called 'diabolical' for worker conditions.
Case study: Deliveroo x Klarna partnership
*Case study data reflects all regional/national Deliveroo coverage 1 August – 19 October.
Since August, the most popular story across the country has been Deliveroo's decision to partner with Klarna to offer 'buy now pay later' services, which was distributed approximately 395 times between 11 and 18 October throughout general news, food, hospitality and business publications.
Top speakers
While the brand announced the Klarna partnership in a positive light, only 31% of media outlets responded with the same tone. Rather, 68% preferred to comment on the controversy behind the move. David Sykes, chief commercial officer at Klarna, was quoted in 70% of all coverage when he argued this was a way to offer zero-interest inflation support to the public, while a spokesperson added that consumers have otherwise been paying with high-interest credit cards 'for decades'.
While seniors at the BNPL service are calling this a 'healthy alternative', some experts across the country are weighing into the press with a different perspective.
Martin Lewis, financial journalist and founder of MoneySavingExpert.com, became the lead opposition to the decision when he 'slammed' the company for 'pumping up debt'. He further argued that debt should be accrued when it is 'needed' and not for a 'cheeky Nando's'. Lewis's tweet was first picked up by The Telegraph on 12 October and syndicated a further 260 times until 14 October, equating to 66% of total Klarna-related coverage (of which 60% mentioned Lewis in the headline) and the main driver of the negative spike.
Dear @Deliveroo do you really need pump debt as a way to pay for takeaways?

Buy Now Pay Later may seem innocuous but it is 1) Not yet regulated 2) Debt, even if done right its 0%

Borrowing should only be if NEEDED, for planned one off budgeted purchase, not a cheeky nandos.

— Martin Lewis (@MartinSLewis) October 12, 2022
Within some of these articles, Labour MP Yvonne Fovargue backed the belief that it 'normalises debt' while councillor Rosie Parry called Deliveroo a 'gross predator' for encouraging families to buy takeaways they cannot afford.
Prominence
As a result of Lewis's national criticism, approximately 57% of Deliveroo's headline mentions were negatively associated with incentivising debt. Fortunately, second to this was its collaboration with Boots to deliver cold and flu medicines (18%), via a press release that provided a much-needed and extensive boost in proactive positive coverage between 25 August and 19 October. While the release was sent out on 22 August, it did not achieve significant national coverage until 18 October when the heat of the Klarna debate began to die down.
Crisis management
Approximately 82% of Deliveroo's top headlines were proactive and sourced from a press release. Given that 77% of all coverage features a relevant quote from either seniors or spokespeople at Deliveroo, the releases acted as a strong crisis management tool by allowing key speakers to have some input during a peak in negative coverage.
Similarly, while its collaboration with Boots may have been a tactical move to tackle losses, Deliveroo's release was picked up positively by the media after the BNPL controversy and helped to stabilise brand reputation.
Is dining on the rise?
Indoor dining forecast coverage  (1 Mar – 19 Oct)
*Case study data reflects all regional/national coverage on UK delivery comms in PR, marketing & business publications 1 March – 19 October.
As the food delivery sector continues to see decline, comms and business outlets across the UK and rest of Europe have been actively reporting on the crisis strategy of specific brands. Since August, there has also been extensive analysis on the spending forecasts and survival rate of each brand. Approximately 86 articles identified that eating out was likely to 'experience a boost' over the rest of the year.
Given that travel and groceries were also included in this list of beneficiary sectors, it is clear that one of the root causes of this boost is an extended wave of post-lockdown spending. While national news headlines are reporting that non-essential purchases are projected to plummet by £12bn, economic experts are stressing that brands should not ignore the 'Lipstick effect' – a desire for luxury items and experiences in economic downturn. For example, supermarkets have found that while cutbacks and reliance on value brands are at an all-time high, consumers will still invest in luxury lines like Sainsbury's Taste the Difference — particularly on special occasions or annual events.
In addition, regular dining out is suggestive of a higher income household. In the case of an economic crisis – rather than a pandemic, for example – some consumers and industries are less affected. Retail Economics CEO Richard Lim told Marketing Week that sectors 'more focused on higher income households will likely perform better than others'.
Focus on ad spending
Both Uber Eats and Deliveroo have reported to the press that ad spending is an 'essential part of the revenue mix' for 'free cash flow generation', while a Shore Capital equities expert added that these 'skyrocketing marketing costs' likely come as a response to Just Eat's 'aggressive inroads into the London market'.
While these brands appear confident in their decision, Grace Kite, econometrician, warned in a response article that 'not all brands should maintain ad spend in a recession', advice she predominantly aimed at victim sectors. Rather, she said brands should work out whether investing to secure additional share of market is 'worth the cost' in an economic downturn, as they run the risk of that increase being a 'bigger slice of what becomes a much smaller pie', making it difficult to recover from the previous high after the economy stabilises.
Vuelio's top 3 recommendations
The Vuelio insights team has collated the most prominent guidance points by industry experts in the media over the past six months:
Explore the impact
While value and empathy have been considered the most important brand tones over the past three years, some consumers will not feel the impact of a crisis as much as others, therefore the necessary extent of compassion in communications should be closely measured.
Towards the end of the pandemic, international news outlets criticised that every advert used the same phrases, sombre voices, empty offices and soft piano music. As a result, some brands quickly became the subject of criticism across social media. Other publications argued that themes of indulgence, celebration and seizing the day were strongly preferred by viewers and could 'speak to the desired attitudes' in future crises.
Maintain transparency
In a survey of more than 2,000 UK adults, 87% said they expected to hear from brands just as much or more during the period of economic instability. Between 22 and 31 August, 43 international marcomms publications repurposed a 'heavily cited' study showing that younger consumers value 'purpose-driven' advertising that shows how companies are helping others.
Given that both Deliveroo and Uber Eats were able to successfully dilute some of their negative inflation coverage with philanthropic press releases, the media has been shown to respond to these gestures in positive and high volumes.
Nurture Retention
If your budget lacks the space for a significant value incentive, enhanced loyalty programmes are also attracting national media awareness over the past three months. For example, the launch of MyMcDonald's was the restaurant's highest-reaching campaign in regional and national news sources throughout 2022. Similarly, the decision to bring back 'free hot drinks for members' achieved Waitrose the highest share of voice among all UK supermarkets between the 15 – 18 October.
Reading the room
Just Eat are currently perceived by the press as the 'Dutch Kings' that could soon lead the UK's takeout sector, but its successes are not widely shared in the press beyond the expert insights of business publications. Proactive positive coverage is considerably lower than that of Deliveroo and Uber Eats despite a significant growth rate, demonstrating the importance of active press releases in this sector.
As victim sectors set their budgets for the next fiscal year, 'read the room' appears to be some of the most prominent expert advice pouring into the press. Measuring how your audience are impacted by a societal setback ought to be a priority, as fatigue grows quickly in a state of crisis and the needs and desires of your audience will change accordingly.
Want to know more about this data or how media insights can support your PR and communications? Find out more.
https://www.vuelio.com/uk/wp-content/uploads/2022/10/noodles2.png
430
760
Hollie Parry
https://www.vuelio.com/uk/wp-content/uploads/2023/09/vuelio-logo-200px.png
Hollie Parry
2022-10-24 16:27:14
2022-10-28 09:49:38
Will the food delivery sector survive the cost-of-living crisis?