Week on the Web 2 – 6 September
We welcome back the Week on the Web with stories from the world of football, politics, Twitter and film. Do you think there's something we missed? Let us know in the comments below.
Football
Sport is always a major topic on social media and this week one of the Premier League's busiest days provided a conversation starter for internet pundits everywhere. Transfer deadline day pits managers against each other as they attempt to buy players against the clock for the entertainment of the public (I think that's right).
From world-record breaking sales to last minute deals, #TransferDeadlineDay looked like this on social media: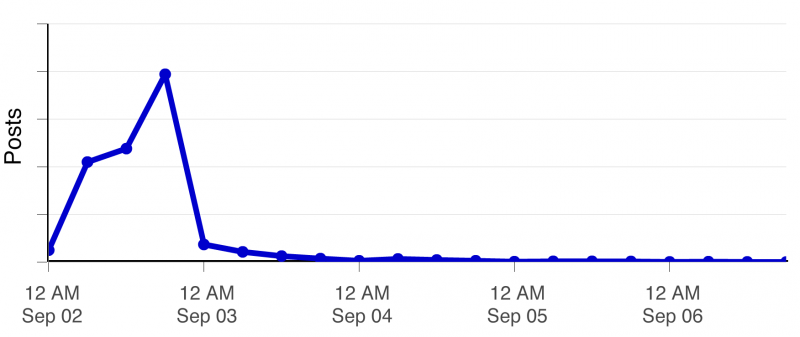 Gareth Bale's world record move to Real Madrid was one of the most discussed transfers with his £300,000 a week salary spawning several suggestions of how he should spend it. If you would like to see Bale's earnings in real time, check out What Bale Earns.
Manchester United blog The Red Devil, seems pleased with Fellaini signing, if not the way it went about. Footymad also highlights issues with the signing process but quotes David Moyes who believes Fellaini will be a massive success at Manchester United.
The most expensive player to join the Premier League was Mesut Özil, from Real Madrid to Arsenal. Reports that he almost signed for Manchester United have been called false by CaughtOffside, while Just Arsenal believes the big name signing will be a boost to the club.
Of course, Transfer Deadline Day is really about ridiculous tweets that don't have any relation to any players:
.@ManUtd's actually going to sign someone!? "@wikileaks: Stand by for a significant announcement."

— Rob Vember (@Rob_Vember) September 2, 2013
The other topics of the week can thankfully all fit on one graph, without Transfer Deadline Day distorting the image: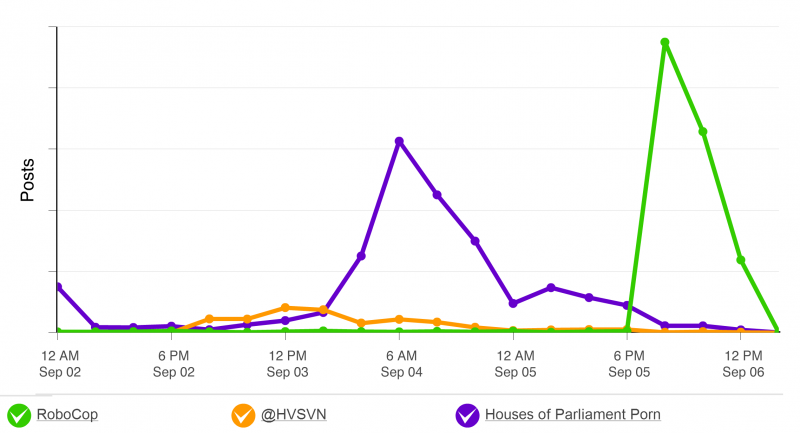 Houses of Parliament
A freedom of information request from the Huffington Post UK revealed that more than 300,000 attempts to access pornographic websites were made from Houses of Parliament in the past year. Twitter users thought this was hilarious with multiple jokes making the rounds (that couldn't possibly be repeated on Cision's family friendly blog).  
PC Retail covered the story saying the government's excuse that: 'These figures did not prove the user actually intended to visit any pornographic website', was something you might expect to hear from 'a teenage son'. The Mirror was more explicit about which sites were visited, claiming 'Out of Town Affairs' had 52,000 hits in seven months.
Social media customer service
British Airways came under fire this week from an angry passenger who paid for promoted tweets expressing his complaints. Forking out $1000 for the process, @HVSVN has been the centre of all customer-service-on-Twitter related conversation this week. Cision covered the story twice; Fresh Egg points out that as he got his luggage back it was a successful campaign; Digital Spy provides British Airways' comments; and the Guardian took the opportunity to round up other anti-brand social media stories.
RoboCop
And finally, trending today, the RoboCop trailer has caused positive, negative and irreverent comments. What do you think?
All the graphs made with Cision Social Media via CisionPoint. All the bloggers are listed are available in the Media Database and were found with Cision's free Influencer Search.
Priyanka Dayal
https://www.vuelio.com/uk/wp-content/uploads/2019/09/vuelio-logo.png
Priyanka Dayal
2013-09-06 13:26:53
2013-09-06 13:26:53
Week on the Web 2 – 6 September