World Cup 2022 – is the PR value paying off for FIFA sponsors?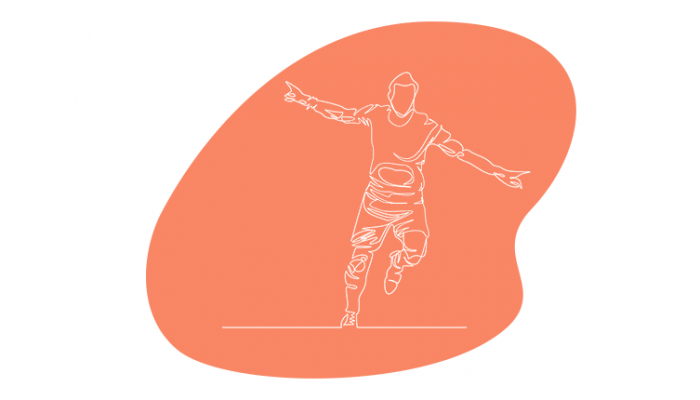 Since the start of the World Cup on 20 November, FIFA's seven official partners have faced extensive backlash over decisions to support the event from politicians, public figures and the press. This critique follows a multitude of human rights concerns and bribery allegations against FIFA and Qatar, some of which have been referred to as 'serious abuse' in 482 international headlines over the course of the tournament.
Strong criticism of FIFA's affiliation with Qatar has been widely distributed in the press since 2014. Approximately 1,876 international English-language publications have discussed 'corruption' since 10 November alone, with 11% citing that awarding Qatar the World Cup was a 'bad choice' – words used by Sepp Blatter, former FIFA president who resigned in 2015 amid the bribery scandal.
Since June, over 200 international charities and organisations have released statements on unresolved and ongoing crises caused by the event. In particular, the most discussed has been the 'death, injury and rampant wage theft' against migrant workers, which has been condemned by Amnesty, Human Rights Watch, FairSquare and Equidem. Nick McGeehan, founding director of FairSquare, publicly accused FIFA of 'benefiting from exploitation' and 'parroting Qatari authorities', while Tirana Hassan, Human Rights Watch's Acting executive director, called the organisation a 'global embarrassment'.
Key Takeaways
Adidas, Hyundai/Kia and Visa have produced the most significant international volumes of positive, diverse and controlled coverage
Visa has demonstrated strong sentiment control despite coverage peaking later than other sponsors
Wanda Group's lack of ESG comms contributed greatly to negative coverage
The Independent and The Telegraph were top publications for six out of the seven FIFA Partners, while CE Noticias Financieras led the print media conversation in Latin American regions
The labour disaster is just one of the negative news stories that have been pinned against Qatari World Cup. Partners have had almost a decade of negative news commentary in relation to their affiliation with FIFA, many of which used this time to prepare messaging on equality, union and perseverance.
Share of Voice
Between 10 Nov – 10 Dec, the Vuelio Insights team found 3,268 international news publications that released FIFA-related coverage mentioning one of the seven partner brands. Among this coverage, adidas achieved the strongest share of voice overall, of which 36% was proactive. Hyundai/Kia was close behind in 22.36% of all international coverage, of which 67% was proactive.
While its coverage peaked much later into the World Cup than for other brands, Visa has demonstrated extensive control over its public commentary throughout the event. The financial corporation's earned content has been 82% proactive, either stemming from press releases and social media posts.
On average, adidas, Hyundai/Kia and Visa were each mentioned in 56% of international headlines. On the other hand, Coca-Cola, Qatar Airways, QatarEnergy and Wanda Group received a significantly lower quality of coverage, with an average of just 23% of international headlines mentioning one of the brands. Approximately 52% of their coverage was considered a substantial mention and 25% was a passive mention.
Both Coca-Cola and Qatar Airways offered extensive messaging on being 'universal' and 'uniting' fans in the face of controversy, but both campaigns were heavily diluted by several wider news stories evolving with adidas and Hyundai/Kia between 18 Nov and 1 Dec.
Top stories, sentiment and coverage overtime
adidas
While adidas received the highest international share of voice, overall sentiment was relatively balanced with 26.2% positive, 33.3% neutral and 39.7% negative. The sports corporation's most widely distributed story was on how its bespoke technology 'proved' that Ronaldo did not score the opener against Uruguay, which was published 682 times across 598 international news sources. This story had a majority positive sentiment and peaked from 29 Nov – 1 Dec, of which 72% quoted various excerpts from the original adidas statement on how its tech was able to 'definitively show no contact on the ball'.
Several global news stories have emerged around adidas's 'hi-tech' footballs throughout the World Cup, making it the leading news topic among all FIFA Partners. The goal Ronaldo claimed proved to be a beneficial source of positive coverage among otherwise negative headlines that peaked in the same week.
Jordan Pickford was quoted 182 times as being 'worried' by the 'menace' and 'rascal' balls ahead of the England v France game, describing them as 'a bit different' to Nike balls used in the Premier League. Similarly, Kieran Trippier was quoted 203 times when he referred to the balls as 'a bit lighter' and like they would 'fly away'. This coverage had a collective 57% negative sentiment rate but received less attention than the Ronaldo goal, leaving adidas less impacted overall.
Hyundai/Kia
While Hyundai/Kia had a slightly lower volume of coverage, it maintained a 14% higher positive sentiment rate overall. The most popular headline was in relation to the FIFA Museum presented by the motor company, which was covered 223 times by international news, sport and automotive publications. Within the body of the article, 46% mentioned how this opening is as part of Hyundai/Kia's 'Goal of the Century' platform, which received a subsequently high volume of positive coverage for its dedication to sustainability and social impact.
This extended coverage was a strong source of recovery for Hyundai/Kia following a brief  negative peak in coverage from 18-20 November, when it was announced that FIFA stalled on a sponsorship renewal offer from Hyundai/Kia worth more than $600m (€580m) in 2019.
Visa
With an overwhelmingly positive coverage rate in comparison to other sponsors, Visa experienced two peaks in coverage between 10 Nov and 10 Dec. The first, which was covered between 16 and 20 Nov, was a direct press release on the brand's 'innovative payment experiences' at the World Cup. This topic was discussed 268 times over four days across 203 international economy and news sources.
However, Visa's biggest peak in coverage was from 8 to 12 Dec, when the brand released a report that shared spending data across all venues throughout the tournament. Furthermore, the prediction that the entire event will reach 'record spending' was quoted in 482 of the total 563 international finance and news headlines.
The only significant source of negative coverage associated with Visa throughout the period measured was around its decision to bring NFTs to the World Cup. While the move excited some, approximately 186 outlets reported on how the value of the tokens 'stumbled' as 'upsets' around the game evolved.
Coca-Cola
As the tournament has evolved, Coca-Cola has fallen short of significant news stories in comparison to other sponsors. The brand's top story was on the British Conservative dispute against the drinks manufacturer's decision to sponsor FIFA following a series of homophobic comments.
This story was covered 398 times between 19 and 21 Nov and was a large causational factor behind the brand's strong rate of negative coverage. On the other hand, the brand's World Cup campaign, 'Believing is Magic', received a 43% positive sentiment score across 435 international news sources between 31 Aug and 30 Oct. However, op-eds and PR news sources were generally sceptical, accusing it of undermining the severity of migrant worker abuse.
Qatar Airways
In many ways, Qatar Airways has mirrored the performance of Coca-Cola. Its most positive coverage in relation to the World Cup was published prior to the event, with the most significant being its opening ceremony which was covered by 182 international news and travel publications. Qatar Airways group chief executive, Akbar Al Baker, was quoted in 59% of this coverage stating that the 'dream of bringing the world together has truly come alive'.
However, the most significant source of coverage since 10 November has been allegations that FOX Sports produced biased coverage to support a sponsorship agreement made with Qatar Airways. Between 18 and 22 November, FOX News 'denied' any potential production influence, while Qatar Airways 'refused' to comment.
Wanda Group
As for Wanda Group, earned coverage in English Speaking publications has been low and passive in comparison to other Partners. Similarly, any active contributions to the event – such as targeted campaigns, messaging or public statements — have not been picked up by the media throughout the event. Additionally, over 90% of high-reaching coverage came from a Chinese news or PR publication with international readership.
Wanda Group's lack of comms meant there was little public content to change the narrative around earned media, which was certainly needed given that the overall sentiment score was 17.7% positive, 47% neutral and 44% negative. The top headline, first published by Campaign Asia, was titled 'What are Chinese sponsors hoping to get out of the World Cup?' which explored the expenditure and potential strategy of Wanda Group among other brands.
While the piece was neutral overall, the author concluded the 'potential backfires' in attempt to reach a global audience, stating it is 'unlikely' anyone would 'view sponsors favourably amid human rights controversies and concerns that have dogged Qatar'.
QatarEnergy
Although overall volume has by far been the lowest, 39% of QatarEnergy's international coverage was created by Qatari publications and an additional 46.5% across the UK (31%) and US (15.5%). Alongside passive mentions in reports exploring FIFA expenses, the most significant source of coverage for QatarEnergy has been related to 'catastrophic' climate concerns. Between 18 Nov – 10 Dec, 398 international news sources (83% of the brand's total coverage) discussed the counterintuitive nature of FIFA partnering with the supplier in the face of its '#SaveThePlanet' campaign.
Saad Sherida al-Kaabi, Qatar's energy minister and chief executive of QatarEnergy, was quoted within the body of this coverage in committing to provide 'reliable and credible LNG supply solutions to customers across the globe', with 'plenty of financial support' from major banks.
Top publications
Between 10 Nov and 10 Dec, approximately 66% of adidas's coverage came from its top five publications. Although the leading source was USA Today, 66% of this coverage were passing mentions in relation to generalised World Cup expenditure articles. In articles where the brand was the focus, USA Today most often discussed adidas' charitable efforts, such as donating to Footballs for Schools or using recycled materials in football kits.
CE Noticias Financieras mentioned adidas in 311 FIFA-related articles throughout the World Cup period, with a much stronger focus on the brand overall. As the only print media source to have made it in the top publications chart, CE Noticias Financieras has also been the second-most popular news source for adidas overall. The publication's most covered topic was Adidas' intervention in the Ronaldo-claimed goal and a detailed 'unveiling' of 'Al Hilm', the official ball provided by Adidas for the semi-final and final.
The Latin American print publication was also the leading source of coverage for QatarEnergy, though the total volume was much lower (36 articles between 16 Nov – 3 Dec) and focused on its possible supply expansion across Europe.
British and US news sources leading the conversation
Throughout the tournament, The Independent and The Telegraph have been leading news sources for six out of the seven Partners – while MailOnline also made it into the top publications for three of the seven. Closely behind was NBC Sports and Washington Post, which were considered major sources of coverage for two out of the seven sponsors.
Hyundai/Kia has by far achieved the most geographical diversity among its top publications, with sources based in the UK, US, Korea and Qatar. Qatar Airways' strongest coverage has been exclusive to the UK, Qatar and its sponsored coverage source in the US (FOX Sports).
When tactical loss is necessary
Among the seven sponsors, the top three highest-performing overall (significant volumes of positive, diverse and controlled coverage) were adidas, Hyundai/Kia and Visa. The key difference between these brands and the others was well-timed and extensive messaging on social solidarity and humanitarianism. While these attitudes were often criticised as 'tone-deaf' by op-eds and PR publications, the overarching positive message outweighed negative sentiment around Qatari controversies by international news sources.
While Coca-Cola did exactly that in its 'Believing is magic' campaign, media interest peaked when it launched two months before the event. If collateral had been gradually dispersed closer to the event, the brand would have similarly diluted negative peaks against sponsors and Qatar controversy when the event officially began.
Wanda Group, who opted to not release any targeted messaging this year, has been a strong example of how tactical loss is better than silence. Unlike its 'women first' campaign in the 2018 Women's World Cup, the brand has not offered any targeted messaging towards human rights at a time when it is most desired from target audiences. As a result, the most influential and international coverage has been negative and theoretical commentary on Wanda Group's ethics and strategy — without any level of public comms from the brand itself to steer the conversation in a more positive direction.
Want to know more about this data or how media insights can support your PR and communications? Find out more.
https://www.vuelio.com/uk/wp-content/uploads/2022/12/fifa-sponsors-world-cup.png
430
760
Hollie Parry
https://www.vuelio.com/uk/wp-content/uploads/2023/09/vuelio-logo-200px.png
Hollie Parry
2022-12-15 11:07:31
2023-03-06 14:39:13
World Cup 2022 - is the PR value paying off for FIFA sponsors?