A guide to the benefits of media monitoring for PRs
Measuring the impact of your story across every platform you use to share it is a key part of determining traction with journalists, influencers and their audiences – media monitoring is how to do it.
Media monitoring services covering print, online, broadcast and social media can track the reputation of your business and even real-time reaction to your messaging. Here is how to do media monitoring, featuring tips for getting started as well as an explainer of the key benefits of tools like Vuelio media monitoring.
Understand every channel
The ability to understand the impact of your content across broadcast, print, online and social media means you can measure which formats are working for you right now, and which could use more of your focus in the future.
Print
Print monitoring allows for analysis of mentions in traditional press including national, regional and local newspapers, consumer and trade magazines, industry newsletters, trade journals and much more. Alongside this, you can analyse press write-ups alongside those online and on broadcast channels – meaning full visibility of current and emerging conversations and their impact on each medium.
Broadcast
Vuelio's broadcast monitoring service streams thousands of hours of content from a variety of sources, allowing for easy editing and sharing. Mentions are monitored 24/7 across regional, commercial, international and national channels, giving an accurate representation of how your story is making its way across the news industry and hitting different audiences.
Online
As well as measuring your successes, monitoring across a combination of platforms means you can see how far your story goes, and where, including online channels. This can offer up additional avenues for your next campaign and ways to rethink or refresh your content creation.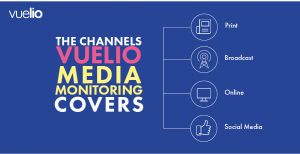 Monitor competitors
With complete brand, competitor and industry tracking across a combination of media types, media monitoring can deliver the reports internal stakeholders and key decision makers will find most useful – including how you measure up against key competitors in your sectors.
Vuelio's Executive News Briefing, a manual reporting service, delivers concise summaries of the news stories, industry updates and competitor information most important to you. This daily news brief is created by our analysts to summarise key coverage – yours, and those other brands you benchmark against – in one easy report.
Monitor the broader industry
Insights from media monitoring can inform your PR and communications strategy going forward by tracking trends across the broader industry you are a part of and work with. Prepare for any potential crisis on the horizon for your market, or opportunities for your business and comms team by picking up on topics you should know about early on in their journey through the press.
Subjects of interest for your brand are not the only elements worth tracking across the media. Evaluating media coverage to identify trends and insights means a deeper understanding of the reputation of your brand as well as the opinions of your consumer base. Media analysis tools can measure metrics including volume, circulation, sentiment and more to uncover the return on investment for communication campaigns.
After analysing what the press is reporting and the public are sharing, access a fully-integrated database of journalists and influencers, press release distribution services and advanced evaluation tools to follow up on the work so far, all in one platform.
Dive into digital channels
Modern monitoring goes way beyond the 'traditional' methods from PR's past of newspapers and magazine clippings. Dive into all forms of digital media including newswires, digital publications, the big social platforms like Twitter, Facebook and Instagram alongside blogs, forums, website comment sections and other video and image sharing sites.
With access to both print and digital, it is possible to compare coverage across each to gain a full understanding of trends, as well as tones, used across different platforms. Vuelio online media monitoring offers unlimited keyboards and unlimited coverage for a flat-fee.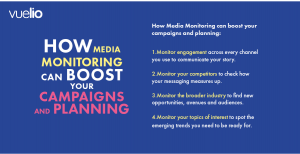 Watch for emerging issues and topics of interest
The media moves fast, so reviewing how your story is being reported in real-time is a must. Track developments across print, online and social media to ensure you pick up on all of the issues of interest to you, your brand, or your clients gaining column inches and shares across social right now.
For more on monitoring tools and making the most of them, check out our previous posts on the topic:
7 easy ways to measure your content
Top 5 measurement mistakes and how to fix them
How low media coverage can yield high value
https://www.vuelio.com/uk/wp-content/uploads/2022/10/A-guide-to-the-benefits-of-media-monitoring-for-PRs.jpg
430
760
Phoebe-Jane Boyd
https://www.vuelio.com/uk/wp-content/uploads/2023/09/vuelio-logo-200px.png
Phoebe-Jane Boyd
2022-10-06 11:36:07
2022-11-09 16:25:24
A guide to the benefits of media monitoring for PRs