PR and communications: Particularly popular with business leaders right now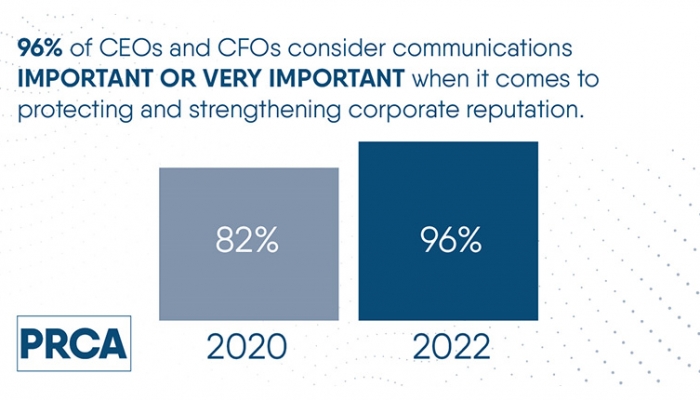 A new survey from The Public Relations and Communications Association (PRCA) has found recognition among business leaders for the PR and comms industry following its role in supporting businesses through the tumult of the last few years.
Among the ongoing pandemic, the uncertainty of Brexit and Russia's invasion of Ukraine, PR and comms teams helped with business direction and focus as well as comms for external and internal stakeholders. To measure the impact of this, the PRCA surveyed CEOs and CFOs of organisations with over 250 employees in their workforces.
92% of respondents believe their communications teams played either a 'very important' or 'important' role in helping them through the financial and societal shifts since the beginning of 2020.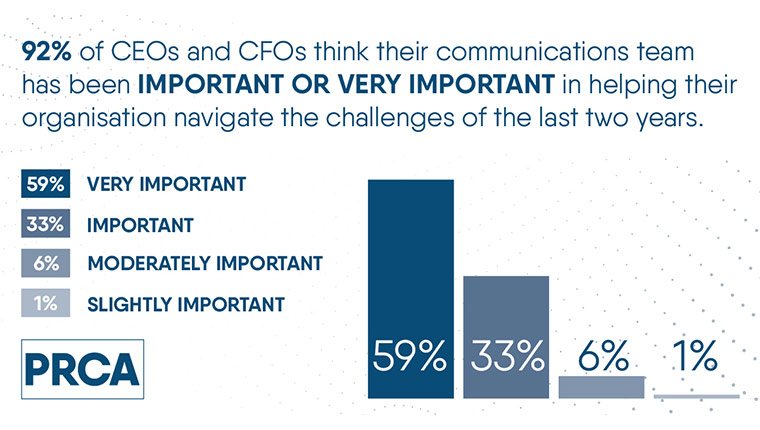 The survey was carried out by PR group Yolo Communications, starting in June 2020 and built upon by the Value of PR group.
Findings also showed:
– An increase in the strategic importance of the contributions of comms professionals (up 21 points to 89%), indicating the impact that crises and issues can have on recognising the value of having a capable communications function in place.
– That communications were 'very important' when it came to strengthening and protecting corporate reputation for 80% of respondents, up from just 39% who gave the same answer in 2020.
– 89% said that communications teams provided strategic advice to members of the senior leadership team, compared with just 68% two years ago.
– 62% said they expected their comms team to play an even more strategically important role over the next two years.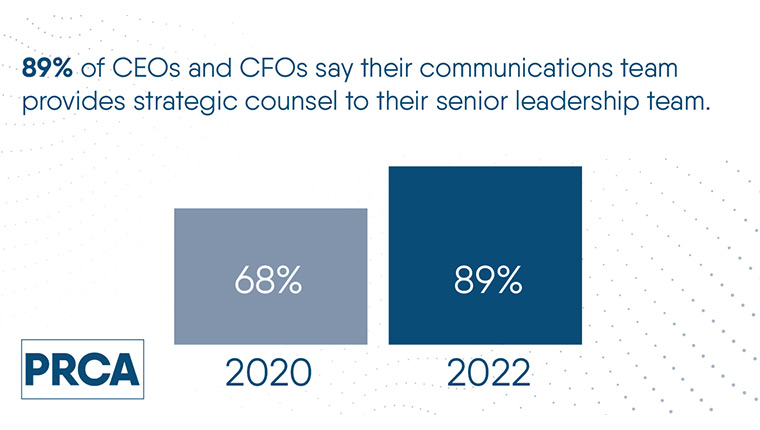 Director General of the PRCA Francis Ingham said:
'The PRCA represents more than 35,000 professionals worldwide and this study is further evidence of the valuable and important role that those individuals play every single day in directly impacting the business objectives of their organisations. What is more, business leaders' confidence in their communications teams is expected to increase in the future. We should take a moment to reflect on this achievement and then continue to keep doing what we are doing.'
PRCA Value of PR Lead Adam Honeysett-Watts added:
'There is no denying that most business leaders understand the value their communications teams bring to their organisations. While we hoped this would be the case, it is great to hear the feedback directly. The lesson here is that those businesses that have communications teams and plans in place are better prepared to weather a crisis and those that don't are operating at a significant disadvantage.'
Find out more about the PRCA survey here.
For more on communicating during times of uncertainty, download our white paper 'Communicating the cost-of-living crisis… A guide for charities and the third sector'.
https://www.vuelio.com/uk/wp-content/uploads/2022/10/CEOs-and-CFOs.jpg
430
760
Phoebe-Jane Boyd
https://www.vuelio.com/uk/wp-content/uploads/2023/09/vuelio-logo-200px.png
Phoebe-Jane Boyd
2022-10-04 13:22:19
2022-10-04 13:25:21
PR and communications: Particularly popular with business leaders right now