Why are journalists worried about the online safety bill?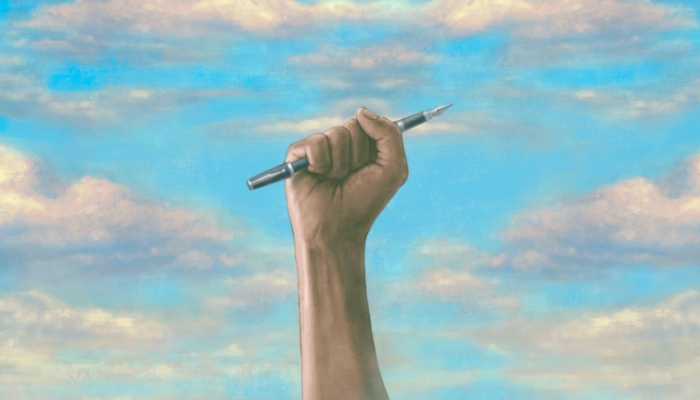 Triggered by events like the murder of Sir David Amess and death of Archie Battersbee, the core of the Online Safety Bill (OSB) is to prevent further 'harms' to the British public through regulations and strong sanctions on digital content.
While child safety elements are backed by England's Children's Commissioner and the NSPCC, many journalists, press regulators and human rights organisations have published their concerns over, and recommendations for, the bill.
Among the biggest disagreements that journalists and media representatives share against the OSB are limitations on free speech – a concern also held by many Conservative MPs and human rights activists.
On the other hand, Labour MPs and anti-extremist groups are worried that the bill won't be enough to tackle radicalisation, while some female politicians believe the bill is not enough to tackle hate campaigns that drive women off the internet.
Alex Hern, technology editor for The Guardian, referred to this expansive backlog of dispute as a classic case of 'The Goldilocks Theory' – if it is impossible to please all of these groups at once, then the optimal bill will simply displease everyone equally. While Hern has published many high-reaching articles on OSB since March, this reference was particularly successful due to strong local and regional syndication (article was repurposed 102 times between 16 July – 26 July by local and regional online news outlets).
In a news release by the Society of Editors, executive director Dawn Alford stated that the bill 'does not, in its present form, do enough to protect legitimate journalistic content' and 'further amendments must be added as a matter of priority if the Government is to fulfil its manifesto pledge of defending freedom of expression'. This release led to 136 proactive quotations across 121 national news and industry publications between 7 July – 7 September.
Top media-related concerns
Between 1 Mar – 29 Sep, 4,686 articles were produced by local and national online news outlets, as well as journalism-related industry publications. Of this, 39% discussed journalistic concerns. The Vuelio Insights team found that the top five OSB concerns picked up by online media are:
1. Free speech
Coming in as no surprise, free speech was mentioned as a key concern in 76% of all coverage. Within these articles, media picked up strongly on trending references to 'The chilling effect', a term used to describe the suppression of free speech and legitimate forms of dissent among a population because of fear of repercussion.
A hot topic among many regulators, litigators and Conservative MPs, quotes that mention 'the chilling effect' have been heavily featured in national news sources. Key names have included David Davis MP, who also referred to OSB as a 'censor's charter'.
Another widely distributed example was a 2018 quote from U.N. special rapporteur on freedom of expression, who said that 'tying heavy penalties to content regulation would chill freedom of expression', and the bill's detractors object to the state requiring websites to manage information under threat of heavy penalties.
International human rights organisation, Article 19, also said the severity of the sanctions will provide 'a strong incentive for companies to over-censor their users' to avoid any risk of breaching the law.
Given the complexities of the Bill and 'how vaguely defined some of the duties and criminal offences in it are', they added any online platform will be legally advised to reduce its liability exposure and simply remove any controversial content with little regard to users' human rights.
Jim Killock, director of the Open Rights Group, provided a similar public statement, shared by The Guardian, saying that a 'health and safety approach to everybody's online speech' combined with 'the threat of massive fines against the platforms' is a 'recipe for censorship and removal of legal content'.
2. State-controlled media
In the most recent amendment to the OSB, the Secretary of State is given authority to govern decisions made by Ofcom. This has been seen as a 'threat' to the independence of such an internationally respected media regulator, with many journalists concerned that this is a slippery slope to state-controlled media.
Michelle Stanistreet, general secretary of the National Union of Journalists, was quoted by the Evening Standard in her appeal that the Secretary of State would have 'too much power' and that it is 'absolutely something that we wish to see addressed; it's not appropriate, and it's not healthy'. This article was repurposed a further 126 times during the first quarter of 2022.
Names like Carnegie Trust have also publicly expressed their opposition to this level of power. While emphasising that the Government has not supplied sufficient reason for needing power over Ofcom, it proposed that these litigations be 'amended to create a more conventional balance between democratic oversight and regulatory independence'.
3. Vague and unequal media exemptions
Recent amendments to the OSB have attempted to be considerate of press freedoms by implementing exemptions for news providers and journalistic content.
However, since this change, a strong source of volume among industry publications (i.e. Press Gazette) has been the dangers behind the current definition of a 'news provider', defined in the Bill as 'news or information about current affairs, opinion about matters relating to the news or current affairs, or gossip about celebrities, other public figures or other persons in the news'.
The Professional Publishers Association (PPA) was one of many media-focused organisations that expressed fears around losing specialist and bespoke publications due to this broad definition. Furthermore, they added that Grazia and Inside Housing are some of examples that are at risk of not having 'the same protection as The Sun or The Mail' — potentially leading to an 'inferior tier' of independently regulated publications.
Tech lawyer Graham Smith, who writes about this matter on his blog, Cyberleagle, told Sky News that carving out the press is only possible through giving the Government (or Ofcom) 'power to decide who does and does not qualify as the press', while also adding that if a state organ draws that line, the resulting official list is 'in itself an exercise in press regulation'.

4. Illegitimate Assessments
Right now, the Bill requires companies and automated systems to assess and decide whether their users' speech is legal or not. Approximately 368 online publications have outlined why this could be problematic, with the underlying belief that only independent judicial authorities and trained individuals should be given the power to make such a determination.
Furthermore, the British Computing Society has been quoted 386 times for its Online Harms Bill survey with 1,300 tech professionals, which revealed that 58% of IT experts believe the Bill would have a negative impact on free speech. In addition, only 14% of tech professionals believed the legislation was 'fit for purpose'. Of the remaining responses, 46% said the bill was not workable, with the rest unsure.
The news release that featured this survey created a very strong spike in proactive international coverage throughout both August and September. Starting with a headline mention in The Independent, BCS' survey stats were later syndicated by international news sources, local and regional outlets, and local councils.
Rob Deri, chief executive of BCS, The Chartered Institute for IT, was ultimately one of the top five speakers in the 4,686 articles measured between 1 Mar – 29 Sep. His most popular quote discussed how the Bill 'leans too heavily on tech solutions to prevent undesirable content', which cannot be relied upon to do that well enough and could 'affect freedom of speech and privacy in ways that are unacceptable in a democratic society'.
Top Speakers
With approximately 432 quotations between 1 Mar – 29 Sep, Victoria Hewson, head of regulatory affairs at the Institute of Economic Affairs (IES), was the most-mentioned speaker among all online coverage discussing journalist concerns.
In an op-ed for Spiked, Hewson warned that the legislation included in the Queen's speech in May 2022 'could spell the end of the free internet'. Alongside free speech concerns, she also agreed with the illegitimate assessment argument, arguing the Government 'seems to think that IT and compliance professionals can simply design away online harm without political bias and while protecting free speech'.
Hewson's strong share of voice was likely supported by pre-existing trust in the media, due to her op-ed in The Telegraph and the successful release of her OSB paper 'More Harm Than Good'.
While Hewson had a very prominent spike in coverage in June, Lexi Kirconnell-Kawana, head of regulation at IMPRESS, has sustained lower but more consistent national coverage — with approximately 282 articles distributed over the past seven months. The initial spike began shortly after she attended the House of Commons as a witness, along with Stanistreet, at a hearing on OSB and disinformation towards the end of 2021.
In relation, one of her most popular quotes has been the belief that there are 'loopholes' within the journalist exemption that could 'potentially be exploited' to further spread misinformation and disinformation.
Much alike to the Society of Editors' work, a briefing by IMPRESS on the OSB also declared that it 'does not protect well-regulated journalism that serves public interest'. Concerns from this briefing were positively quoted approximately 106 times in the month following its release, with particular reference to how the bill 'fails to distinguish journalism from fake news'.
Similarly, the aforementioned BCS survey also outlines that some 74% of tech specialists feel the bill would do nothing to stop the spread of disinformation and fake news — a statistic that was quoted over 100 times in computing industry articles that outlined OSB oppositions.

Demands for trust, independence and education
While independent journalists and press regulators across the country have shared over 5,000 briefings, op-eds and interviews on their objections to the Online Harms Bill, around 66% ended with a set of strategic recommendations.
Of those, 72% mentioned the following:
• Rights to Independence
A strong percentage of oppositional publications expressed that the secretary of state should have no involvement in the creation of a new code of practice for media regulators. Furthermore, trust in the standards of journalistic practice and professionalism should be emphasised by expanding the definitions of a 'news provider' to be inclusive of specialist publications.
• Media Literacy
Towards the end of March, an article by the Daily Mail reported Ofcom stats that only one in five Brits can spot misinformation online, which was syndicated 86 times by local and regional outlets across the UK in the two weeks following. This research was also heavily referenced by journalist OSB campaigns in the fight for media literacy, arguing that the bill would 'entrench digital illiteracy' by legitimising fake news that fits the definition of a 'provider'.
There were also 62 publications arguing that disinformation is in fact more likely to come about 'as a result of state-sponsored operations' and that it would be better countered by 'promoting digital media literacy and diverse, independent media sources ensuring plurality of political or scientific views'.
Who will come out satisfied?
Back in 2021, Michael Drury, and Julian Hayes, a British lawyer and solicitor, collaborated on a high-reaching op-ed in The Times that called the OSB an 'ambitious' and 'overzealous' piece that is 'too large to be sustainable or coherent'.
Given that Hern's similar reference to the Goldilocks theory was only two months ago, it appears that media perspectives haven't shifted much over the past 18 months.
Approximately 16% of all UK media briefings believe that criminalising disapproved content through a false communication offence is 'misguided'. In among Hewson's coverage peak in June, she also argued that more regulations 'won't help', and that governments would be better off giving the police the resources they need to investigate online criminality by themselves.
Want to know more about this data or how media insights can support your PR and communications? Find out more.
https://www.vuelio.com/uk/wp-content/uploads/2022/10/Shutterstock_2175086269.jpg
430
760
Hollie Parry
https://www.vuelio.com/uk/wp-content/uploads/2023/09/vuelio-logo-200px.png
Hollie Parry
2022-10-03 12:33:09
2022-10-03 12:54:45
Why are journalists worried about the online safety bill?