Are you on PR Santa's Naughty or Nice list?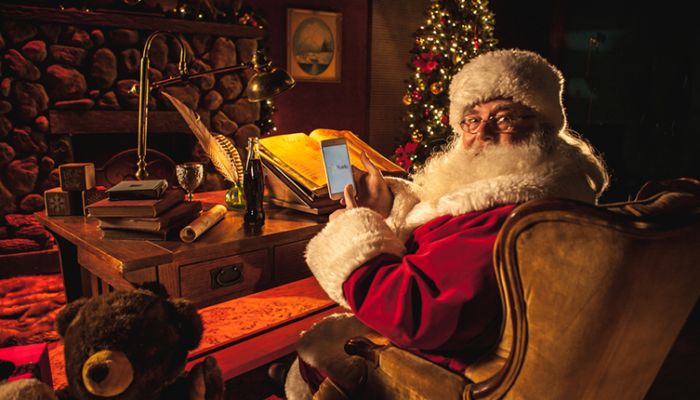 As we approach the end of the year, have you been a good PR professional or will Father Christmas be filling your social media stocking with emoji coal?
There are certain PR bad habits that are easy to fall into, and now is the perfect time to identify whether you're guilty of anything from the naughty list. After all, Christmas is just around the corner and it's better to get into good habits now, before they have to become New Year's resolutions.
PR Santa's Naughty List:
Mr Mass Emails
Mr Mass Emails doesn't have time to build relationships and he knows if he blasts enough contacts someone might run his story. This is lazy PR and only contributes to the bad reputation the industry can have among journalists. There's a reason the Vuelio Media Database lists detailed biographies of influencers and what they're actually after – use them.
Mrs Follow Up
There's nothing wrong with talking to a journalist about a story or campaign you're working on, but wait until they've reacted to your initial press release. Mrs Follow Up is straight on the phone to check her email has been received while attempting to push the journalist to publish. Of course, if the right relationships were in place, this wouldn't be necessary.

Miss Single Metric


How are you measuring your, or your client's, success? Miss Single Metric only choose one thing, sometimes it's 'reach' and sometimes it's AVE – either way she doesn't give anyone the full picture because she believes that if the big numbers look good, then all the stakeholders will be happy. Vuelio Media Analysis allows you to present a multitude of measurements so you can prove your success how it matters most; to the people that care.
Miss But Other Bloggers Work For Free
Bloggers and social media influencers aren't like journalists; for the professionals, this is their livelihood and they don't get paid unless you pay them. Sure, some will work for free, but if you're trying to work with the best, expect to pay. And don't argue if they suggest you cough up – these guys are trying to make a living and deserve to be recompensed.
Mr I Missed That Crisis
If your monitoring isn't up to scratch, across all channels, how are you supposed to manage crises and fire fight before the story gets out of control? Mr I Missed That Crisis is old school and only monitors print. As he doesn't have a social media monitoring plan, he didn't realise his brand was fast approaching headline news for all the wrong reasons.
PR Santa's Nice List:
Mrs I Make Time For You
Journalists, editors, bloggers, clients and management are all made to feel just a little bit special by Mrs I Make Time For You. She knows that relationships, both internal and external, take time to build but she also knows that every second is worth it.
Mr Deadline
PR is busy, fast-paced and soon is never soon enough. Mr Deadline knows how to prioritise the deadlines of all his stakeholders using Vuelio Stakeholder Management. So, if it's a media enquiry about a big story or a member of the public needing to be contacted, Mr Deadline knows which member of the team is dealing with it and when – all in one place.
Miss Collaboration
Miss Collaboration works with influencers. She knows which ones are best able to reach her audience and she even has budget to get them on board. But she doesn't stop there – Miss Collaboration gets creative ideas from the influencers to ensure each iteration of the campaign is unique. She also pushes the bloggers to work hard and provide analytical data, which she can use to prove the campaign's success.
Miss Presentation
Miss Presentation used to put PowerPoint presentations together after a campaign, and sometimes managed to fit more than four tweets on each slide. These were the dark days. Now, Miss Presentation uses Vuelio Canvas to gather all the relevant tweets, Facebook posts, Instagram pics, news stories, graphs and charts, so she can present everything beautifully – on one page and with one, shareable link.
Mrs Shares
Mrs Shares loves reading the PR Club post on the Vuelio Blog, and shares it on Twitter.
What bad habits are you going to drop this year, and what do you think PR pros should champion for 2018? Let us know in the comments below.
https://www.vuelio.com/uk/wp-content/uploads/2017/12/Santa.jpg
430
760
Jake O'Neill
https://www.vuelio.com/uk/wp-content/uploads/2019/09/vuelio-logo.png
Jake O'Neill
2017-12-04 10:37:35
2017-12-04 10:38:11
Are you on PR Santa's Naughty or Nice list?