Blogger Spotlight: Carl Thompson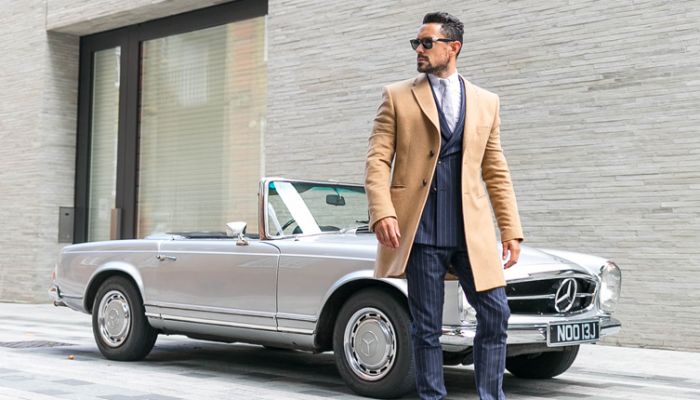 Carl Thompson is a Top 10 Men's Lifestyle Blogger with his eponymous blog. Created to document his personal style and promote his menswear label Carl Thompson covers grooming tips, cocktails and travel. We caught up with Carl to talk about FSTGLFFC, modern man, the iPhone changing marketing and how he likes to work with brands.
How would you describe your blog?
The blog is really an evolution from my menswear label 'Hawkins & Shepherd' that I launched back in August 2013. I like to think the site is a reflection of my personal interests. I often describe it as an amalgamation of fashion, style, travel, grooming, lifestyle, fitness & food content. Which is a bit of a mouthful but unfortunately FSTGLFFC is a rather rubbish and convoluted acronym.
Why did you start your blog?
To begin with I was looking to drive more traffic to my menswear label, but it soon became apparent that the blog was developing into something separate and deserved its own platform. I wanted to talk about things other than fashion such as travel, cars etc. and Carl Thompson the blog became an extension of Carl Thompson the person. I'm really proud of the way the blog looks now.
What are the latest trends in men's lifestyle we should be aware of?
I actually get this a lot, and it may sound funny but I've never been one to follow trends. I once heard David Gandy speak about the same thing in an interview, that trends are so fast and disposable that if you try and keep abreast of them all it will send you slowly round the bend. Also, lifestyle is a huge encompassing word; interior design is lifestyle, fashion is lifestyle, whisky is lifestyle. I suppose if I was to pick out any trends I know that male skincare and male grooming is getting spoken about a lot. Men are even getting into making their own moisturiser which was unheard of 5-10 years ago.
Male grooming is nothing new, it's been around since Ancient Egypt and the Early Crusades, but it's certainly proliferated with the likes of social media making it the zeitgeist of men's lifestyle.
How does the modern man compare to men of the past?
It really depends on how you'd like to pigeon-hole the modern man. Certainly, our views on masculinity have changed, say from the 60s. If you think that Sean Connery was a body builder back in his day. His physique more than his thespian skills landed him the role of James Bond. Compare a 60s' Sean Connery to a modern day Daniel Craig. A nice juxtaposition on Ursula Andress coming out of the water in Dr No was to have Daniel Craig coming out the water in his trunks in Casino Royale.
My point is, how we compare modern men to men of the past is heavily dependent on how we view not only masculinity, but varying degrees of masculinity. I mentioned David Gandy earlier who is the embodiment of elegant or refined masculinity then on the other end of the scale you have Connor McGregor, who many see as rugged masculinity. It's an interesting question, one that has many facets though.
What's going to be the next big trend in men's lifestyle?
It might sound obvious but we've recently seen the introduction of the iPhone 8, which has integrated facial recognition technology. This will mean that people will likely be making more payments with confidence on the phone rather than on a desktop or tablet. I'll be interested to see how men's lifestyle reacts, how brands will move over to this technology sector where everything will be dictated by your mobile phone. I hope I don't sound like a conspiracist; I have nothing against Apple. But they're very clever, they don't do a lot of advertising because the media goes nuts over them anyway and they're very  determined, like Facebook, to have you do everything through their platform, whether that's buying that new sectional leather sofa or downloading the latest style app. I think brands will be more mindful than ever on how they market themselves online.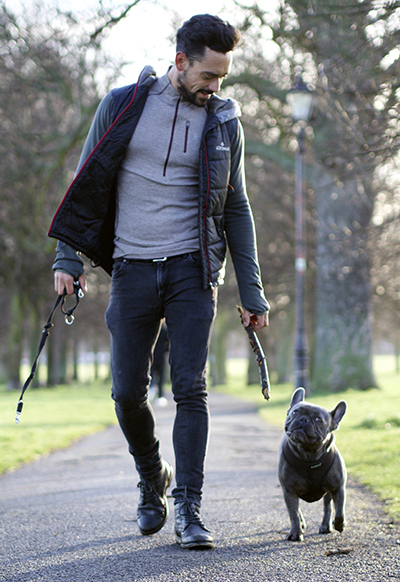 What one thing could you not live without?
Ha, my Apple 8. Only kidding. My phone is king in my life but I'm also nuts about my coffee maker. I once heard that Beethoven counted out his coffee beans, I'm not that anal but I recently upgraded my coffee machine to a KRUPS Espresso Automatic Series. I've successfully climbed the ranks to reach 'Coffee Snob' status through years of purchasing substandard freeze dried crap, pre-ground coffee beans in cafeterias and capsule coffee machines. It also costs a king's ransom so I'd be very sorry to see it go.
How do you like to work with PRs?
I'm lucky enough to know a lot of people within the PR world. I like to try and think from their perspective what do they want from me. The answer is numbers. They like to see a return on their investment for their client whether its stats, exposure or some really decent imagery.
It's a real treat for me when my blog receives certain accolades. It's not just a badge of honour that looks good on the site or in the email signature, it's great for the PR companies too as they get to show it to their clients. It means they're picking the right influencers to promote or endorse their brand.
What's one of your favourite collaborations?
I'm going to mention the one I did with HomeSense. Most probably because it's fresh in my mind, but it was also a lot of fun as I got to include my beloved French Bulldog Charlie. It was fun to play around with as it centred on a home interior theme, but themed for dogs. Charlie had a good time, he got some new toys and I just remember that being a fun day and they're a good brand to work with.
What one thing should PRs know about you?
I get to the point on the email. I've been told I'm a lot nicer in person than I am in email threads, but when you have an inbox like mine you don't always have time to fluff around with niceties and holiday chat etc. I like to be clear, concise and I think everyone benefits from that.
What other blogs do you read?
This should be the time when I list all the cool blogs and mention other great bloggers doing amazing work. Truth is, I only read a handful of blogs. I like the obvious ones like the Mr Porter Journal, I keep an eye on Fashion Insight for product launches and PR updates. For photography & editorial inspiration my first stop would be Toni Tran at fashitects.com, Ali Gordon at aligordon.net for his style & creativity, then there's a guy I follow who runs a site called Human Research, he likes to run his mouth and on occasions and can be controversial but I like that.
Carl Thompson appears on the market-leading Vuelio influencer database along side thousands of other bloggers, influencers, journalists, editors and media outlets. Learn more about Vuelio's solutions. 
https://www.vuelio.com/uk/wp-content/uploads/2017/09/Carl-Thompson.jpg
430
760
Holly Hodges
https://www.vuelio.com/uk/wp-content/uploads/2019/09/vuelio-logo.png
Holly Hodges
2017-09-21 12:57:07
2017-09-21 12:58:51
Blogger Spotlight: Carl Thompson