Blogger Spotlight: David Evans, Grey Fox Blog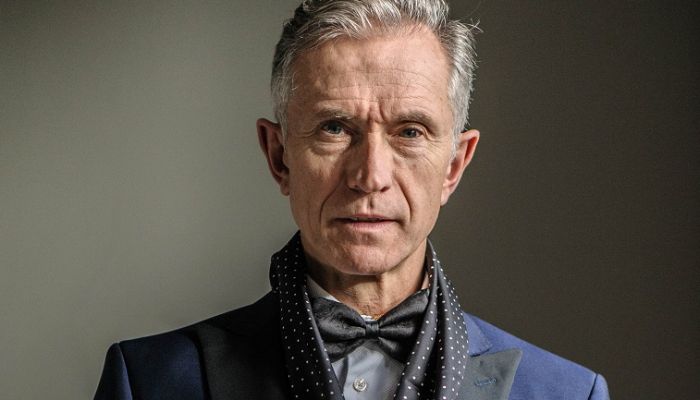 In a bid to fill a vital gap in the market – a menswear blog aimed at older men (40 and above) – David Evans created Grey Fox in 2011. When fashion insiders were obsessing over producing ranges and content aimed at millennials and the younger generation, David identified that for men over 40, it can be difficult to decide how to dress and what they should be wearing. Grey Fox proves that older men can pull off a variety of fashionable looks – both casual and formal, while promoting British brand and manufacturers, such as Kempadoo Millar, Johnstons of Elgin and Farlows. In this spotlight David, who recently featured on our Fashion Blogs UK Top 20 chats to us about his personal style, why collaborating with brands is more important to him, the importance of being honest with your audience, and why PRs need how to work with bloggers better.
How would you describe your personal style? A hard one. British gent meets denim casual with a hint of tweedy country style.
Why did you choose to blog about fashion? I wanted to blog and thought it would be interesting to write about the difficulties a man over 40 has knowing what to wear, where to buy it and how to dress. Without realising it, I seemed to have hit a hole in the blogosphere and the blog and supporting social media have uncovered a hunger among older men for inspiration and guidance on style.
Where do you see your blog in five years' time? On the same track. The demographic I write for is the largest and most affluent of all the age groups. Brands are only just beginning to realise the potential and I hope to keep pace with the needs of the blog's followers and do what I can to influence brands to cater to their needs.
Do you think that fashion bloggers have a big impact on their audiences' buying habits? Yes. I receive a surprising amount of feedback from followers saying they've bought this or that having seen it on the blog or Instagram. Usually, they tell me I'm costing them a fortune as well!
What trends do you think will be big this year? For my readers, it's all about personal style and not trends. Having said that, I encourage them to try out styles, colours and shapes they may have felt unsure about before. Skinny fits are on the way out – British-manufactured menswear is getting bigger every year. Soft, comfortable tailoring, quality knitwear and raw denim worn with vintage tweed and outerwear are becoming popular.
Who are your favourite designers and brands? Almost anyone manufacturing in the UK. Private White VC, Johnstons of Elgin for knitwear, Harris tweed. For bespoke I go to Dege & Skinner on Savile Row. For off the peg, Turnbull & Asser, Harvie & Hudson, New & Lingwood, Grenfell outwear are just a few of my favourites.
How did you build up a relationship with your audience? It's very important to be honest about what you like. I only accept paid work for brands whose products I like and will wear. I interact with them on social media, the blog and e-mail. Brands tell me I have a very engaged audience which is loyal to brands. That's partly because of their age group and partly because followers seem to respect my views on products and brands.
What are the challenges of being a fashion blogger? The costs in terms of time and money are significant. Brands are keen to be featured on my blog or social media in return for social media coverage or free products. I discourage this unless it's a new and young brand that I'm keen to support. If a brand wants access to my followers they should be prepared to pay a fair fee. I'm happy to try to build relationships with brands, but only where true collaboration is the end result.
Do you feel pressured to stay on top of trends? Not at all. My blog is about style and while I keep on top of some trends, I do this only to provide inspiration and ideas.
What have been your favourite PR and affiliate campaigns that you have worked on? And why? I don't do affiliate campaigns as I don't believe they are fair for bloggers. They rely on sales through a specific outlet and this takes no account of sales influenced by the blogger elsewhere or in the longer term. I have worked with some wonderful brands on longer term collaborations that have involved design, travel and social media takeovers. These have worked well because they've been arranged on a collaborative basis where the brand and blogger have gained much from the relationship.
What advice would you give to PRs who would like to work with you? Be open. Let's work to build up a relationship, but be honest if it's not working. If you put time and money into building a relationship, keep it going – otherwise you've not only wasted your client's time and money, but yours and the blogger's too. Be prepared to give the blogger a fair remuneration and be generous with products. I put much effort into wearing products. I really like and showing them on Instagram, but many PRs don't seem to recognise the possibilities here.
I'm afraid that not all PRs who know how to work properly with bloggers and many are letting down their clients as a result.
Will you be working on any exciting projects this year? The year has got odd to a great start and I'm working with a number of tailors and menswear brands on some exciting projects. A large sports sponsor has appointed me a Style Consultant for one of the year's largest sporting events (I can't say much more yet!). I'm also travelling to Lewis and Harris for Harris tweed soon and have an ongoing relationship with Johnstons of Elgin who are launching their first important designer collection in AW17. That's just a few of the wonderful things going on for Grey Fox Blog so far this year.
https://www.vuelio.com/uk/wp-content/uploads/2017/03/David-Evans_Grey-Fox-Blog-1.jpg
492
757
Holly Hodges
https://www.vuelio.com/uk/wp-content/uploads/2019/09/vuelio-logo.png
Holly Hodges
2017-03-21 10:04:29
2017-03-21 10:04:29
Blogger Spotlight: David Evans, Grey Fox Blog