Blogger Spotlight: Elaine and David, The Whole World is a Playground
The Whole World is a Playground is authored by couple and travelling companions, Elaine and Dave. With an ambitious goal to visit 15 countries a year, while working full-time in Ireland, they decided to create a travel blog to document all aspects of their travels and to prove that you can explore while chasing a career. In this spotlight, Elaine and David chat to us about how they got into blogging, how they prefer to work with PRs, and their top destinations for luxury travel.
Can you tell us about you and your blog? The Whole World is a Playground is a luxury travel blog founded by Elaine and Dave, an adventure loving couple with a passion for travel. We're always planning or taking off on some sort of adventure and love exploring new destinations and embracing all that the world has to offer. The Whole World is a Playground documents our adventures and inspires and helps our audience to plan their travels and experiences!
How did you first get into blogging? We'd been living and working in Manhattan for a few years and decided to take the long way home from New York to Europe spending a year travelling through Asia, Australia, New Zealand and the Middle East. On a lengthy border crossing between Thailand and Cambodia we realised there was very little information online for travellers like us – young luxury travellers who were determined to see the world in style! We wanted to share everything we'd learned and help others in the same situation and so The Whole World is a Playground was born.
How do you keep yourself motivated? We are constantly trying to improve and evolve as bloggers and influencers and always aim to be the best in the industry. We've set ourselves some very ambitious targets for 2017 and striving to meet those goals is a huge motivator. Surrounding ourselves with inspirational people who are doing the same is a huge part of this and we take motivation from them as well.
What opportunities have been presented to you since you started blogging about travel? Blogging has provided us with so many opportunities both at home and on our travels and it's been amazing to meet so many fantastic people through the blogging industry. We've had countless incredible experiences: we've swam on the edge of Victoria Falls in Zambia, flown into the Okavango Delta in Botswana in a private jet, watched the sunrise over the temple plains in Bagan, slept under the stars in the Jordanian desert, navigated glaciers in Norway, danced with Mariachi bands in Mexico City, ate an 8 course sushi dinner at 5am in Tokyo, had a shower on an airplane at 35,000 feet and slept in monastries, caves, ryokans, tents and capsules as well as some of the most luxurious hotels in the world! It's such a privilege to experience as much of the world as possible and we try and embrace every second of it.
What are your three favourite locations, and why? Africa is incredibly close to our hearts and we spend as much time as we can travelling through the continent. It's such a special place and each country is so unique: South Africa, Botswana and Namibia are our firm favourites at the moment.
Having spent some incredibly happy and fun years living in New York, the city will always be our second home and we love returning to visit our old hangouts and spend time with our New York family who are the most amazing group of friends we could ever have asked for!
Thailand, and especially Bangkok, is another favourite. We thrive on the crazy pace of Thai city life and adore the people. We have our eye on a Bangkok apartment as an Asia base so maybe we'll get to explore it in a little more depth!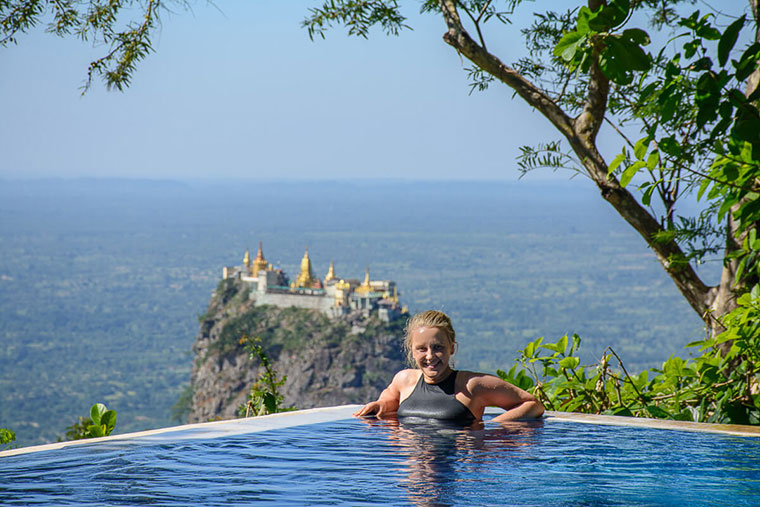 What is your favourite part of being a blogger? Being able to immerse ourselves in our passions of travel, content creation and building relationships. Our happiest times are watching the sunrise in some remote corner of the planet, with a camera and notebook in our hand, producing creative content and enjoying the surroundings. To us, that's true freedom. It's a cliché but we strongly believe that if you love what you do you'll never work a day in your life and blogging truly feels like that for us. Meeting amazing, like-minded people across the world has been an added bonus – some of our strongest friendships have stemmed from the blogging industry and it's fantastic to have friendly faces in every corner of the globe.
What makes your blog stand out from other travel blogs? We've been told many times that our photography and writing bring people on the journey with us and we hope that's how our audience continue to see us. Readers relate to the places we go, the hotels we stay in and the adventures we have. We only publish our own content and we stay true to ourselves – we've turned down countless opportunities that we didn't consider a good fit and our readers appreciate that. They know we only recommend things that we love ourselves – this is hugely important when it comes to taking the next steps in blogging to influence readers and add value for brands and we're proud to be where we are today with an audience who trusts us and makes decisions based on our experiences.
What kinds of campaigns or collaborations would you be interested in working on in future? We've seen a strong demand for photography, video and drone coverage from brands and we've worked on some amazing collaborations focusing on these medias. We'd love for that to continue into the future as it allows us to indulge in some of our biggest passions. We enjoy working on campaigns where brands allow flexibility with content creation as this allows bloggers like ourselves to craft something truly unique for our audience.
How do you think PRs can improve their influencer outreach when approaching you? We've had many really successful collaborations with PR companies and have been fortunate to work with some of the best in the industry. We prefer to collaborate on bespoke campaigns and trips where we have more control over our itinerary as this allows us to produce the best content tailored to our audience. We've seen a strong movement towards bespoke relationships with individual bloggers and this drives unique content which we believe is key to achieving natural and maximum outreach.
Who are your favourite bloggers? He's not technically a blogger but we are obsessed with Casey Neistat and his vlogs – his travel content is amazing, unique and honest. Like him, we're rarely without a camera or drone in our hand. For us, it's important to follow content creators who inspire us to deliver better content and continue to improve and evolve and Casey never fails to deliver.
Do you write for any other blogs? We occasionally collaborate on guest posts with other travel bloggers but working on and growing The Whole World is a Playground keeps us so busy that we focus most of our efforts there!
What are your favourite tools to use when managing your online presence? Given our love for photography it's no surprise that Instagram is our favourite social media tool! We love presenting a destination through beautiful pictures and Instagram is also a constant source of inspiration for us when we are planning our travels. Instagram stories has also been amazing to allow us to interact with our audience and get to know each other a little better!
https://www.vuelio.com/uk/wp-content/uploads/2017/06/vuelio-travel-blog-spotlight-elaine-and-david.jpg
555
760
Merryn Williams
https://www.vuelio.com/uk/wp-content/uploads/2015/10/vuelio-logo-transparent.png
Merryn Williams
2017-06-21 11:13:21
2017-06-21 11:13:21
Blogger Spotlight: Elaine and David, The Whole World is a Playground