Blogger Spotlight: Julie Creffield, The Fat Girls' Guide to Running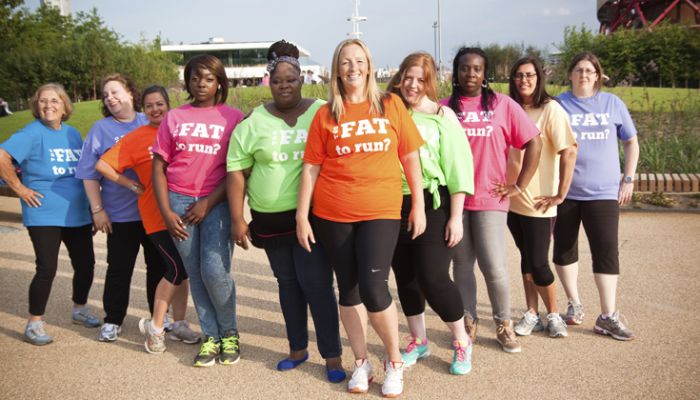 Julie Creffield is the Top 10 Fitness and Exercise Blogger behind The Fat Girls' Guide to Running. The blog covers health and fitness advice for the plus-size running world as well as inspiring stories to motivate readers. Julie has told us all about promoting health and happiness, getting creative with PRs and writing something just a little bit naughty…
How would you describe your blog?
It is a mix of race reviews, rants about health and fitness, useful tips and advice, and stories of inspiration found in the plus size running world.
Why did you start your blog?
A few years into my running journey I came last in a race and by the time I got to the finish line it was gone, along with everyone else. I was angry and embarrassed, but also realised it was quite a funny story and perhaps other larger runners could relate to my journey.
What makes your blog different from other fitness blogs?
The fact that I promote health and happiness at whatever size you happen to be, it doesn't focus on weight loss at any cost. I also think using the information and data I have from my online programmes, I am able to raise issues about the state of the health and fitness world, and women's sport and then challenge the thinking in ways that other fitness professionals perhaps do not.
What's the next big fitness trend going to be?
I think online coaching is going to continue to grow. Games-based workouts and communities for people to come together and participate without having to physically be there. I also think (or hope) that family-focused activities will increase too.
What piece of equipment or tech is your go-to workout companion?
My Garmin watch – I can't run without it.
 What's your favourite workout class or routine?
I'm loving CrossFit at the moment. Don't get me wrong its hard as hell, but I love how it challenges me, but also challenges everyone else to rethink their views on what a body like mine can do.
What was your favourite blog post to create and why?
I loved writing How to protect your flaps, chaps and cracks in this heat just because it was fun, provocative and a little naughty. It got loads of traction and readers seemed to like it.
How do you see your blog developing in the future?
I want to tell more of the stories of the women in my community. I also think now we are starting to deliver on the ground programmes there will be a bit of a shift towards this. On a personal level I want to do more speaking gigs, I love getting in front of an audience to tell my story, making them laugh, inspiring them to make changes of their own.
What makes your blog successful?
Its honesty and the fact I don't take myself too seriously. The fact that I like writing helps, it never feels like a chore, even when I have a back log of posts to go out.
How do you like to work with PRs?
I get approached by tons of PR companies, the ones that are enjoyable to work with are the ones who don't send copied and pasted info out and have never read your blog; PR companies that have a budget to work properly with bloggers, that respect the time and effort it takes to build an engaged audience. I also like PR companies that are willing to discuss creative ways of working together on campaigns.
What one thing should PRs know about you?
I don't like having my time wasted. Let's be adult and be up front about what shared value there is in any potential partnerships. But also, I am loyal and always up for helping out where I can. My favourite type of partnerships are ones that involve travel… so yes, if you need a blogger who represents the every woman to go check out a race in a far flung part of the world – I'm your girl.
What are your favourite blogs to read?
HelsBels – I love how passionate Helen is about fitness… oh and food. Mother Pukka – not fitness related, just love how stylish but also how outrageous this mum can be (and that she's built a successful career from it).
Julie Creffield features on the Vuelio Media Database along with thousands of other bloggers, influencers and journalists.
https://www.vuelio.com/uk/wp-content/uploads/2017/08/The-fat-girls-guide-to-running.jpg
420
760
Merryn Williams
https://www.vuelio.com/uk/wp-content/uploads/2019/09/vuelio-logo.png
Merryn Williams
2017-08-10 10:26:40
2017-08-10 11:08:12
Blogger Spotlight: Julie Creffield, The Fat Girls' Guide to Running