Blogger Spotlight: Samantha Rickelton, North East Family Fun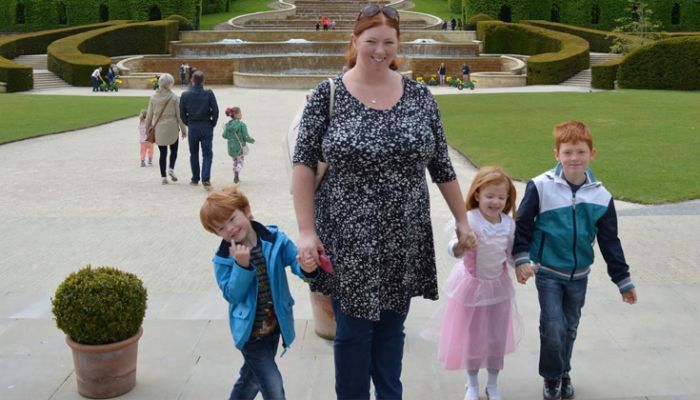 Samantha Rickelton is the Top 10 Family Travel Blogger responsible for North East Family Fun. Covering a range of family travel experiences with her three children, Samantha has taken some time to tell us about her lack of WIFI fears, Calella de Palafrugell in Spain and PRs encouraging creativity.
How would you describe your blog?
Our blog features the highs and lows of travelling with three children aged six, eight and 10. We cover everything from days out and wild camping in our local woods to luxury holidays and short breaks.
Why did you start your blog?
As a young parent living in a small flat with no garden, I always made it my mission to plan lots of outdoor adventures for our family. Over time, my friends and family would say I was their go-to person to ask advice for where to take their children for the next day out and mentioned that I should set up my own website. So I did! I Googled 'how to set up a website' and my first blog was born. North East Family Fun was established a few years later in 2013 as I decided there was a gap in the market for real and honest reviews of local days out and this has gradually evolved to cover travel experiences around the world as my blog has grown.
What makes your blog stand out against other family travel blogs?
I would like to think it's my writing style. I have a very conversational style of writing and I think it feels as if I am chatting with friends rather than a reader. I try to weave our life stories into our reviews (for example we visited Swansea Bay recently and I was nearly traumatised as I had no phone signal or WIFI) rather than write straight reviews and think that my readers really relate to my experiences and my honesty.
What's the best place you've been as a family?
The best place we've visited in recent years is Calella de Palafrugell in Spain. We are huge foodies and this traditional village is full of Spanish charm and has a harbour lined with superb seafood restaurants. The whole holiday was all about eating delicious food and relaxing as a family. We loved it so much we are heading back next year. Calella de Palafrugell is one of the few places I've been able to properly switch off.
What's the worst place you've been as a family?
Oh this is a tricky one! I think I would have to say the seaside town of Bridlington in North Yorkshire. We love Scarborough and visit every year – it's such a nostalgic place to visit and there is lots to do for families. We made the mistake of venturing a little further and trying Bridlington as an alternative one year but it just wasn't for us. Perhaps it's because Bridlington doesn't hold any memories for us but we found it really tacky and grim and left after around 20 minutes.
What makes the ideal family holiday?
Our number one priority is food – it doesn't have to be fancy but we are huge fans of eating locally. We always choose somewhere to stay based on local restaurants or food markets. We use our holiday time as a chance to unwind and beautiful locations and scenery certainly help. Finally, as I work as a full-time blogger, I do appreciate access to WIFI so I can check my emails – it doesn't have to be constant but if I can't connect after a couple of days, I start to get tetchy!
Where haven't you been that you're desperate to get to?
I have a few places on my travel bucket list. I would absolutely love to visit Iceland and relax in a natural hot spring. Everyone who has travelled there tells me it's unforgettable. I'd also really love to visit Singapore, Japan and Canada at some point.
How do you like to work with PRs?
I always appreciate when a PR is straight from the outset about expectations and it's helpful to know the aim of the campaign during initial discussions. After this, I really love it when a PR encourages creativity and does not place too many limitations on the type of content I can create. I like to have an email trace between myself and a PR of anything we've agreed and it's super handy to receive a check list to use during campaigns featuring things like hashtags, Social Media handles and the campaign aims all in one place.
What is the one thing PRs should know about you?
We are a family of five with three children aged six, eight and 10. Please take this into consideration before contacting us. There's nothing more frustrating than receiving an exciting invitation and then realising it is only suitable for a family of four.
What are your favourite blogs to read?
I love watching Katie Ellison's vlogs. Katie's editing is superb and she is a real YouTube inspiration to me. In the North East, I never miss a post from Nomipalony. Nyomi's blog tells it how it is and there is no subject matter that's off limits. Finally, Sprog on the Tyne is a go-to blog for many parents with smaller children across the North East. Caroline's photography is of a professional standard and her reviews are always very thorough. I'm really pleased that Caroline has agreed to cover the Just So Festival for North East Family Fun this year and can't wait to see what she comes up with.
Samantha Rickelton features on the Vuelio Media Database along with thousands of other bloggers, influencers and journalists.
https://www.vuelio.com/uk/wp-content/uploads/2017/08/North-East-Family-Fun.jpg
420
760
Holly Hodges
https://www.vuelio.com/uk/wp-content/uploads/2019/09/vuelio-logo.png
Holly Hodges
2017-08-11 10:18:41
2017-08-11 10:18:41
Blogger Spotlight: Samantha Rickelton, North East Family Fun