Breaking Bad: reactions from the web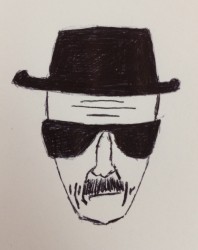 CONTAINS SPOILERS – Breaking Bad finished on Sunday night (or Monday, depending where you are) bringing an end to what is surely the first 'globally aired' television programme to benefit from the combination of Twitter and Netflix. With such a highly anticipated finale, the internet has come out in force to discuss both the last episode 'Felina' and less directly-related points.  
On social media, the television programme peaked with over one million tweets during the US airing. Reflecting the ratings, the finale pulled in nearly three times the number of tweets it managed at any one time in the last month.
The BBC put together a collection of reviews of the final episode, so I've chosen to focus on the alternative articles that you may have missed.  
WhatCulture! has posed six unanswered questions ranging from 'What became of Saul' to 'Why did Walt leave Gray Matter'. While it says the finale didn't disappoint, it takes issue with the amount of loose ends which now can now never be resolved.   
The Guardian has cherry-picked the Talking Bad fan show for quotes from Vince Gilligan. The article suggests there were no loose ends and discusses Walt's decision not to kill Jesse. 
The Financial Times has chosen a rather different tack and published, 'Breaking Bad and the global meth trade: Five facts to drop at your next dinner party'. Facts include: 'North America dominates the world of methamphetamine. And those Mexican cartels are indeed hard at work'.
Prospect magazine draws parallels between Walter White and modern America, suggesting the show is a mix of 'violence, moral complexity and the underlying politics of gender and modern America'.  
The Epoch Times put together a list of facts about Ricin, which was the downfall of Lydia (oh Lydia, the encyclopaedia…). The list of seven facts includes the rather ironic detail that some studies suggest ricin can potentially treat cancer.
The Huffington Post reports how Albuquerque businesses are still hoping to cash in on the show, including an owner of the city's Rebel Donut chain which sold $10,000 worth of its blue frosted and crystal rock candy donuts.
Not to be left out, Cision UK created an infographic of 7 PR lessons from Breaking Bad's Walter White. Have you seen some something about Breaking Bad that you think we've missed? Let us know in the comments below.
Graph was made with Cision Social Media via CisionPoint. All the posts were found with Cision's free UK Influencer Search. 
Priyanka Dayal
https://www.vuelio.com/uk/wp-content/uploads/2019/09/vuelio-logo.png
Priyanka Dayal
2013-10-01 14:35:34
2013-10-01 14:35:34
Breaking Bad: reactions from the web