Can Vuelio win the Iron Throne?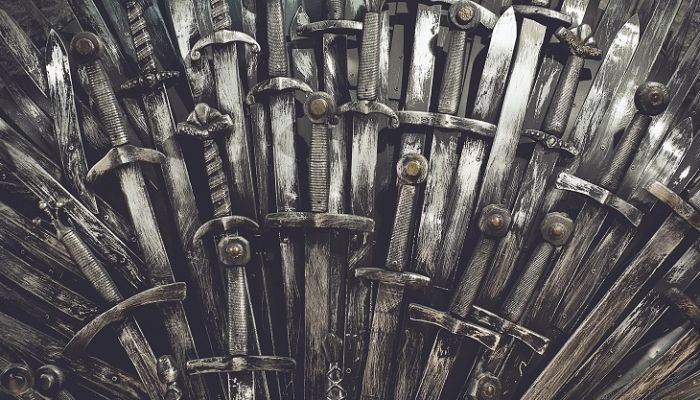 The challengers to the Iron Throne are now in full combat mode as Game of Thrones Season 7 started this week.
But the burning question on everyone's lips is, 'what PR tools would benefit the respective kings and queens?' Well ask no longer as here we present the top challengers and how they'd take over if only they had a good internet connection and a computer.
BEWARE: SPOILERS AND FRIVOLITY LIE AHEAD
Cersei Lannister – Influencer Rating
Cersei is the current ruler of Westeros so can call the Iron Throne her own. After destroying the Faith, and many of the country's elite, her public stock is at an all-time low. An unpopular leader doesn't bode well, often leading to riots and challengers to the crown – though Cersei has those in abundance anyway.
The main issue with Cersei as a Vuelio customer is she just doesn't care. There's very little to suggest Cersei wants to improve her standing with the public, using fear and secrets to keep the people in their place – so what good would Vuelio be?
Influencer rating
Vuelio's unique Influencer Rating will give Cersei immediate access to the most popular people in Westeros and snuff them out before they become challengers. The influencer rating makes it quick and easy to find people who are influential by topic or outlet, allowing Cersei to quickly weed out her enemies. Cersei would obviously try all she could to manipulate the system so she was the only one with a score of 100, but as it is infallible she'll have to settle for destroying the other influencers.
Jon Snow – Horizon Scanning
Jon's had a mixed bag of public relations experiences – gaining support among many noble families who are happy to declare the honourable man 'King in the North', but struggling against those who believe he should never have let the Wildlings through The Wall (the ones who murdered him, for example). After his victory over Ramsey Bolton, he also has his cousin Sansa Stark to work with (while Littlefinger continues to whisper in her ear).
Horizon Scanning
Jon's a busy man and has a number of competing priorities, that's why he needs Vuelio's Horizon Scanning. A custom report from the Vuelio team will give Jon everything he needs to know about his stakeholder community, including: key events among the noble families, the latest reports from his competition and Castle Black, and debates between allies and foes. Jon will then be equipped to take on all his challenges with one concise report.
Sansa Stark – Stakeholder Management
While Sansa doesn't claim to desire the Iron Throne, Littlefinger's persistent meddling is clearly niggling in her mind and she's shown strategic brilliance before now that can't be ignored.
Sansa wants her voice to be heard, and she'll be making use of Vuelio's engagement tools internally as much as externally.
Stakeholder management
Working closely with Jon, Sansa will be able to track every item of communication which comes from their joint claim to Winterfell. She'll be able to see what messages Jon's spreading and also log her own, so they can share the success as a team. This also means that next time there's a battle, she doesn't have to keep the Men of the Vale a secret.
Daenerys Stormborn of the House Targaryen, First of Her Name, the Unburnt, Freer of Slaves, Queen of the Andals and the First Men, Khaleesi of the Great Grass Sea, Breaker of Chains, and Mother of Dragons – Media Monitoring
Daenerys is effectively entering a new market, bringing a new product (House Targaryen) and looking to quickly become the most-loved brand.
Waging war is tough, people die and the public's emotions are up for grabs. Tackling the Lannisters head on will likely gain the Mother of Dragons early support but Westeros is bigger than King's Landing and there are many other pretenders standing in her way.
Media Monitoring
Daenerys needs to keep track of her progress as she invades her homeland, monitoring all the coverage whether it is in Dorne or the Riverlands. Is her brand's message being spread in the right way? Do people love the Targaryen name once again? With built-in sentiment tracking, Khaleesi will always know where she's loved and where she's not.
The Night King
The Night King doesn't need PR software, he has influence over all the dead and in war, there's a constant supply. Also, his icy touch would struggle to operate cutting edge software and at the moment Vuelio is only available south of The Wall.
https://www.vuelio.com/uk/wp-content/uploads/2017/07/Game-of-thrones.jpg
417
760
Jake O'Neill
https://www.vuelio.com/uk/wp-content/uploads/2019/09/vuelio-logo.png
Jake O'Neill
2017-07-19 13:09:28
2017-07-19 13:41:55
Can Vuelio win the Iron Throne?