Cycling blogger spotlight: Andrew Sykes, CyclingEurope.org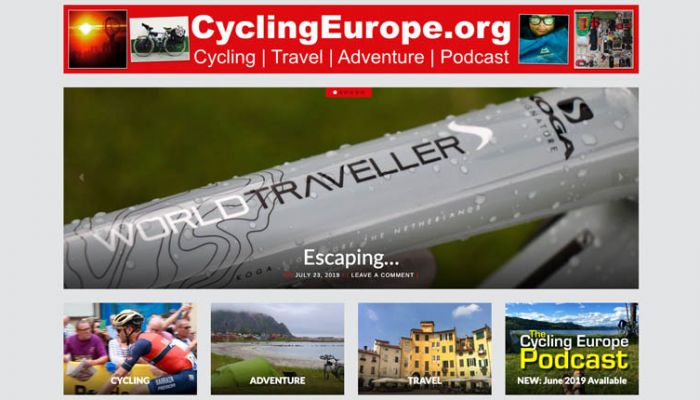 Andrew Sykes is the writer and cyclist behind CyclingEurope.org, a top 10 UK cycling blog. Covering the best routes and cycling tips, Andrew has also published three books about his travels across Europe.
We spoke to Andrew about being part of the cycling blogger community, his new bike Wanda and the best way to get in touch if you're a PR or brand.
How do you describe what you do to other people?
I am, above all, a cyclist. Combined with a love to explore this wonderful continent that we called Europe (as well as the other six!) and the skills to express my experiences in words, I suppose I'm also a traveller and writer.
How did you discover your love of cycling?
I have always been a cyclist or at least from the point when I learned to ride a bicycle when I was very young. It remains, in my opinion, the most practical way to get from A to B and, after crossing Europe for the first time in 2010, I discovered that the combination of cycling, long-distance travelling and writing was a very good one indeed.
What's the best bike you've ever ridden?
The one that I have just invested in! It's a wonderful Koga Signature WorldTraveller bike from the Netherlands. With its hub gears, carbon belt and sturdy build, it should hopefully have me crossing more continents in the years to come. It's also got a name: Wanda.
What's the best cycle route in the world?
The best cycle route is the one that you abandon your car to make on two wheels instead. That could be across the country, to work or just to the end of the street.
The next big thing in cycling – what are your predictions?
I've mentioned my new bicycle already and some of its features; the hub gears and carbon belt are not new but, now that hub brakes have almost become standard, surely advanced drive systems are next. Time will tell. Efficient power generation when cycling has also come a long way in recent years, especially as everyone wants to keep their high-tech devices topped up on the go. Expect to see big advances in that area too.
What's the cycling blogging community like to be a part of?
It's great to be at the heart of it. Most cyclists are very down to earth people; we reflect the machines that we ride; humble, inconspicuous, environmentally friendly… and I'm proud to be part of that group of people.
Do you accept press releases?
Yes, as long as the general topic is in line with the themes of CyclingEurope.org, namely cycling, travel and/or adventure. And I don't turn things away simply because they are not about Europe!
What are the best campaigns you've collaborated on?
I've worked with many groups over the years helping to promote a range of services and products that I think may be of use to the readers of the website: clothing manufacturers, travel specialists and transport companies. I'm also increasingly working with tourist authorities writing bespoke content for the site about their particular corner of the world.
What advice would you give to PRs/brands reaching out to you?
Be honest in your approach. Avoid telling me that you've always been a fan of the site, that seems unlikely. And if you are offering sponsored content, be up front about the financial side of things. Most long-term relationships kick off with everyone knowing where they stand.
What other blogs do you read?
I'm familiar with most of the sites on the current Vuelio top ten list of cycling blogs but I have to admit that Brian Palmer's thewashingmachinepost is hard to beat in terms of his shear depth of knowledge and attention to detail. Impressive stuff!
https://www.vuelio.com/uk/wp-content/uploads/2019/08/CyclingEurope.jpg
430
760
Christina Pirilla
https://www.vuelio.com/uk/wp-content/uploads/2019/09/vuelio-logo.png
Christina Pirilla
2019-08-09 14:34:13
2019-08-09 14:34:13
Cycling blogger spotlight: Andrew Sykes, CyclingEurope.org