Family Travel Spotlight: Nichola West, Globalmouse Travels
Nichola West is the author of Globalmouse Travels, which was recently named in the top 10 UK Family travel blogs. Exploring the real side of destinations – rather than the well-worn tourist routes – Nichola and her family travel both in the UK and around the world. We caught up with Nichola to find out about the beauty of Oman, her advice for family travel and how she likes to work with PRs and brands.
How do you describe what you do to other people?
I say I try to inspire other people to keep travelling with their children, while getting to enjoy doing exactly that with mine.
How do different social channels feed into your blog?
They all work really differently, Twitter is good for chatting (and I co-run a monthly Twitter chat #familytravelhour with Lonely Planet Kids and other travel bloggers once a month, which is a fun place to all connect and talk travel); Instagram is like a blog in itself, working as a more immediate look at our travels as they happen; and Facebook is a nice place to share other travel news as well as what we're up to. I am starting to really get in to YouTube too and enjoy making videos of the places we visit.
How easy is it to get into family travel? Did you have any major concerns?
I was really daunted by family travel in the beginning. We took a couple of trips to France that seemed quite stressful and resigned ourselves, after years of travelling as a couple, to little trips to France, thinking that was as far as we would go. Then we won a competition to travel to the Cook Islands and that transformed our mindset. If we could travel for over 24 hours with a one-year-old, we could travel anywhere. So now we go wherever any of us fancies. It was a moment of realisation that you have to relax and just go with it because anything is possible.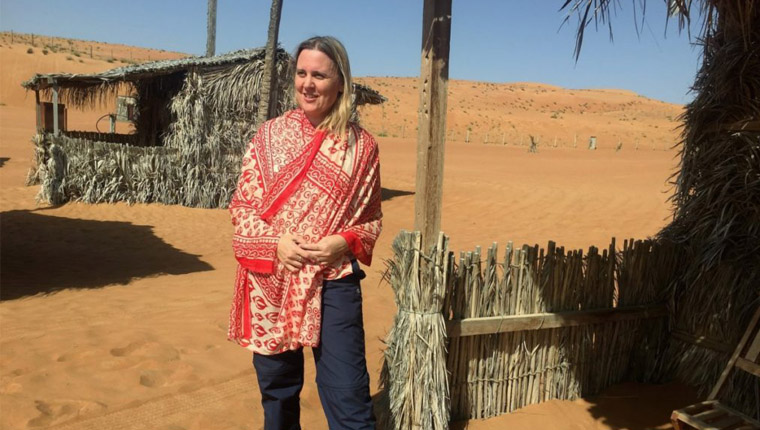 What's the best family destination in the world?
Our favourite destination is Oman. We all just love it. We stayed in some beautiful resorts with swimming pools and perfect for relaxation, visited deserts for sleeping out under the stars and camel riding with nomadic Bedouins, and went to beaches to watch endangered turtles hatch. The Omani people are so friendly and welcoming and we loved the warmth of the country.
What are your top tips for long distance travel with young children?
My top tips are to relax and enjoy it. Take sticker books, wipes, snacks from home and a camera and you'll have the best time. Children really do create a welcoming environment and we've had such wonderful experiences travelling in new cultures thanks to travelling with them.
How restrictive are term times for the perfect family travel experience?
Term times are definitely restrictive and annoying but then there are plenty of breaks and the key is to plan ahead. Book flights when they come out, as far in advance as you can, and you can get some great bargains. It's also worth keeping an eye on the holidays of other countries around the world, for example Scotland usually break up before the rest of England and go back earlier so you might find it cheaper to travel up to Glasgow or Edinburgh to fly out from later in the summer when they're back at school. In the same way, most of the US and Scandinavian countries go back to school before England, in mid-August, so going later in the month will mean more accommodation options and some good offers.
Do you accept press releases?
Definitely. It's always good to hear the latest industry news.
What are the best collaborations you've worked on?
I work with a great group of family travel bloggers, The Family Travel Collective and together we have worked on some fantastic campaigns with brands including Hyundai and BenQ and destinations from Durham to Tunisia. It's a wonderful, collaborative way to work and I love the results we get when we join together to increase reach. I also personally love working with Visit Scotland who really understand what we are looking for on a trip, from a family travel perspective and also with Visit Denmark who we just love.
What advice would you give to PRs looking to get in touch?
Please do! We love to hear from PRs and whether it's a fully joined together campaign you'd like us to work with you on or you're looking for ideas of how we can work together we'd love to hear from you and help to create some exciting content.
What other blogs do you read?
I love Tigerlillyquinn, Along Dusty Roads, Mrs O and many other family travel blogs.
https://www.vuelio.com/uk/wp-content/uploads/2019/08/Nichola-West-Globalmouse-Travels.jpg
430
760
Holly Hodges
https://www.vuelio.com/uk/wp-content/uploads/2019/09/vuelio-logo.png
Holly Hodges
2019-08-08 12:15:44
2019-08-08 12:15:44
Family Travel Spotlight: Nichola West, Globalmouse Travels