Daddy Blog Spotlight: John Adams, Dad Blog UK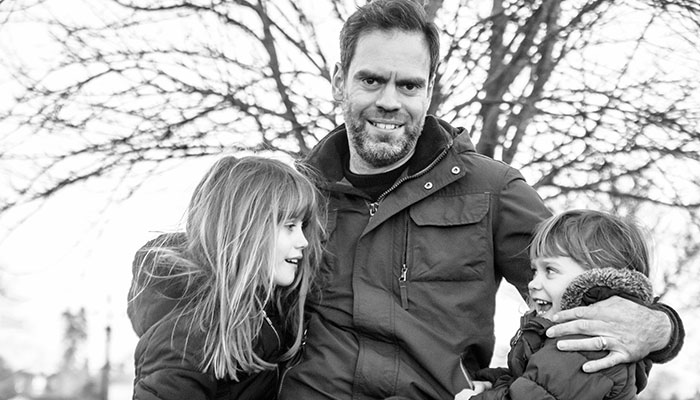 John Adams is the creator of top Daddy blog, Dad Blog UK, taking the number one spot in our Top 10 UK Daddy Blogs. Dad Blog UK has great advice for parents and John shares the milestones in his children's lives with his readers alongside offering insight into what it's like to be a stay-at-home dad in 2019. 
We caught up with John to talk about life as a blogger, the importance of social channels and how father's day impacts his content.
How do you describe what you do to other people?
Until 18 months ago, I would have described myself as a stay-at-home dad. Blogging was more of a side hustle. With both my daughters having been in the education system for a little while now, I happily describe myself as a "fatherhood, parenting and lifestyle blogger."
I'm still the kids' main carer because my wife is out the house 12 hours a day. During school hours, however, I work on the blog.
Generally speaking, younger people, those in their thirties and below, get what I do. For older people, I have to explain what a blogger is and how I earn money. No matter who I am speaking to, I often find I'm an object of curiosity!
How do social channels work with your blog – are any more important than others?
My social channels revolve around Dadbloguk. I own the blog and parent company so it's my channel. You're at the whim of algorithms with social channels and they can be de-activated (think Vine and Google+).
Twitter and Facebook are my main channels for promoting blog posts. Pinterest also works well for me, although I only really embraced it properly earlier this year.
That said, I am producing increasing amounts of stand-alone content, especially on Instagram where I have experienced more engagement over the past 12 months. I've increased my output on Stories and I am ever so slightly in love with IGTV.
A brand-new venture for me is TikTok. I posted my fourth video to TikTok seven days ago. It was in support of a motoring-themed campaign and at the time of writing, the video had 56,500 views with no paid-for promotion whatsoever. I appreciate many people think it's a channel for young people, but that, to me, is a sign TikTok has huge potential.
As an aside, short-form video is ideal for the mummy or daddy content creator. We're often juggling kids and work so pushed-for time and don't have gangs of friends to help with shooting and editing footage. It's quick, easier to produce than long-form and is better for authentically portraying the messy nature of family life.
What's the perfect father's day?  
I was asked this the other day and I said something about lying a beach in the Seychelles. That'll never happen, so I'll settle for a sunny day, a barbecue with the family and a bike ride with the kids.
How much does father's day affect your content?
The build-up to father's day is often one of the busiest times of year. I get a lot of requests to write about possible father's day gifts. There's also a lot of interest in the media about the role of fathers, so I often find myself giving comment to print and broadcast media about life as a dad. That brings me on nicely to the next question…
How is the role of dad changing in society?
In the decade I've been a dad, fathers' roles have changed hugely. When I became a dad, it was kind-of a question as to whether a man would be a hands-on dad. Now it's more of a question how hands on a man is going to be.
I'm delighted to see more discussion and debate about flexible working and men. Volvo, Aviva, British Land etc. are among employers who have equalised parental policies. It's happening slowly, but employers seem to be accepting that men are central figures in their family's lives. All the evidence shows millennial men and women expect to have their needs as parents respected by their employers and to be treated equally. Flexible working and childcare should not be treated solely as a women's issues because they aren't, they impact on men and children too. If you don't have equal workplace policies in place, you effectively force women out of the workplace and trap men in it.
Okay, I'll get off my high-horse. Moving on. . .
What's the best balance between visual and written content?
You need some visual content on a blog. I tend to post a photographic, image-led blog post at the weekends. At the beginning of 2019 I completely revamped Dadbloguk and I considered doing away with this feature. Truth is, I enjoy photography and my visitor stats prove that weekly post is phenomenally popular so it ain't going anywhere!
I think of myself as a writer so there will always be long-form, written content on my blog. For commercial clients, I would say well-written, long-form content is very valuable because of its evergreen nature. I keep a very close eye on what visitors to my blog are reading and it never ceases to amaze me:
a) How popular review posts are
b) The length of time people spend reading review posts and
c) How much traffic such posts receive months and years after they are written.
It's a healthy reminder that us bloggers have a responsibility to produce well written, honest, detailed reviews.
Video content I tend to keep on my social channels. This is becoming more important on Instagram and you can expect me to do more on TikTok as well!
Do you accept press releases?
I am very happy to receive media releases and approaches from PR people.
What are the best collaborations you've worked on?
Just recently I've worked on a few campaigns with tech companies to highlight the parental controls their products have, working with Apple was a highlight and I did a similar with Xbox also.  I'm passionate about online safety so these campaigns were a great fit for me.
Thinking of road safety, I've just worked on a fun campaign with Peugeot in which I had to reverse a van around an obstacle course to test its Surround Rear Vision reversing system. The TikTok video I mentioned was part of this campaign.
What advice would you give to PRs/brands reaching out to you?
I am always happy to hear from PR representatives and brands. If you are inviting me to an event, I need as much notice as possible (us mummy and daddy bloggers often have to arrange childcare).
Ultimately, however, if you have an idea, run it past me.
What other blogs do you read?
This question always makes me feel uncomfortable because I feel like I'm going to miss someone really important off the list!
Believe it or not, I do visit Inthefrow. The fashion and styles on display don't interest me, but I like to read blogs that operate in completely different spheres to see what other people are doing. It challenges you to think differently and Victoria produces an exceptionally well-designed blog and you can see why the content appeals to her core readership. Time and again I return to Diary of the Dad because I love Tom's writing. He can also be very funny and witty. I think Daddy and Dad offers a great insight into adoption and life as a same-sex couple. Jamie and Tom are going places I think. I'm a huge fan of Grey Fox because of the way David promotes classic British style. He also deserves recognition for pioneering online style for older guys
https://www.vuelio.com/uk/wp-content/uploads/2019/06/john-adams.jpg
400
700
Holly Hodges
https://www.vuelio.com/uk/wp-content/uploads/2023/09/vuelio-logo-200px.png
Holly Hodges
2019-06-05 08:00:04
2019-06-05 13:22:43
Daddy Blog Spotlight: John Adams, Dad Blog UK