Daddy Blog Spotlight: Nigel Higgins, DIY Daddy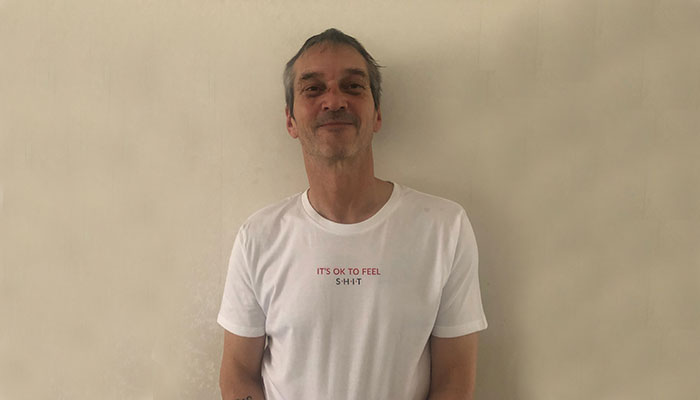 Nigel Higgins is the brains behind DIY Daddy, recently included in our Top 10 UK Daddy Blogs. DIY Daddy combines Nigel's years of experience in decorating and DIY with tips and advice on parenting as he brings up 5 kids.
We caught up with Nigel to talk about what makes the perfect father's day, how the role of dad is changing and the best collaborations he's worked on.
How do you describe what you do to other people?
This is a great question! Whenever somebody asks me what I do for a living I either say I'm a blogger or an influencer. It definitely gets a varied selection of responses from people, but they mainly ask what that means, followed by asking what my blog is called. Trying to explain to somebody who has no idea what a blog is can be difficult. I usually resort to saying that I write a website and then they appear to understand. When you try to explain that you review products or work with large brands most people instantly think you just get lots of freebies which of course you don't, you have to work for it.
How do social channels work with your blog – are any more important than others?
Social channels are where you promote your latest blog post and there is no doubt I use them extensively to promote my blog. There is no point in writing something and hoping people will read it without some sort of promotion.
I think they all have a place and are important. Over the years I have seen the popularity change dramatically between social media channels. Without question Instagram is definitely the most popular social media channel at the moment, I probably use that more than the others. While they may be flavour of the day at the moment, but not so long ago Twitter was the one, so I'm sure something will come along and knock Instagram off its perch at some point.
What's the perfect father's day?  
The perfect father's day for me is having all my children around me, even if it's only for a couple of hours. The icing on the cake would be to have Sunday lunch all together.
How much does father's day affect your content?
Leading up to father's day I am offered many opportunities to collaborate with brands so there will always be more blog and social posts relating to father's day, but I always try to be careful that there are not too many father's day posts and that I also continue with my normal posts.
How is the role of dad changing in society?
The role of dad in society has changed dramatically over the years. We now see so many more dads becoming the main carer for their children and the reason for this is that mums could be continuing with their careers, or they could be the higher earner. This of course means that dads will become the main carer. I think it's great that dads are more involved with their children's lives. It is a positive move to have dads as a major influence on their kid's lives daily. In my opinion, society has finally realised that dads having family time is vital for their children. It's early days but it's moving in the right direction.
What's the best balance between visual and written content?
I have always considered written content to be the most important. That's probably because it was what I started out as. Of course, blogging has changed and evolved, and part of your content has to be visual. I write approximately 5 blog posts a week, but nowadays I include a number of Instagram posts with a photo per week.
Video has become a large part of my content this year and I usually do a couple of IGTV videos a week.
Do you accept press releases?
I will accept press releases if they are relevant to the theme of my blog, otherwise I generally don't accept them.
What are the best collaborations you've worked on?
The most incredible part of blogging for me has been the incredible opportunities that it has given us as a family and there have been plenty of them. I will always try to collaborate with people that fit in around our family and our family values.
I have to say that possibly the best collaboration that I have done is literally just the weekend gone. We were invited to Bluestone National Park by Persil UK for a weekend of adventure and fun to celebrate their 'Dirt Is Good' campaign. It was all about getting outdoors and just getting muddy and enjoying ourselves as a family. It involved a nature trail, cooking marshmallows on an open fire etc and it was just a magical moment being outdoors as a family. The PR team and Persil looked after us brilliantly and made it an awesome weekend.
What advice would you give to PRs/brands reaching out to you?
I get a lot of enquiries from PR's and many I will just skim read and delete. You may ask why and it's really simple; they aren't saying exactly what they want.
If you are a PR or a brand I would like to know exactly what you want, and if a fee is involved what deliverables do you want from me. That way I can then make an informed decision if we are suited for a collaboration.
Thankfully most of the PRs and brands I deal with are very up front from the beginning about what they want from me.
What other blogs do you read?
John Adams who writes Dad Blog UK. I have always read John's blog. It is always fresh and very interesting.
Tayla who writes Motherhood: The Real Deal. I was on the radio with Tayla this year and we instantly hit off, I started reading her blog and just love her insightful look into parenting.
Finally, I have always, and always will, read my wife Emily's blog, Twin Mummy and Daddy. I love her incredibly positive outlook on life, and her writing is always so engaging.
https://www.vuelio.com/uk/wp-content/uploads/2019/06/nigel-higgins.jpg
400
700
Holly Hodges
https://www.vuelio.com/uk/wp-content/uploads/2019/09/vuelio-logo.png
Holly Hodges
2019-06-05 09:00:05
2019-06-05 11:57:56
Daddy Blog Spotlight: Nigel Higgins, DIY Daddy