Don't compare yourself to other runners: Emma Neachell, The PHD Runner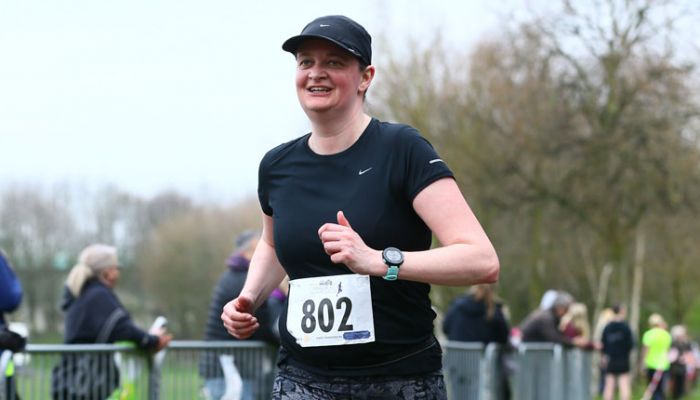 Emma Neachell writes The PHD Runner, which was recently ranked in the top 10 UK running blogs. Emma is a hydrologist by trade but uses the blog to share her running adventures (and misadventures!). We caught up with Emma to talk about the joy of running, how simple it is to start and what's she's looking for from PR collaborations.
What makes your blog successful?
I personally don't think my blog is very successful. However, people who read my blog on a regular basis have said they appreciate my honesty and my willingness to share my unflattering running photos.
How do you plan your blog content around your runs?
When I'm training for a target event, for example the Cambridge Half, this is relatively easy as I'll produce weekly training updates. I also really enjoy writing race reviews as every race is unique. As a runner, I find race reviews really useful, so I try to include as much information as possible. I'm unfortunately injured at the moment so, although I can't run, I'll be able to write about how I deal with being injured.
What's the best place to run in the UK?
Sutton Park in Sutton Coldfield. It's one of the largest urban parks in the UK and has some amazing trails.
What advice would you give to new runners?
Running is quite hard to start with but it does get easier. Don't compare yourself to other runners and most importantly, have fun!
How important is the right equipment/outfits for successful runs?
One of the reasons I love running is the fact you don't have to invest in a lot of running kit when you start out. All you need to start with is a pair of running shoes, some decent socks and a sports bra. If you find you enjoy running, invest in more equipment and running kit. The expensive GPS watch can wait. In my opinion, comfortable, correctly-fitting kit can make or break a run. I've actually had to cut training runs short due to kit related issues.
What's the best race you've competed in?
I feel that I should say one of the three London Marathons I've completed, but I won't. The best race I've competed in was the Cathedral to Castle 10 mile run. The course was quite challenging but I loved every second of the run. I've already entered next year's event!
What one thing should PRs know about you?
That I exist and love writing! I haven't had many blogging opportunities this year.
What's the best campaign you've collaborated on?
This is actually quite a tricky question to answer! I was thrilled to be asked to join the Decathlon Bloggers Community and can't wait to get involved in some exciting campaigns later this year. I think it's a case of watch this space.
What do you call yourself?
I don't think I'm an influencer. I'll always call myself a running blogger.
What other blogs do you read?
I don't have as much time as I'd like to read blogs but my favourites include: AnnaTheApple, HelsBels, A Healthier Moo, Maria Runs and Deutscher Wanderwolf.
The PHD Runner is listed on the Vuelio Database, along with thousands of other bloggers, journalists, bloggers, MPs and SpAds.  
https://www.vuelio.com/uk/wp-content/uploads/2018/04/The-PHD-runner.jpg
430
760
Merryn Williams
https://www.vuelio.com/uk/wp-content/uploads/2023/09/vuelio-logo-200px.png
Merryn Williams
2018-04-17 14:00:12
2018-04-18 12:20:56
Don't compare yourself to other runners: Emma Neachell, The PHD Runner