Fitness Blogger Spotlight: Lucy Edwards, Paddle Pedal Pace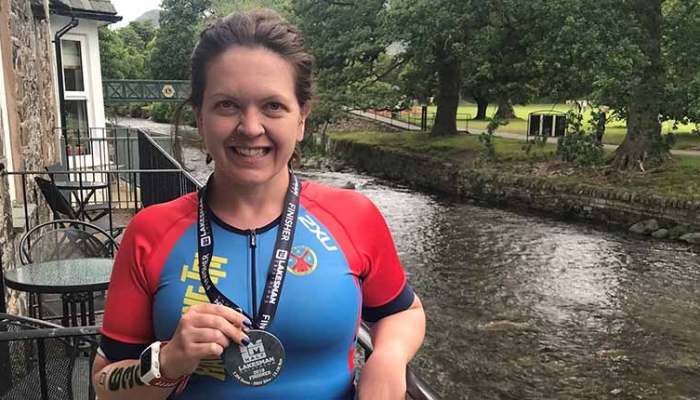 Get to know one of our top 10 fitness and exercise bloggers – Lucy Edwards of Paddle Pedal Pace. Having completed 25 triathlons at the current count, Lucy also recently qualified to represent Great Britain at the European Age Group Championships. Learn more about her journey from self-confessed 'gym bunny' to endurance athlete in our Blogger Spotlight.
How did you get started with blogging about fitness?
I started my blog in September 2013 as I had some time off between jobs and wanted a new project to keep me busy. I was inspired by other fitness blogs which I'd been following and decided I wanted to share my own thoughts and experiences.
What's your favourite thing to post about on your blog?
I enjoy writing race recaps as it's fun to relive the experience, celebrate the achievement and cement the memories in my mind. I'm told that my race recaps are useful for other people when they are choosing or training for a race, as it lets them know what to expect on the day.
What are your tips for getting back into an exercise routine after the festive season?
Don't put too much pressure on yourself and ease back in gradually. It's better to build up slowly than launching into a demanding regime in January which you won't be able to sustain throughout the year. If you do have some big fitness goals for 2020, I'd recommend finding a coach or personal trainer to help you structure your training towards those goals.
What makes the fitness blogging community different (and better!) than others?
Honestly, I feel like the community has changed a lot over the years. Many of the original fitness bloggers who started around the same time as me have now closed down their blogs or moved in a different direction. I know a lot of bloggers who are feeling disillusioned with the influencer landscape currently. Having said that, there are still a few fitness bloggers who are passionate and knowledgeable about creating quality content.
Weirdest fitness trend you've tried/heard about?
Swimrun sounds crazy and I'd love to give it a go! You race in teams of two, alternating between trail running and open water swimming, but you don't get changed for each section so you run in your wetsuit and swim in your shoes! It started in Sweden as a drunken bet (like many of the best ideas)!
What are the best songs to have on your iPod to get you fired up to work out?
When I'm doing a tough session on the Wattbike, I tend to listen to metal like Slipknot, Korn, System of a Down, Rage Against the Machine. Stuff I listened to when I was a teenager!
Who are your fitness heroes/inspirations?
I'm not hugely inspired by pro-athletes or celebrities – I find everyday people more relatable. Members of my triathlon club who are balancing training with work, families and a social life are my inspiration (particularly those who have got young children).
How do you work with PRs and brands?
I've worked with PRs and brands on a variety of campaigns including product reviews, press trips, sponsored content and social media promotion. I'm happy to consider any ideas for collaboration as long as they are relevant to my audience.
For PRs looking to work with you and your blog, how would you prefer they approach you?
Contacting me by email is fine. I always prefer when the PR has researched my blog and personalised their approach, rather than sending a blanket email about something which is completely irrelevant.
What other blogs do you read?
My friend Lisa's blog Fat Girl Fit as she's so passionate about cycling and a big inspiration.
https://www.vuelio.com/uk/wp-content/uploads/2020/01/Lucy-Edwards-Paddle-Pedal-Pace.jpg
430
760
Phoebe-Jane Boyd
https://www.vuelio.com/uk/wp-content/uploads/2023/09/vuelio-logo-200px.png
Phoebe-Jane Boyd
2020-01-28 15:03:24
2020-01-28 15:03:24
Fitness Blogger Spotlight: Lucy Edwards, Paddle Pedal Pace