Industry associations respond to Cairncross Review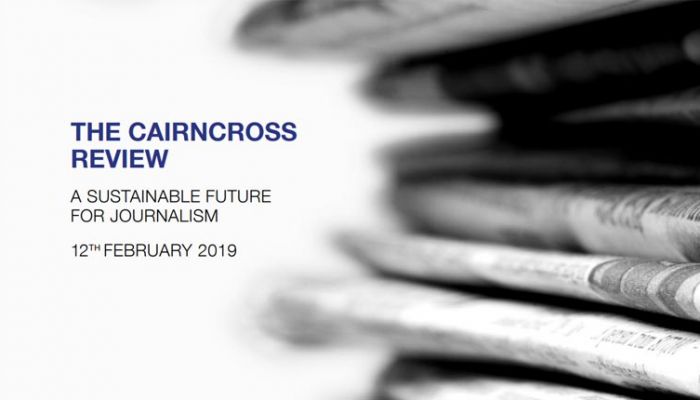 The Cairncross Review details the findings of the investigation into the sustainability of journalism. The Review makes nine recommendations from a code of conduct to 'rebalance' the relationship between online platforms and publishers, to an 'Institute for Public Interest News'.
The report also calls for an investigation into the online advertising market and the duopoly of Google and Facebook, a regulator for online platforms, the BBC sharing its knowledge and a range of funding and tax relief for public-interest journalism.
The CIPR has welcomed the proposal to create a new Institute for Public Interest News to protect high quality journalism and prevent the collapse of the local news industry. The Review warns that a lack of resource for investigative journalism and democracy reporting, covering discussions at local councils and magistrate courts, poses a threat to the long-term sustainability of democracy.
The recommendations suggest the new Institute could operate similarly to the Arts Council by conducting research, building partnerships with universities and improving accessibility and readership of quality online news.
On the platform regulator, the CIPR has consistently argued technology companies must take more responsibility for content appearing on their platforms. A new category that falls between 'platform' and 'publisher' would give the Government scope to consider future legislation more relevant to large tech firms.
Sarah Hall, CIPR vice president said: 'There are two key issues here. Firstly, public relations needs a healthy press industry. As PR professionals, our ability to build successful, long-term relationships is dependent on honest and reliable communication. Newspapers and online publishers play a key role in that process and the sustainability of the press is in the interests of all PR professionals. We wholeheartedly welcome the recommendations of the Cairncross Review, including tax relief to encourage the provision of local journalism.
'Secondly, we support calls to supervise tech companies' efforts to identify reliable and trustworthy sources of news. These efforts are essential to tackling the challenges of disinformation and fake news. The creation of a third category beyond 'platform' and 'publisher' would lay the ground for sensible and proportionate regulation of tech firms.'
The PRCA is more cautious and while it has praised the attempt to address the problem, it calls for detailed industry consideration of the issues raised.
Francis Ingham, director general of the PRCA said: 'The independent report represents a sustained, informed attempt to secure the future of journalism in this country. Our industry relies on a vibrant media, and therefore applauds this aim, and welcomes the platform this gives to the issue.
'With a broad-range of recommendations, there are many notable ideas here, but some – such as the Institute for Public Interest News; its governance and funding; should make us pause and give thought.
'We owe it to journalism and to all of those involved with the media to consider not just the undeniably good intentions behind these recommendations, but all of the possible outcomes, and any possible unintended consequences. Which is why we will consult the PR and communications industry in detail before commenting further on the detailed recommendations. That consultation starts tomorrow, and we will be encouraging all of those in our industry to engage with it.'
https://www.vuelio.com/uk/wp-content/uploads/2019/02/The-Cairncross-Review.jpg
430
760
Jake O'Neill
https://www.vuelio.com/uk/wp-content/uploads/2015/10/vuelio-logo-transparent.png
Jake O'Neill
2019-02-12 16:54:10
2019-03-13 13:04:01
Industry associations respond to Cairncross Review