International Perspectives of the new Prime Minister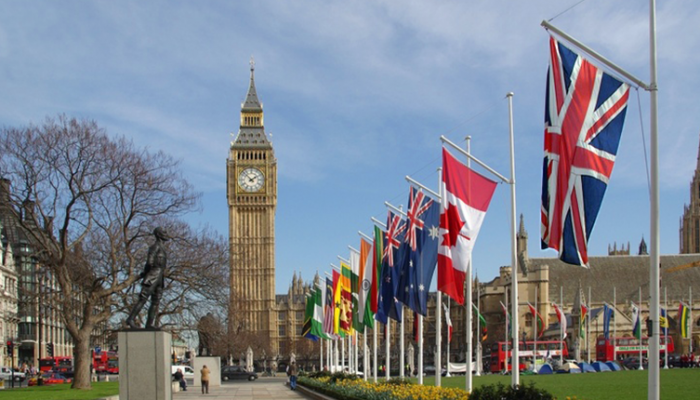 In the six weeks running up to the Conservative leadership election, world leaders and international new outlets provided a heightened commentary on the state of UK politics. While optimism towards Liz Truss's election differs greatly across borders, headlines mentioning the 'long list of challenges' ahead of her were widely agreed upon.
Throughout the race, the Vuelio Insights team monitored all local and national coverage across Europe (excl. UK), North America, Australia and New Zealand to explore the overarching international perspective of the British political system.
Following Truss's victory on 6 September, many political figures around the world rushed to offer their congratulatory messages of hope and solidarity. Terms like 'strategic partnership' and 'friendship' were shared across Italy, Israel, Romania and the Netherlands, while Lithuania and Ukraine expressed their gratitude for Boris Johnson's support against Russian aggression — in hopes it will continue with the new PM.
Having been repeatedly referred to as a former 'anti-monarchist' in almost 3,000 articles of the studied regions, the passing of Queen Elizabeth II put added pressure on Truss's election. The majority of coverage — which came from the US, France and Canada — reported on Truss's support and attendance to the memorial service. However, an article first published by Agence France-Presse that confirmed she would not 'accompany' King Charles III's tour of the nations due to 'ongoing criticism' was syndicated 218 times by region European and North American media outlets.
Euroscepticism and demands for respect
While local and regional coverage within each region has reported positive messages from world leaders, international news sources have favoured the growing EU concerns around Brexit and the NI protocol. Thomas Gift, founding director of University College London's Centre on US Politics, told Newsweek that Truss 'is more of a Eurosceptic than Rishi Sunak,' meaning she is less in favour of co-operation with the EU.
European Commission president Ursula von der Leyen and VP Maros Sefcovics both congratulated Truss, while emphasising the 'great strategic importance' of a 'constructive' and 'positive' relationship between London and Brussels. This will depend upon 'full respect' of the NI protocol, Withdrawal Agreement and Trade and Co-operation Agreement. Both members of the EU were quoted in 386 national articles across Europe and North America.
In light of this condition, Jacinda Arden used the election to recognise the UK's 'exceptionally strong' relationship with New Zealand, acknowledging Truss's 'staunch support' of the UK's tilt to the Indo-Pacific and Free Trade Agreement. This statement reached online and broadcast media across Australia, New Zealand and Canada 382 times over the six-week race.
In North America, approximately 1,682 US news sources picked up on growing tensions between the EU and Liz Truss over this time, with a key focus on how this could affect the Biden administration. While Biden's hopes to 'deepen' the 'special relationship' was shared in 31% of this coverage, it was also coupled with Truss's controversial comment that the UK US relationship is 'special but not exclusive', comparing approval of the US to a 'beauty parade'.
Conservative leadership race: volume and sentiment
Throughout the six weeks of the leadership race (12 Jul – 6 Sept), the Vuelio insights team found that the international sample produced approximately 8,562 total articles in reference to the race between Rishi Sunak and Liz Truss. Coverage started slowly, with the first major updates made on both the 5 and the 11 of August. However, publications began to peak over 1,000 on 24 August – around the time that Sunak said it was 'wrong' for scientists to 'scare people' into lockdowns throughout the pandemic. Following this initial spike, coverage grew significantly within the final week of the election.
The 'Reset' opportunity
While national UK headlines have been predominantly negative over this period, international media has been predominantly neutral or positive. A strong causational factor behind this is the global agreement on how Truss could be the precedent for a great 'reset' opportunity among the many pending bilateral conflicts triggered by Boris Johnson.
Among the 1,492 articles discussing this potential, over 90% is in relation to France, Ireland and Brussels, while the remainder comments on humanitarian matters like the Rwanda refugee scheme. Despite Truss's globally viral comments towards Emmanuel Macron, both he and France's European and foreign affairs minister, Catherine Colonna, have said that the two countries are most definitely friends. Their hopes that Liz Truss's appointment will lead to a 'new start' in Anglo-French relations was widely distributed across French and Canadian news sources.
Similarly, Taoiseach Micheál Martin shared hopes that Liz Truss offers a chance to 'reset' the fractured relationship between Britain and Ireland, which would be triggered by full respect and implementation of the NI protocol. Martin expressed desire that her premiership could herald a 'change in direction' for Irish/UK relations after recent years of tension over Brexit and the protocol. Of the 768 articles discussing this opportunity, 74% of news sources were either US or Ireland-based.
Total volume by region
Overall, national US news sources produced the most national coverage on the Conservative leadership race (3,788 articles), while Europe shared the most in one day (1,068 articles) — which was the final day of the election.
While Biden's uncertainties have been widely reported, overall media response has been either positive or neutral in sentiment across the United States.
Truss's ability to switch from a 'Remainer' to a Brexiteer was mentioned in 48% of all US coverage over the six weeks – by far the most widely syndicated discussion point within the country. While this switch has often been frowned upon across Europe, it has been positively received by US media — key journalists in outlets like the Wall Street Journal and Newsweek seeing it as a 'testimony' to her 'political ambition' rather than her convictions.
John Bolton, who served as the president's national security adviser, told WSJ that both her assertion and ambition are some of many reasons that Truss is 'the prime minister that America needs'.
In Canada, the media response was 32% positive, 48% neutral and 20% negative. Justin Trudeau offered one of the most extensive congratulatory messages to Liz Truss, referring to the UK-Canada relationship as 'one of the strongest in the world', a phrase used by 128 national news sources in the week following the election.
Sentiment across EU media
* UK excluded; countries displayed are those that produced over 250 relevant articles between 17 Jul – 6 Sept 2022
While the EU remains 'wary' of Truss, a term that reached 462 national headlines across the continent during the election, sentiment across tracked regions has been mostly neutral or positive. Among the positive regions, 52% was positive due to shared words of admiration for their relationship with the UK following extensive Ukrainian support, while the remainder often used Truss's cooperative contributions as a Foreign Secretary as a positive outlook on her potential as PM.
Among the two countries that were negative in sentiment, Austria had a slightly higher ratio of coverage related to Starmer's belief that Truss is 'out of touch' and 'not working on the people's side'. Similarly, Greece produced a fractionally higher proportion of negative coverage due to a spike in local media on 28 August, when Truss refused to answer if France was a 'friend or foe'.
Thatcher connotations
Much to her displeasure, Truss has been repeatedly referred to as a 'Thatcherite' in both UK and international media – though regional media differs greatly on whether this is a good or a bad thing.
For example, the US used this term 1,794 times between 12 Jul – 6 Sept, but predominantly used the term as a compliment to the 'powerhouse' opportunities Truss could create for the US and UK. This perspective may be in part due to the 'special relationship' that the UK and the US share, a reference famously created by Regan and Thatcher in the 1980s.
This term has been consistently repeated by US media over the decades, with 238 headline mentions during the race. Biden's use of this phrase in his congratulatory message to Truss suggests desire for a similar allyship in current global affairs.
On the other hand, Canadian news has a higher volume of negative coverage in response to Truss's 'Thatcherite' reference. Many national news sources covered the controversies behind her idolisation of the former PM, calling many of her strategies a 'short-term' relief.
Similarly, leading Australian news sources used this term as an avenue to disclose Truss's journey from 'anti-monarchist' to 'next Margaret Thatcher', with 38% of all national media featuring the viral YouTube video of Truss in her teens.
National news sources across France, Germany and Belgium also used the 'Thatcherite' reference on a more neutral basis, referring to both positive and negative outcomes of Thatcher's 'long' and 'looming shadow' in 28% of the collective 218 relevant articles. The term 'iron lady' has also been used regarding how Thatcher plans to handle Russo-Ukraine conflicts, with 582 headlines across Europe using this title to reference Truss' communicated approach.
Yes @trussliz absolutely smashed it babe!!!

— Joe Lycett (@joelycett) September 5, 2022
In a slightly unexpected turn of events, Joe Lycett, UK comedian, also made international headlines for referring to Truss as 'Thatcher 2.0'. His ongoing satirical commentary of the term made 448 headlines across Northern Ireland, North America, Australia and New Zealand.
Top Topics: International and Regional Media
Energy Crisis
Aside from general election results, the energy crisis consumed 32% of all international headlines and has by far been the most discussed topic on an international scale. European media most often featured quotes in their headlines due to strong 'warnings' from EU leaders.
Both Nicola Sturgeon and Sadiq Khan echoed these concerns, with 486 European media outlets quoting the 'need to act fast' as winter emerges, as well as the 'disaster' that would unfold upon Truss' election.
Humanitarianism
Overall, the topic of humanitarianism in British politics has produced a stronger ratio of positive headlines due to vast and ongoing Ukraine support. However, negative coverage regarding concerns of women's rights, climate change and the Rwanda refugee policy has equated to 38% of the total 2,443 international news articles discussing humanitarian matters.
Of these topics, the most popular was the Extinction Rebellion protest that led to climate change activists gluing themselves to the speaker's chair in parliament on 2 September. This story was most popular in the US, with a total of 882 articles on the event.
Economy
Aside from the cost-of-living crisis, further concerns about Truss' impact on the future economy has been overwhelmingly sceptical or negative across European and U.S. online media. Headlines on the projected '£50bn loss' ahead of Truss's plans were shared 411 times over the course of the race, coupled with concerns that the poor will be 'on the streets'.
As US, German, Irish and French media reported a '2.5 year low' of the sterling following the announcement of the new PM, Deutsche Bank reported risk of a 'sterling crisis' rising as Truss becomes UK prime minister. This publicly released analysis was shared by 193 national news sources and financial publications across the commonwealth, US, Italy, France, Austria and Germany.
In relation to this drop in sterling value, another strong topic within international economic coverage has been Truss's 'pro-crypto' reputation. This topic was covered 248 times by national news sources and financial publications, of which 89% were US-based, 9% Canadian and 2% Greek.
Truss's statement that the UK 'should welcome cryptocurrencies' was a headline or body feature in 48% of all related coverage throughout the election period. While Truss has expressed desire for the UK to 'adopt blockchains and digital property', Richard Fuller, the Economic Secretary to the Treasury, has told international media sources that Truss's leadership will allow the UK to become a 'dominant global hub' for crypto technologies.
Conclusion
As it stands, the international media perspective of both the new PM and British politics is far less pessimistic than that of UK. A change in leadership has birthed waves of hope and optimism by international figures and leading news sources, with commonwealth leaders like Trudeau, Arden and Albanese expressing their long and positive relationships with Great Britain.
In the US, many believe Truss's 'black and white' Thatcher qualities could actually serve as a great resource that will allow us to prevail through challenging global affairs. Furthermore, the UK's globally renowned quality of support in eastern European regions has replenished levels of respect and allyship that many feared were lost during Boris Johnson's leadership.
However, it appears that these words of unity and prosperity are very much conditional — the outcome of which will strongly depend upon Truss' decisions with Brexit and the NI protocol. If she honours 'full implementation' as requested by Brussels and Northern Ireland, a harmonious relationship with the EU is within reach.
Eric Mamer, the Commission's spokesperson in chief, had told reporters that they are 'always looking for new beginnings' with the UK and hopes Truss's election will help to 'move forward' to a stronger and more peaceful future.
Want to know more about this data or how media insights can support your PR and communications? Find out more.
https://www.vuelio.com/uk/wp-content/uploads/2022/09/cmw1.png
430
760
Hollie Parry
https://www.vuelio.com/uk/wp-content/uploads/2023/09/vuelio-logo-200px.png
Hollie Parry
2022-09-20 12:59:04
2022-09-20 14:31:30
International Perspectives of the new Prime Minister