#JingleBlogs: Clothes Make The Man
The first blogger on our advent calendar is Anthony McGrath, author of Clothes Make The Man. In 2013, Anthony was ranked number one in the Top 10 UK Men's Fashion Blogs and was also the only male-focused blog to feature in the Top 20 UK Fashion Blogs.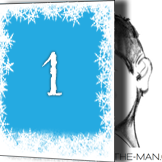 As for all the advent bloggers, we asked Anthony two very special seasonal questions:
What is the worst Christmas present you have ever received?
A Scooby Doo Picture frame and piggy bank aged 23. In my family you have to be so careful what you say you like in the run up to Christmas.
What's your new year's resolution?
Exercise more and ensure Clothes-Make-the-Man 3.0 – making it bigger and better for its second birthday.
Anthony previously took part in a Speedy Spotlight, in which he revealed that people should read his blog if they are looking for a stylish read for their lunchtime, commute or while sat under a tree. He listed his favourite bloggers as Marcus Jaye, Gary Kingsnorth, Steve Salter, Dan Hasby-Oliver, Nick Bain, Simon Glazin, Darren Kennedy, Navaz Batliwalla and Emily Johnston.  
In the Speedy Spotlight he also explained why he finds bad PR infuriating and gave tips for best practice.
Congratulate Anthony on his inclusion in the 2013 Advent Calendar on Twitter @ClothesMakeMan, and check out his #JingleBlogs advent calendar entry here.
Priyanka Dayal
https://www.vuelio.com/uk/wp-content/uploads/2019/09/vuelio-logo.png
Priyanka Dayal
2013-12-01 08:00:29
2013-12-01 08:00:29
#JingleBlogs: Clothes Make The Man