#JingleBlogs: Hayley Carr's London Beauty Queen
Today's advent blogger is Hayley Carr, author of London Beauty Queen. In 2013, Hayley became a full-time blogger and consultant.  She came fourth in the Top 10 UK Beauty Blogs and also appeared in the Top 50 UK Blogs.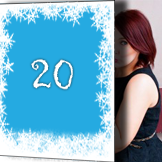 As for all the advent bloggers, we asked Hayley two very special seasonal questions:
What is the worst Christmas present you have ever received?
The worst present was probably a pair of kids' gloves from my Nan which had tinsel decorations on them… Not only were they gross, but they were meant for 8 year-old hands!  
What's your new year's resolution?
I don't have a resolution as I don't make them – there's no point as they only ever last three days! 
Hayley has also taken part in a Journalist Spotlight in which she discussed her advent competition, working with brands and her love of Clinique.
Congratulate Hayley on London beauty Queen's inclusion in the 2013 Advent Calendar on Twitter @LBQblog, and check out her advent calendar entry here.
Priyanka Dayal
https://www.vuelio.com/uk/wp-content/uploads/2019/09/vuelio-logo.png
Priyanka Dayal
2013-12-20 09:55:26
2013-12-20 09:55:26
#JingleBlogs: Hayley Carr's London Beauty Queen