#JingleBlogs: Julia's Fitness Blog
Our fourth advent blogger is Julia Buckley, author of Julia's Fitness Blog. In 2013, Julia's Fitness Blog was ranked first in Cision's Top 10 UK Fitness and Exercise Blogs. Her book The Fat Burn Revolution will be available from 2 January 2014.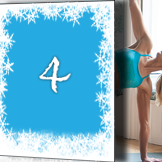 As for all the advent bloggers, we asked Julia two very special seasonal questions:
What is the worst Christmas present you have ever received?
The worst present I've ever received was probably the personal attack alarm my mum left under the Christmas tree for me a couple of years ago. (Sorry mum!) She said she thought I could take it with me when I went out running. It was thoughtful of her and I know all mums worry, but it wasn't exactly the most festive choice of gift!
What's your new year's resolution?
Help as many people as I can get into amazing shape.
Julia previously took part in a Speedy Spotlight, revealing that she is most commonly asked about weight loss. She named JogBlog, Brendan Chaplin and Emily Eats as her favourite blogs and gave advice for PRs who want to work with her.
The Fat Burn Revolution demystifies fat burning fitness, with insights into the latest fat-loss information used by top personal trainers and including tried-and-tested workout programmes. 
Congratulate Julia on her inclusion in the 2013 Advent Calendar on Twitter @Julia_B, and check out her advent calendar entry here.
Priyanka Dayal
https://www.vuelio.com/uk/wp-content/uploads/2019/09/vuelio-logo.png
Priyanka Dayal
2013-12-04 09:30:42
2013-12-04 09:30:42
#JingleBlogs: Julia's Fitness Blog