#JingleBlogs: A Luxury Travel Blog
Our third advent blogger is Paul Johnson, author of A Luxury Travel Blog. In 2013, A Luxury Travel Blog was ranked second in Cision's Top 10 UK Travel and Tourism Blogs.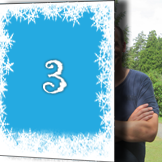 As for all the advent bloggers, we asked Paul two very special seasonal questions:
What is the worst Christmas present you have ever received?
I'm not sure if this counts as a 'present' but last Christmas, I got flu – and proper flu, too, not just 'man flu' – so I'm looking forward to a healthier Christmas this year!
What's your new year's resolution?
Boring, really… but to shed a few pounds and get fitter. I might look to tackle a marathon in order to spur me on.
Paul previously took part in a Speedy Spotlight, describing A Luxury Travel Blog as entertaining and interesting, with a high quality and depth of content.  He named Stuck in Customs as his favourite blog, and gave advice for PRs who want to contact him.  
A Luxury Travel Blog has over 300 contributors and has over 295,000 followers on Twitter.
Congratulate Paul on his inclusion in the 2013 Advent Calendar on Twitter @luxury__travel, and check out his advent calendar entry here.
Priyanka Dayal
https://www.vuelio.com/uk/wp-content/uploads/2023/09/vuelio-logo-200px.png
Priyanka Dayal
2013-12-03 08:00:58
2013-12-03 08:00:58
#JingleBlogs: A Luxury Travel Blog