Journalist Spotlight: Rosie Fortescue
Made in Chelsea star Rosie Fortescue's At Fashion Forte blog came fourteenth in Cision's Top 20 UK Fashion Blogs. On being named one of the most influential fashion bloggers, Rosie said: 'It is a huge honour. It's really great to be acknowledged in that way.'
Rosie spoke to Cision about street style, working with PRs and loving leather trousers.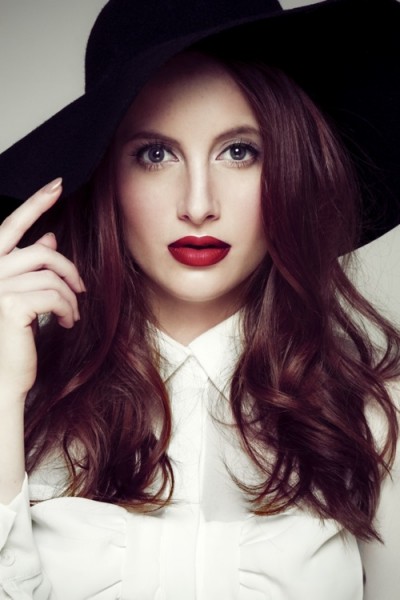 When did you start your blog?
I started it in the final term of my third year at Goldsmiths University, where I was studying History of Art. I knew I was going to be filming for the show and thought it would be a great way to start up the blog. I think one of the key things when you're starting up a blog is having the time commitments for it and you need a focus of where you're going to begin with it instead of it being a mishmash of various topics.
I wanted to introduce new designers that I came across, whether they were accessories, jewellery or fashion designers, and documenting my outfits from the show. I started filming Made in Chelsea in my final term and documenting my outfits; I saved the images and when the show aired I would upload them. It has now developed into a street style blog. 
How does the blog work with Made in Chelsea?
I always watched televisions shows when I was younger and wanted to know where their clothes were from. At Fashion Forte is just a way of me enabling the Made in Chelsea viewers to know where my outfits are from. It's a good reference for the viewers to see what I was wearing and access my wardrobe. There was this big thing when we started the show – were people going to like it, was it going to be everyone's cup of tea – so it was a nice way for me to make myself accessible to the fans and answer their questions.
The comment section on my blogs often becomes a help and advice section really. People ask things like what make up to wear for pale skin or what to wear to prom. I do all the community management myself; I'll do my best to try and respond to any questions. I think it's nice to reply and reach out to people; you don't want to be an aloof figure, a machine who is cold and is too good to reply to people. It's good to reply and give advice, a lot of the fans are quite young and it's nice for them to get a response from people they admire.
As someone in the public eye, do you find yourself dealing with trolls?
I don't have a lot of it but I did. I went through the stage with the same people saying, 'You're really pale'.  That's an obvious thing to say. I personally don't like fake tan; people will soon realise that there's never been somebody on the cover of Vogue who's been orange. It's just a maturity thing, people will grow up and realise that fake tan and being orange isn't the be all and end all. It's also giving inspiration to people who want to stick to their roots and be different rather than following the crowd and doing something because everybody else is.
How do you choose what outfits to feature?
It's all my personal choice. Obviously with street style I'll have a quite a few people who email me saying: 'I'm an up-and-coming brand, it would be an honour to be featured on your blog'. I only feature brands that I like so I am not ever going to wear anything that doesn't represent me and my style. The same applies to my outfits on the show.
Some things are gifted or samples but a lot of it is from my own wardrobe. Some bloggers really focus on just the current season's style and borrowing from PRs before it's available in shops. It's nice for my readers to buy the clothes at the time, and I'll link to the brand's website whenever possible.
Sometimes you've got to be realistic; it's not a bad thing if you're wearing a shirt from Zara that's two seasons old. You don't always have to be wearing the newest pieces because that's ridiculous. I work style into my wardrobe; I'll do some smarter looks that will make people think: 'I can wear that for a summer party or a smart dinner', and then I have a chilled-out section as well.
How do you plan your street style posts?
My photographer Charlotte Summers comes to my flat and we'll drink tea and chat, and I'll have previously laid out outfits on my bed. Essentially I'll meet her once a week or every ten days – it depends how super busy I am. It's not like I call her every day being like quick, come over, take a picture. It's more of a planned thing and I'll have maybe five outfits depending when I know I will next see her. If I have an evening off, I can publish images she's sent me from a couple of days before instead of having to find the time to do it every day. We'll do maybe five to seven looks in one morning; we'll go down from my flat to the street take the pictures and then go back up. It must look really weird to passers-by.
What's your approach to disclosure?
I don't disclose gifted items, but not many of the outfits are. A lot are loaned. It depends with timings for the show; if there's a certain event on the show, say a 1920s themed party, we'll all speak to PRs and maybe borrow something. If it's another black-tie thing and I've worn my favourite dress two weeks before, so that I don't wear it again (even though in real life I would probably wear it again) I'll loan something from a PR. We don't all have endless wardrobes for themed parties.
I've got quite a few PRs that I speak to so maybe I'll email someone directly and ask for something. I've got friends in PR as well. If it's an event in London in the evening, I wouldn't have time to go and pick something out and try it on. But if it's the BAFTAs, then everyone obviously wants to scout around and borrow something.
How do you deal with being sent things?
It can be difficult because people will send things to my agent's office. I don't really like taking things from people – even if it's just from high street website – unless I know it's to my style and I'll wear it the whole time. If I was only going to wear it once, I definitely wouldn't accept it.
It's difficult when you get sent something that isn't your style and they expect you to tweet because you haven't really agreed that they could send anything anyway. At the same time, it's all part of my brand – my Twitter, my Instagram, my blog – so I'm never going to put something on there just because I feel bad. I think these people have a cost set aside for gifts and they send stuff out regardless and just hope that someone will be seen out in it.
How often do you meet other bloggers?
Not often, though I recently went to the Isle of White festival with River Island and Emily Johnston of Fashion Foie Gras. It was really great to meet her because she's so nice. It was great to have some blogging and fashion chat, but also meet the person behind the
blog.
Are you happy to attend events?
If it's a good event or a film I want to see and it's a premiere, then I'll go. But I don't go to everything purely because I don't have time and I also don't want to turn up to the opening of an envelope. I don't get forced to go to things and if it's not on brand for me, I won't go.
Take Five
What one item of clothing could you not live without? 
Leather trousers; I love wearing them during the day with some ankle boots, a jumper or shirt – I just think they're so great. They're the kind of thing you can mix up day or night, they look great with a silk shirt, blazer and some heels – a sexy look by night but more grungy by day. 
Who are your style icons?
I would say Miranda Kerr and Olivia Palermo. Miranda obviously being a mother, she's super busy and she dresses perfectly during the day: jeans, heels and an equipment shirt, or she's wearing a leather pencil skirt in the evening. I love the way that she plays around with fabrics, which is what I do. Olivia Palermo obviously always looks immaculate and wears a lot of colour which inspires me to wear more colour too.
What's your favourite fashion brand?
Phillip Lim. I remember when I was 16 I saved up for an amazing top which I still wear with leather trousers or jeans in the evening. It was just such a great thing to save up to do; a real investment piece you're going to wear for years.
What would your super power be?
Teleporting would be good to jump from meeting to meeting.
Who would play you in a film? Would it be you? 
I'm bad at acting and I can't act so I'd say Leighton Meester, because I've always wanted to know where her clothes were from when she was on Gossip Girl. Or Emily Blunt – I love her, she's like an English Rose. 
Editorial information on Rosie Fortescue, At Fashion Forte and thousands of other media contacts and outlets, can be found in the CisionPoint Media Database.
Priyanka Dayal
https://www.vuelio.com/uk/wp-content/uploads/2019/09/vuelio-logo.png
Priyanka Dayal
2013-07-03 09:11:03
2013-07-03 09:11:03
Journalist Spotlight: Rosie Fortescue