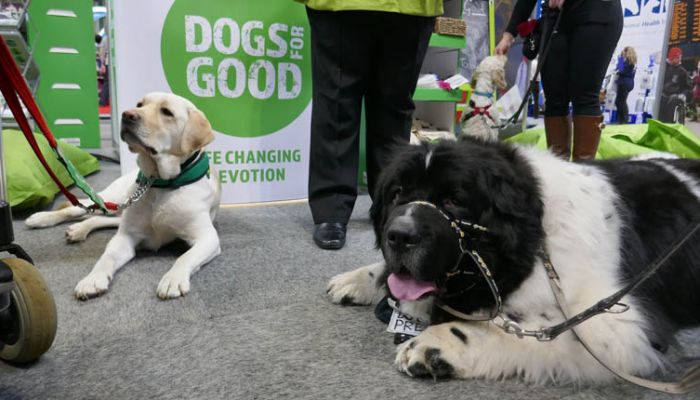 Top Pet blog, Adventures of Monty Dogge, is written by Mark Sanders and follows Monty – the large white-and-black Newfoundland. Monty was recently invited to the world's greatest dog show, Crufts, and has very kindly agreed to let Mark tell us all about it!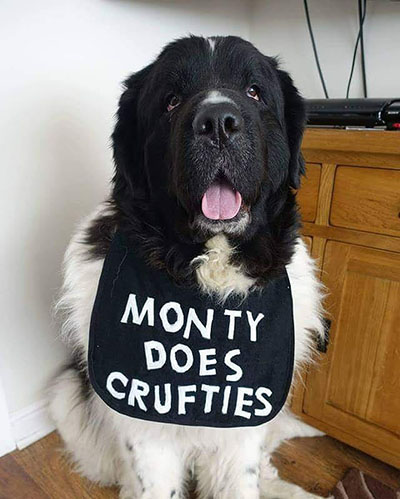 In what capacity were you at Crufts?
Monty has been going to Crufts for the past four years as a dog blogger. He was invited by the Kennel club to report on the show from a dog's perspective and it's very much Crufts unleashed. He particularly enjoys explaining to the 'hoomans' who follow the blog how the show is through his eyes, which is usually pretty different from how we perceive it.
Was Monty recognised at Crufts?
Every year people travel to Crufts specifically to meet Monty. It's amazing how many times you get stopped walking around the show with people wanting to meet him. You hear people saying, 'That's Monty' or 'Look, it's Monty Dogge'. As time goes on we meet new friends and it's lovely to meet people in person and hear how the blog makes them smile and gives them a boost. We hear some very moving stories.
What's the best thing about going to Crufts (from both your and Monty's perspectives)?
Easy from Monty's perspective – it's the amount of treat stalls around the venue. It's like watching an antelope graze as he goes from stall to stall fluttering his eyelashes and reaping the rewards. For me it's an amazing opportunity to promote ourselves to a huge audience of dog lovers. We met with quite a few companies this year who are looking to work with us so it's good chance to network as well.
What was your favourite product/stall/company at Crufts?
Monty would say any treat stall but in particular Sea Treats, becayse he loves fishy treats. He also has to pay a visit to the Canine Massage guild every year as he gets his pre-show massage and they see how he's doing. He's been going every year since we began going and they look forward to his visit. I love going to the dog charity stalls as we really enjoy supporting various animal related causes, like Hounds for Heroes and Canine Partners, throughout the year and it's a nice chance to catch up.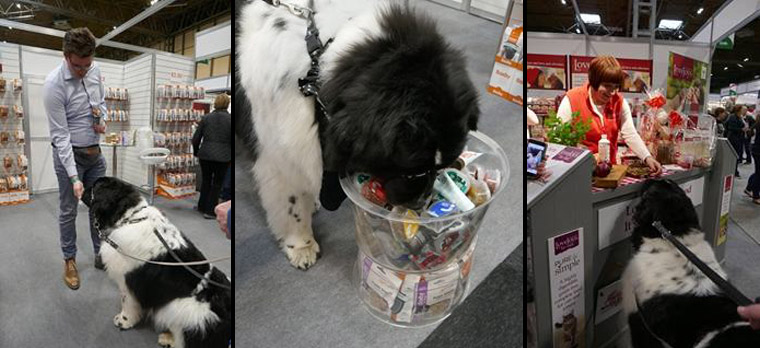 Who was your favourite winner?
Well this year a Newfoundland got through to best in show which was lovely to see but for us, a puppy that we bred was competing for the first time. Merlot is two and was the only puppy that survived from the only litter we ever bred so she's pretty special. She lives in Scotland with a friend and it was lovely to see her again. She came a very creditable fifth in a strong class so she was our 'winner'.
What's Monty like around other dogs?
Monty is very good around other dogs. He's particularly good with small dogs and puppies and usually lies down so they can be the same height. It's not uncommon to see a little dog jumping up trying to give him kisses. There's no doubt though that his favourites are the ladies, he's a big flirt. He does get strange reactions from some dogs who are just totally phased by his size and aren't sure what to do.
Is Monty a future winner?
Monty will never be a show dog, he's just too lazy. He'd lie down during the show and if he doesn't want to move it's pretty impossible to make him. He trained as a water rescue dog when he was younger but doesn't like swimming because it's all a bit too much like hard work. I think his future lies in his continuing school visits and charity work where he can take everything at his own pace… slowly.
How did you use social media during Crufts?
We did some live video this year for the first time, which was very popular. We set up a 'Crufts according to Monty Dogge' Facebook page that we use to build up to the show. We do things such as interviews with celebs with dogs and Monty's explanation of the breeds and groups, which go down very well. This year we were featured as one of the dogs of Instagram and Monty appeared in the Daily Mail, which increased his profile further. I use Twitter quite a lot during the show as it gets quick responses and you can easily @ people or companies and get some good traffic.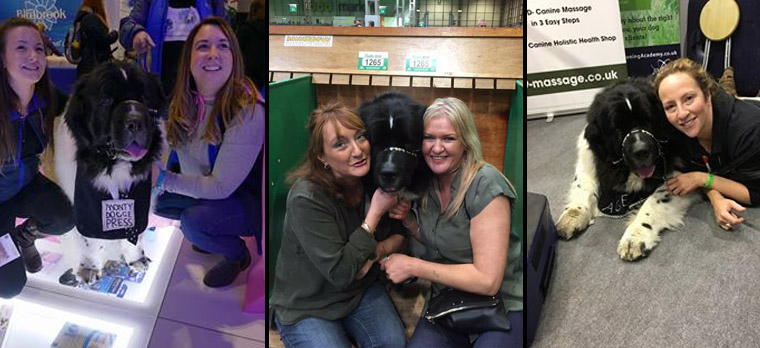 What's the next event Monty is visiting?
The next major thing will be the book launch for our third children's book, Monty and the Poppit Dragon. The two previous books were launched in Waterstones but this time we wanted to do a bit of a book launch tour in Wales, where the story is based. We will then be at the inaugural Dog Lovers show in Glasgow in September. They have invited us to go up and have an area where we can read stories to the children and they can meet Monty and Cookie, the stars of the books. We will then be at the Family Pet Show in Manchester in October and in between they will be visiting plenty of schools, so it's a very busy year.
Adventures of Monty Dogge (and Mark Sanders) are both listings on the Vuelio Database along with thousands of other leading bloggers, journalists, editors and outlets. 
https://www.vuelio.com/uk/wp-content/uploads/2018/04/Monty-Dogge-1.jpg
430
760
Holly Hodges
https://www.vuelio.com/uk/wp-content/uploads/2019/09/vuelio-logo.png
Holly Hodges
2018-04-03 13:06:32
2018-04-03 13:06:32
Monty Dogge at Crufts