Mummy Travels: top family travel blogger Cathy Winston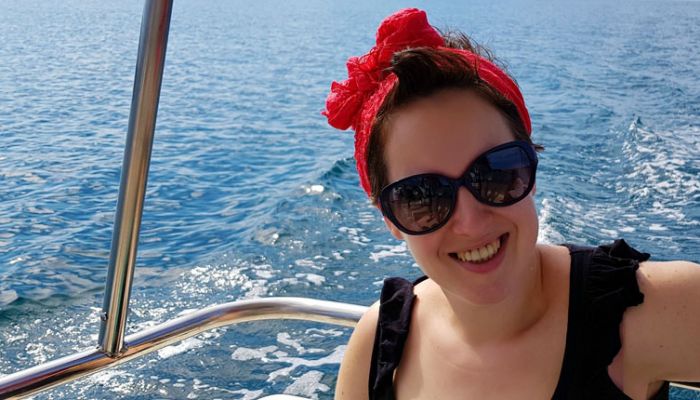 Cathy Winston is the mum who travels and her blog, Mummy Travels, was recently named in the top 10 UK family travel blog ranking. Self-confessed travel-obsessed, Cathy take the mini traveller with her all around the world, from sandy beaches (a fav) to museums and temples. We caught up with Cathy who told us about the uniqueness of her blog, how travel changes as your child grows up and how she works best with brands and PR.
What makes your blog stand out?
I travel solo a lot with my daughter, including long-haul trips such as South East Asia and to the Caribbean, but also short breaks around the UK – on the blog I want to show that anything is possible, whether you're staying close to home or planning something more exotic, at any age, solo or with family. The blog has also followed our progress since I was pregnant, so anyone looking at our adventures can also see the differences between travels with a baby, a toddler, a preschooler and now with school holiday restrictions, including my tips and advice along the way.
I'm also a professional travel journalist and editor, with several awards for my writing, so I bring that approach and experience to my blog along with the personal element.
What's the family travel blogging community like?
It's a lovely community to be part of – very supportive, and wonderful to be surrounded by people who understand exactly why you want to keep travelling with kids, just how fast you can get itchy feet once you get back, and who are full of inspiration and advice when it comes to planning the next trip.
Where is the best place in the world for families?
I don't think there's any single best place – it's wherever you love to be. We've been on city breaks, to museums, art galleries, and in temples, which aren't necessarily considered family-friendly. And so many destinations around the world are hugely welcoming to kids, so if you visit with children, you're greeted with open arms. Having said that, both my daughter and I love being by the beach: any beach! Although one with sunshine (and a bit of shade) and warm water to paddle in is a bonus.
What's the scariest experience you've had while travelling?
The scariest experiences I've had while travelling with my daughter have been some of my 'firsts' – the first flight with her as a baby, when I'd been told so many horror stories (we were delayed but it was still fine), my first solo flight, my first long-haul flight. It's easy to imagine the worst, but most of the time, it's never as bad as you fear – and if things do go wrong, you manage.
My daughter also had a habit of teething or catching an infection on our travels when she was younger – nothing major but finding myself in St Lucia when she had an (at first undiagnosed) ear infection was worrying. But the staff at our hotel were brilliant, arranged a visit to the local hospital and within hours she'd bounced back to her normal cheerful self.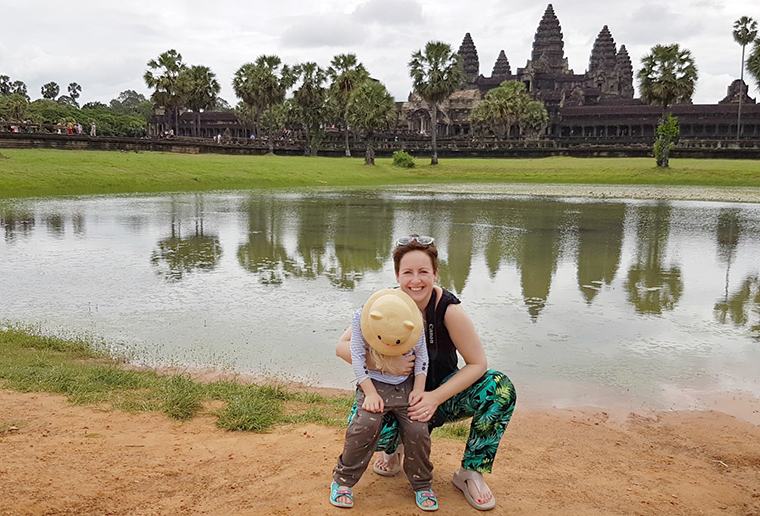 Where haven't you been that you'd still like to visit?
So many places! I do love South East Asia and there are quite a few countries I'd love to see still – Vietnam is high on my list, as is Indonesia and the Philippines. I'd also love to go back to Japan with my daughter too, which is something that will hopefully happen in 2019. I've explored very little of South and Central America too, so Peru is another bucket list favourite, along with Costa Rica and Cuba. I'd love to see Namibia too, while Reunion fascinates me.
And I never say no to a tropical island – the Andaman Islands sound intriguing but pretty much anywhere in the Indian Ocean, Caribbean, South Pacific! For starters…
What advice would you give families who are worried about travelling?
Firstly, don't be put off – despite what people might say, travelling with kids is an amazing experience. The memories you create together, their wonder at seeing the world, is worth every frustrated moment trying to fit all the paraphernalia in your suitcase. There's almost nowhere you can't go, after all there are kids worldwide – just plan ahead and take it slow.
My other tips are to start early – a lot of people are understandably nervous about travelling with a baby and leave it until they're toddling, which is actually one of the hardest times to fly with kids. And don't assume: you never know until you try – it's easy to write somewhere off because you think it's too hot, too far, too boring for kids. Try it, and they might well surprise you. Although a hotel with a pool is always a good idea.
What one thing should PRs and brands know about you?
I get hundreds of emails every day, so the ones who have taken the time to read my blog, to address me by name (rather than just my email address) and who have a specific suggestion, will always get prioritised. I pride myself on being very professional and I often work with the same PRs and brands again and again, so I like to build up working relationships, to ensure that the collaboration is a success for both of us.
I'm always open to creative ideas but sending a generic press release and asking if I want to share it on my blog is unlikely to work. They also understand that with a six-year-old, I'm limited to weekends and school holidays rather than travelling by myself on weekdays.
Because I have other freelance travel outlets, it's always helpful if people are clear about where they're looking for coverage when they get in touch too. And I'm not a big fan of tents (luxury lodges: yes).
What is the best campaign(s) you've collaborated on?
The best campaigns always tend to have the same thing in common – the brand is clear about what they're hoping to achieve from it, and any specific deliverables are agreed, but they're also happy for input from my side, and to take my suggestions about what will work with my daughter alongside and for the blog's readers. For example, I know that certain activities, late nights or a crammed itinerary will just result in a cross, tired small girl or no time to actually share my impressions, which won't get the best results for anyone.
The actual campaigns have been quite varied – a drive around East Anglia with Hyundai, an island hop in Greece with Olympic Holidays, and two weeks exploring Cambodia with Stubborn Mule for example – but all fantastic experiences and a joy to write about.
Do you think bloggers need their own industry association?
I think there's such huge variety across different blogs and blogging niches that it might be tricky to have one association to suit all – one of the great aspects of blogging is being able to take a corner of the internet and make it completely your own. Things have already changed so much over the past decade, even the past few years, so with blogs becoming more important to brands, with the understanding of what influence and impact good blog coverage can have, I can see how it would have advantages.
What other blogs do you read?
Almost too many to list – as well as those in the Vuelio Top 10 Family Travel bloggers, I love My Travel Monkey, Wander Mum, Mums Do Travel and Suitcases and Sandcastles among others, while I've also loved discovering Travelynn Family on their amazing Africa road trip, plus Otis & Us and Dais Like These more recently.
Cathy and her blog are both listed in the Vuelio Influencer Database along with thousands of other bloggers, vloggers, journalists and opportunities.
https://www.vuelio.com/uk/wp-content/uploads/2018/08/Cathy-Winston-Mummy-Travels.jpg
430
760
Jake O'Neill
https://www.vuelio.com/uk/wp-content/uploads/2019/09/vuelio-logo.png
Jake O'Neill
2018-08-03 11:14:08
2018-10-15 17:15:46
Mummy Travels: top family travel blogger Cathy Winston