PMQs: Theresa May's word cloud – 7 February 2018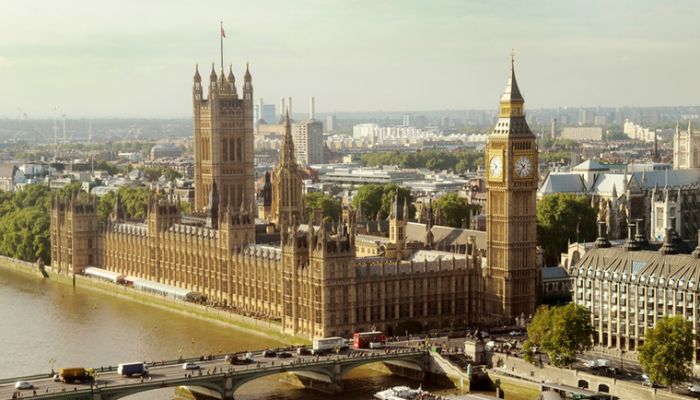 This week's Prime Minister's Questions focused on police, women's rights, Brexit and the NHS. We present the world cloud for Theresa May's PMQs on 7 February 2018: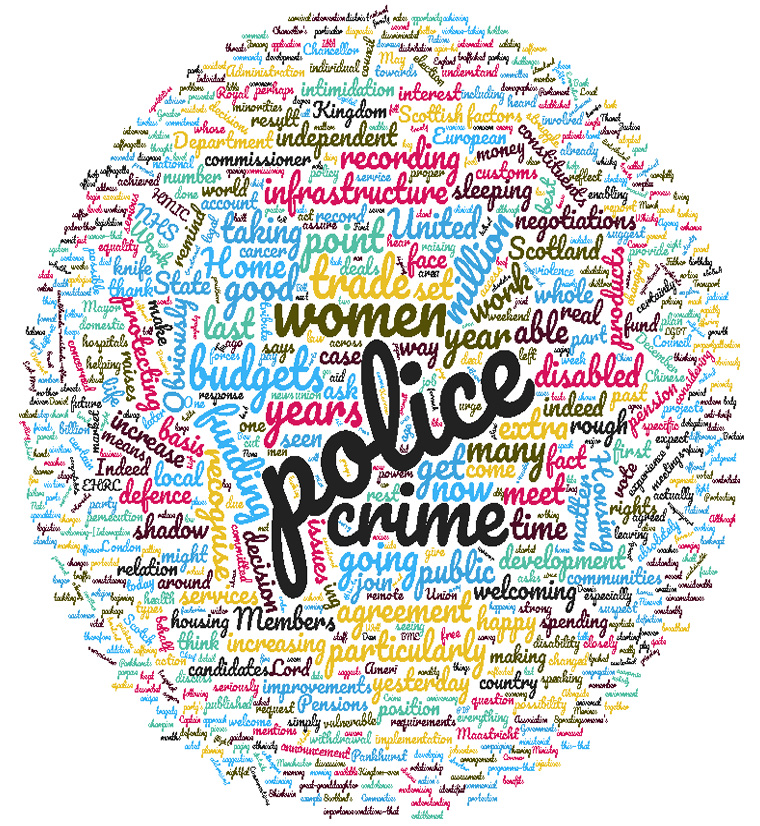 Women's Rights
The Prime Minister opened by marking yesterday as the centenary of women in the UK securing the right to vote. After some Labour MPs shouted 'some women', May reminded the house that it was under a Conservative government that all women gained the right to vote 10 years later.
In light of this, SNP Westminster Leader Ian Blackford, said that 3.8 million women are still not receiving the pension they are entitled to and asked if the Prime Minister would do her bit for gender equality. This is regarding women born in the 1950s losing out due to the increase in state pension age for women. May claimed the government has already acted, and extra money has been provided to give greater protection to the women born in the 1950s, and said that an extra £1bn has been put in to ensure nobody is going to see their pension entitlement change by more than 18 months.
Conservative MP Vicky Ford asked May if she agrees the government should take no lessons on the topic of intimidation of MPs from Labour given the shadow chancellor has backed violence against women (a reference to a comment made by McDonnell about lynching Esther McVey). May called on McDonnell to apologise.
Crime
Corbyn's main focus this week was crime, asking the Prime Minister if she regrets cutting 21,000 police officers, and added that recorded crime is up by a fifth. He referenced May's time as Home Secretary, claiming that £2.3bn was cut from police budgets.
May defended her run as home secretary, saying she asked HMIC to change the way police crime is recorded, so it is done properly. She said the police now do more to help vulnerable people, and to tackle issues like domestic violence and modern slavery.
Corbyn claimed that people do not feel safe and are not safe, and quoted Philip Davies, a Tory, criticising the government's record on crime, and a Merseyside police officer saying he needs more resources to tackle gun crime. May argued that Corbyn does not have a good record on giving more power to the police and said that he would bankrupt the economy and not be able to afford to fund any public services.
Labour MP Stephen Morgan said the Prime Minister continues to be 'in denial' about rising levels of crime and said that local businesses in his Portsmouth constituency have seen break-ins as a result of Tory cuts to the police budget. May said that those concerned should raise it with the police and said operational changes need not mean that cuts cause damage.
NHS
Veteran Labour MP Dennis Skinner quoted the record of the last Labour government on NHS funding, a move not always popular with the Labour benches. He said NHS staff have told him that the best period they've seen was when money for the NHS was increased between 1997 and 2010 – 'a golden period' and then called on the government to 'get weaving'. May claimed that the last Labour government were only able to spend that much money because the Conservatives 'left a golden economic legacy'.
Conservative MP Derek Thomas challenged the PM on NHS funding saying its growth in the south-west is 2.2% less than the national average and asked her to address this as the region 'deserves a fair share'. May told him the national formula does take into account a number of factors including demographics and rurality, and Cornwall will see a further increase next year.
Brexit
Tory MP Sir Bill Cash marked the anniversary of the Maastricht treaty, congratulating the PM on her approach to the customs union and asking her to be robust when discussing these matters in order to 'repudiate any EU threats'. May assured the house that the government will be robust in any arguments.
Another Tory MP, Chris Philp, asked May for an assurance that the government will only agree the Brexit deal as a whole, and that it will not accept separate side deals. May said the government is working on the basis that nothing is agreed until everything is agreed.
Vince Cable, the Lib Dem leader, said America wants access to NHS contracts as part of a future UK-US trade deal. He asked if the PM can guarantee that the NHS will be excluded from trade negotiations and whether she will tell President Trump that 'the NHS is not for sale'. May said that she will go into talks trying to get the best deal for the UK. Labour Chair of the Brexit committee, Hilary Benn, followed up with a question on post-Brexit border control, asking the PM why she is so opposed to remaining in the customs union when it would be better for the economy to ensure the border remains as it is. May said if the UK was in the customs union, it would not be able to do trade deals around the world. She said Benn should read the paper the government published on customs arrangements last summer.
If you would like political intelligence on key topics and areas vital to your business, get in touch today. 
https://www.vuelio.com/uk/wp-content/uploads/2017/08/Parliament.jpg
439
760
Jake O'Neill
https://www.vuelio.com/uk/wp-content/uploads/2019/09/vuelio-logo.png
Jake O'Neill
2018-02-07 15:54:56
2018-02-07 15:55:53
PMQs: Theresa May's word cloud – 7 February 2018