Politics on Sunday – 19 March 2018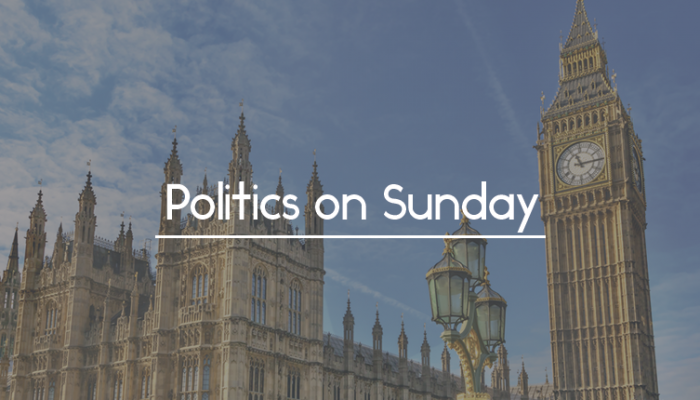 The Sunday political shows were, of course, dominated by Russia. Andrew Marr had Russia's Ambassador to the EU, Vladimir Chizhov on his show, who said that it would be worth questioning why the UK Government was able to identify the Novichok agent so quickly.
Chizhov suggested that to identify the nerve agent it would have to be tested against nerve agents the UK has in its possession. He also gave the defence that the country stopped making chemical weapons in the early 90s and all of their stockpiles of poisons were destroyed last year. The Ambassador said, 'Russia had nothing to do with it' when asked about the poisoning of Sergei and Yulia Skripal. Chizhov also disapproved of Boris Johnson's manner after Johnson said it was likely Putin personally ordered the attack.
The Foreign Secretary was himself a guest on Marr and he dismissed the idea of the UK being involved in the attack as 'satirical'. He also argued against the defence given by Chizhov, saying the stockpiling of nerve agents has been something Russia have been doing for the last decade. Johnson was also damming when speaking about the response to the attack, saying experts from the Organisation for the Prohibition of Chemical Weapons will test samples.
It turns out Johnson himself played tennis with a lady whose husband was given an award by Vladimir Putin and served in a ministerial position under Putin because she paid £160,000 at a fundraising auction. Marr question whether the Foreign Secretary and the Conservatives more widely were best placed to comment on Russia with links such as these. Johnson confirmed the tennis match, featuring then Prime Minister David Cameron, did take place, but then said that if there is evidence of wealth being gained by corruption, agencies are in place that can withhold that wealth. He clarified that it is not for him to decide who does and does not deserve to hold wealth in the UK, and made clear that Russian people are not the enemy or 'the object of our wrath'. Johnson is often criticised as not being serious enough for the role of Foreign Secretary, but this interview has gone some way to answering those criticisms.
Shadow Attorney General, Shami Chakrabarti, also appeared on Marr to give further explanation to the response of Labour. She said that if the Government is convinced Putin ordered the attack they must have seen more evidence than the leadership of Labour. Chakrabarti said she agreed with Theresa May that the Russia Government have a responsibility whether they lost control of the nerve agent or directed the attack. The Baroness said that the 'tone' of remarks by Jeremy Corbyn have been 'spun'. She also stressed the need for everyone commenting on the incident to get their tone right.
The discussion on Peston also focused on Russia. If Theresa May was watching, she will have seen more agreement from the Labour Party in the position she took, this time from John McDonnell. The agreement from the main opposition party, including harsh critics like John McDonnell perhaps indicate that May got her response right. The Shadow Chancellor also pointed out that a pattern could be seen with previous attacks on Russian dissidents. McDonnell also responded to criticism the Labour Party have received aimed at their response to the incident saying that Seamus Milne said 'exactly' what the Prime Minister said.
Anna Soubry on Peston did not describe John McDonnell in complimentary terms, saying she views him as one of the most dangerous people in British politics.
Chair of the Conservative Party, Brandon Lewis, appeared on Peston and, like Johnson, was asked about links between Putin and the Conservative Party. When asked whether Lewis know whether any donors have links to Putin, he responded by saying due diligence has been done. Lewis then moved onto saying that some of these people have become British citizens after fleeing Putin and are taking up their right to take part in any aspect of British society they want to. When asked whether he felt proud about the remarks Gavin Williamson made last week that Russia should 'go away and shut up', Lewis said the intention of the remarks was correct and said everyone has their own way of doing things. When appearing on Sunday with Paterson, Lewis did not wholeheartedly defend remarks by Boris Johnson when he said Jeremy Corbyn had let his country down.
Check out the dedicated Canvas of political coverage by clicking here or on the image below.
You can also make your own canvas to bring to life any story, campaign or your press coverage.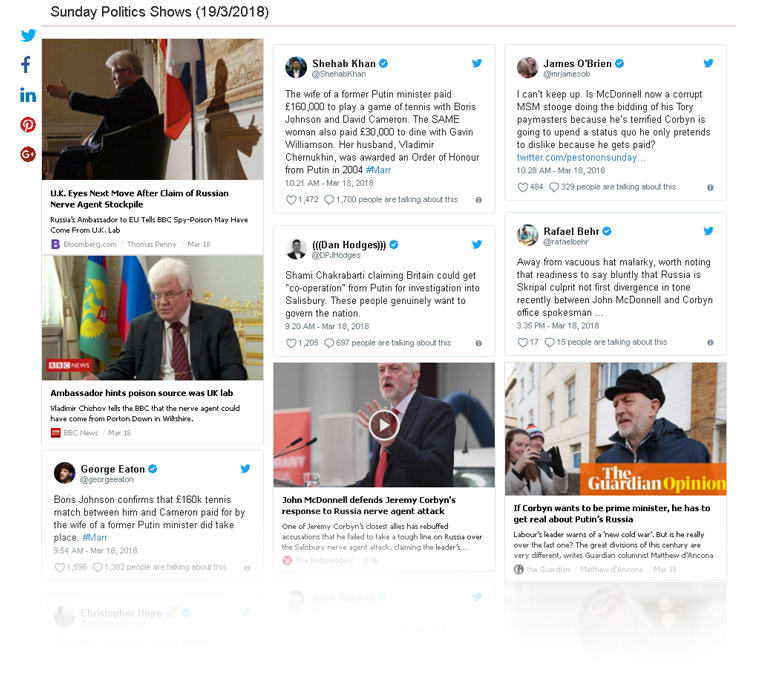 https://www.vuelio.com/uk/wp-content/uploads/2017/11/Politics-on-Sunday.png
430
760
Daniel Loman
https://www.vuelio.com/uk/wp-content/uploads/2019/09/vuelio-logo.png
Daniel Loman
2018-03-19 10:53:22
2018-03-19 10:53:22
Politics on Sunday - 19 March 2018