Though it seems there are very few things that manage to take Twitter by surprise, this week the new pope did just that.
On Wednesday evening, Jorge Mario Bergoglio was revealed as the new pope and it's fair to say Twitter didn't see it coming. Not one of the bookies' favourites, Bergoglio managed just a handful of pope-related mentions during the conclave before the white smoke was seen.
Then, just after 7pm, Bergoglio trended worldwide along with his chosen name 'Francis'. Using Cision Social Media we can see how the announcement took Twitter by surprise.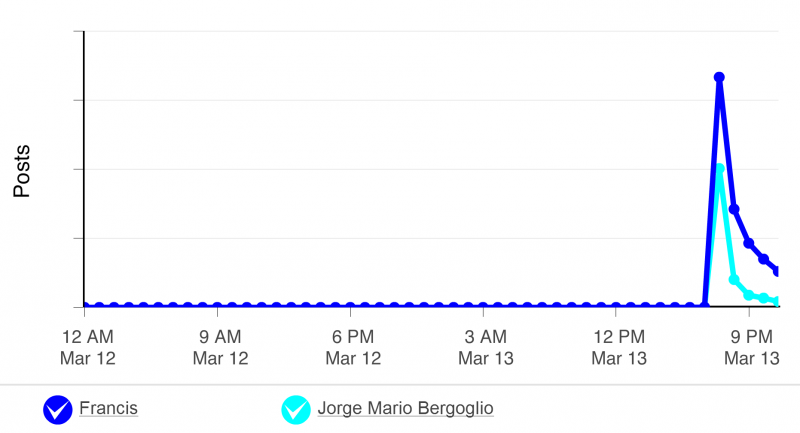 So what was Twitter talking about? With the choice out of the people's hands, conversation before the announcement was focused on the favourites: Angelo Scola, Italian Cardinal and Archbishop of Milan; Peter Turkson, Ghanaian cardinal and president of the Pontifical Council for Justice and Peace; Odilo Scherer, Brazilian cardinal and Archbishop of São Paulo.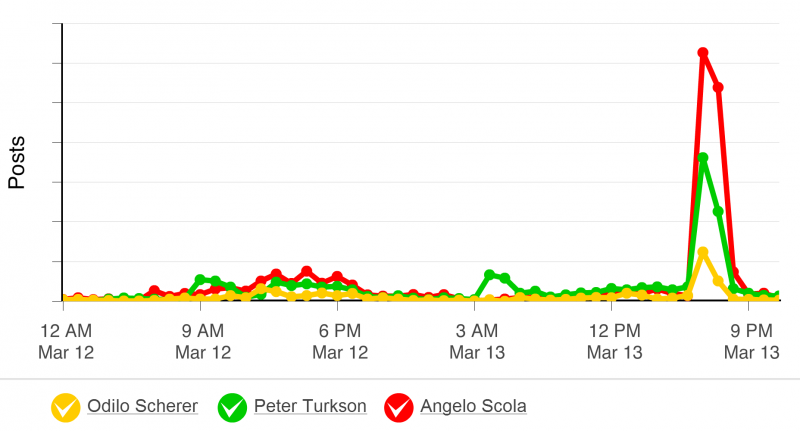 As this shows, the discussion about the three reaches a peak between 6-7pm, just before the white smoke. After the Bergoglio announcement, the conversation dies down as sharply as it peaked, and the three favourites are forgotten.
In a world where everything is on the internet and privacy is just a distant memory, 115 Cardinals managed to elect the leader for a group of 1.2bn Catholics without Twitter getting there first. That's impressive. 
The graphs and data came via Cision Social Media from CisionPoint.  
https://www.vuelio.com/uk/wp-content/uploads/2019/09/vuelio-logo.png
0
0
Priyanka Dayal
https://www.vuelio.com/uk/wp-content/uploads/2019/09/vuelio-logo.png
Priyanka Dayal
2013-03-15 15:32:10
2013-03-15 15:32:10
Pope Francis on Twitter