PR strategy and the right tools for the job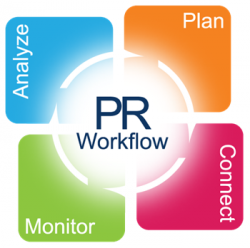 PR is a paradoxical profession. On one hand the industry earns its living by managing client reputation, and on the other, it is terribly lacking in defining its own identity among other marketing disciplines. This is because PR has always been about dealing with people and juggling demands and deadlines, and that's not easy. However, the internet explosion and subsequent advancement in digital technology is reshaping the way business is now done with superior PR tools available to prove results, rather than just promise them.
A global study on the PR industry undertaken last year by the Plank Center for Leadership in Public Relations at The University of Alabama identified, 'the impact of digital networks and massively available real-time information as the fundamental forces transforming the practice of contemporary public relations.'
The four most important challenges facing PR, as listed by the majority of global respondents (representing 23 countries) were: managing the volume and velocity of information; the role of social media; improving measurement; and dealing with fast-moving crises.
Clearly, technology enabled tools to power results have become imperative for PR professionals to embed in their business strategy. The task at hand for the over 61,000 PR professionals in the UK therefore is to identify and implement the right tools to support PR campaign planning, management and evaluation.
In the words of Benjamin Webb, managing director of Deliberate PR: 'In the past half-decade, the exponential growth of social media and blogging has created new and more substantive methods for evaluating success.
In the digital age, creative, credible interactive content is king – demanded by a cynical general public.'
To address challenges facing the PR industry and maximize opportunities brought about by digital technology; join Vuelio this Thursday, 15 August for a live 30-minute webinar focusing on how PR professionals can use PR tools for the best possible results. Vuelio's Rana Rahman will be discussing:
Ways to break down big plans and projects into smaller, actionable tasks

The tools to help you go from planning to measuring performance (and back again)

Tips for getting your boss to approve the budget you need
Priyanka Dayal
https://www.vuelio.com/uk/wp-content/uploads/2019/09/vuelio-logo.png
Priyanka Dayal
2013-08-13 13:27:04
2017-11-09 15:04:20
PR strategy and the right tools for the job