Running Blogger Spotlight: Emma Neachell, The PhD Runner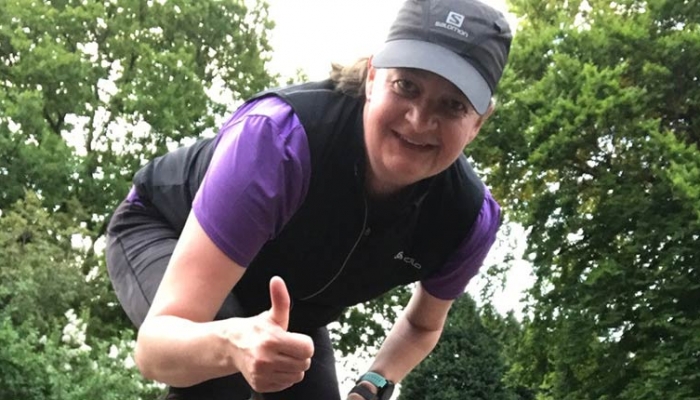 Don't have a PhD in running quite yet? No problem – check out today's Blogger Spotlight with The PhD Runner's Emma Neachell for the best routes, the best fuel to keep you going and the best things about running a running-related blog.
What got you into running as a hobby and what keeps you passionate about it as a way to keep fit?
I've always loved running and joined my local athletics club as soon as I was old enough. While most of my school friends hated running, I thought that cross country running and athletics sessions were the highlight of the school week. I've tried a range of other sports including cycling, climbing, walking, tennis, and hockey as a way of keeping fit but running will always remain my passion as I love the post-run endorphins and runners high.
What's your favourite thing to post about and why?
I have two favourite things to post about. I love writing product reviews and my regular rants and raves posts. Product reviews because I love getting to thoroughly test out and review running-related products. Some of the products I've been sent to review have been amazing and have enhanced my running. My rants and raves posts, too, because I find writing a great way of relieving stress when I'm unable to run.
Did you take part London Marathon this year?
Yes, I took part in the virtual London Marathon. I was unsuccessful in the original ballot so when I saw that entries to the virtual London Marathon were open, I happily parted with the £20 entry fee. I didn't manage to complete the marathon distance as I stopped when I'd reached 17 miles. I could blame the wet and windy weather conditions but I think the reality is I that hadn't trained enough due to my knee injury.
Do you think the different format of the Marathon, in light of the COVID-19 pandemic, was a good idea?
I know that a lot of runners don't agree, but I think the different format of the Marathon was a great idea. Holding an event just for elite runners in the centre of London meant that the elite runners got the opportunity to race and to achieve Olympic qualifying standards. Holding a virtual event for everyone else meant that runners who had raised money for charity got the opportunity to complete their own version of the London Marathon. I hope that the London Marathon organisers do something similar for runners who were unsuccessful in the ballot in future years.
How did you change your approach and content during lockdown?
At the start of lockdown, I didn't feel like blogging as I was focusing all my energy on trying to adapt to the new 'normal' and on my full-time job. I was acutely aware of how fortunate I was (and still am) to have a secure job working for an organisation that encourages working from home. I wasn't running so I didn't feel like I had anything to write about. About a month into lockdown I started following the Couch to 5k so I decided to share my progress on my blog.
What's the best route you've ever taken for a run?
Now, this is a really tricky question to answer. I think my all-time favourite has to be the route of the Cathedral to Castle 10-mile race. The race starts in Lichfield and ends in Tamworth and incorporates some amazing scenery and challenging trials.
Best snacks/drinks to take along for a race?
I tend to stick to eating a banana and drinking a bottle of chocolate milkshake.
What advice would you give to someone who's never been into running but would like to start?
I would say don't rush out and spend a fortune on running clothes and trainers until you know that you enjoy running. I would also recommend starting with the Couch to 5k; it really does work. Also, remember to have fun and to enjoy yourself.
How do you collaborate with brands, and which kind of brands do you really like working with?
I've rarely collaborated with brands. I don't like promoting myself as I'm aware there are more professional, full-time running bloggers out there. Living outside of London puts me at a disadvantage as a blogger; I've been invited to events in London but haven't been able to attend due to work and financial constraints. When I have collaborated with brands, the brand has always contacted me first either through my running blog or email. I really like working with brands that value my time as a blogger and are prepared to offer some form of compensation. I also prefer working with brands who give me plenty of time to try out and to test the product I'm reviewing.
For PRs looking to work with you and your blog/website, how would you prefer they approach you?
I prefer that they approach me by email. I work full-time and don't tend to answer my personal mobile when I'm at work.
What other blogs do you check out regularly?
I have a selection of blogs I check out regularly, some were included in the Top 10 UK Running Blogs. My favourites at the moment are Lazy Girl Running, Maria Runs, Anna the Apple, A Healthier Moo, Rula Runs and This Bunny Runs.
https://www.vuelio.com/uk/wp-content/uploads/2020/10/The-PhD-Runner.jpg
430
760
Holly Hodges
https://www.vuelio.com/uk/wp-content/uploads/2023/09/vuelio-logo-200px.png
Holly Hodges
2020-10-22 15:51:49
2020-10-22 15:51:49
Running Blogger Spotlight: Emma Neachell, The PhD Runner