Sarah Armitage: 'Leonardo DiCaprio is next on my list'
In the second of a two-part interview with Sarah Armitage, head of endorsements and brand partnerships at Brand Revolution, she tells us what it was like to work with Cat Deeley and David Bailey and why Leonardo DiCaprio is next on her wish list.

In your experience of working with talent, what has been the most interesting association?
I've worked with some leading brands and very talented individuals but I think what makes the association interesting is the choice of media used to communicate the association or campaign plan. Samsung and Cat Deeley had an incredible digital campaign with great content and social media use.  Another one that comes to mind is Cartier's work with photographer David Bailey. Brand endorsements can utilise big mainstream media splashes or niche, non-traditional tactics – it's about what fits the association best.
With the influx of reality shows and new media platforms, is there more talent, and hence more opportunities for big and small businesses today?
There are different levels and kinds of talent in the market today. We tend to work with people who are genuinely creating something, true artists, so we don't really do reality TV. However, A-list Hollywood stars, reality TV stars, sports personalities and musicians, can all be influential – they just send out a different message to different people. I wouldn't say there are more opportunities, but yes there is wider variety, and different grades of talent available to suit more businesses.
What is the road ahead for you at Brand Revolution?
I've already got my hands full with some big projects including activity with Diageo China this March for the Beijing Film Festival and Fashion Week.  We're also busy preparing for the Cannes Film Festival – last year Brand Revolution sourced, produced and PR'd over 12 A-list events and it looks like it's going to be the same this year which is a bit scary but super exciting!
At the moment, I'm also working with some fantastic film, fashion and art talent and I am currently in the process of sourcing and creating commercial partnerships for them.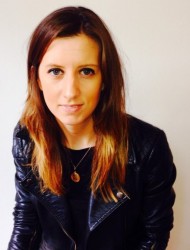 Getting to know Sarah Armitage
The first thing I do when I come into work is: Go through my to-do list which I create every night before I leave.
My biggest social media peeve: Too many hashtags.
If I wasn't in talent management I would be: An actress. My childhood dream was to be on stage. Or, a florist in the country.
What's all the fuss around: Superfoods. I eat food for enjoyment and don't understand all these juice diets.
The three talents I would love to work with: Leonardo DiCaprio. It's been my dream to work with him and he's definitely next on my list. Brand Revolution recently concluded some work with him (see image), but unfortunately that was before I joined. And of course I think Beyonce would be great to work with, as well as David Beckham.
In the first part of the interview that was published yesterday, Sarah Armitage gave us a sneak peek into all the action that takes place behind-the-scenes of celebrity endorsements and brand partnerships. 
Priyanka Dayal
https://www.vuelio.com/uk/wp-content/uploads/2023/09/vuelio-logo-200px.png
Priyanka Dayal
2014-02-13 10:57:48
2014-02-13 10:57:48
Sarah Armitage: 'Leonardo DiCaprio is next on my list'