Scottish Independence and social media
The Scottish Government launched its independence blueprint at a press conference this morning, with Alex Salmond calling it a 'mission statement' for the future. The whitepaper comes ahead of the yes/no vote for Scottish independence on 18 September 2014.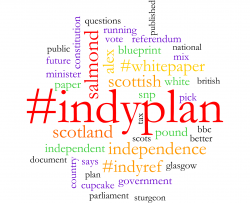 While the 670-page plan is extensive, the media's headlines have a narrow focus: the Telegraph, the Guardian and the FT have all led with the news that an independent Scotland would keep the pound.
Vuelio's Social Media's Conversation Cloud reveals 'pound' as one of the most mentioned words in the discussion. On social media, and particularly Twitter, it is #indyplan that dominates ahead of #whitepaper and #indyref. Alex Salmond also trended on Twitter, again shown in the Conversation Cloud.
The word cupcake comes from a popular tweet by parody account @Queen_UK, which currently has over 750 retweets:
No, Salmond, you cannot have the pound. One's not running a pick and mix constitution here, cupcake. #whitepaper

— Elizabeth Windsor (@Queen_UK) November 26, 2013
The topic isn't proving popular on social media, which may come as a surprise to anyone who is watching a rolling news channel. Peaking at just over 8,000 mentions, the topic didn't even manage to stir-up as much conversation as Doctor Who on an off day.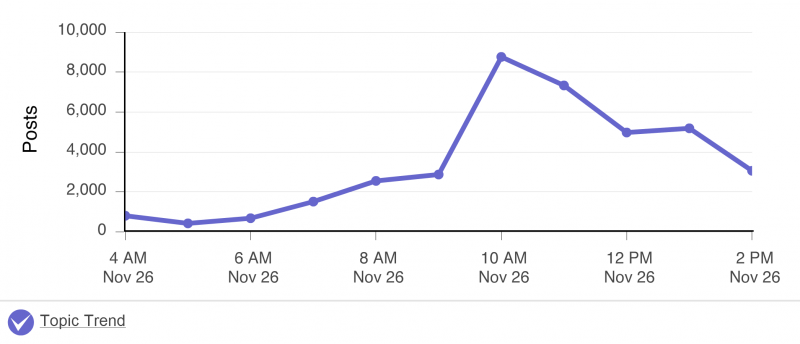 A possible explanation is Scotland's relatively small population, though the percentage of Scots that use social media is not currently known. Another explanation has been offered up by 'subsea2003' in a comment thread on the Scottish Referendum's website: 'most of the SNP supporters I know don't have access to a computer'.
While the story is likely to make the front pages tomorrow – and the TV headlines tonight – the social media classes have all but moved on. Perhaps in a world of 140 characters, 670 pages is just too much.
Graphs made with Vuelio Social Media.
Priyanka Dayal
https://www.vuelio.com/uk/wp-content/uploads/2019/09/vuelio-logo.png
Priyanka Dayal
2013-11-26 15:23:25
2017-11-10 15:53:05
Scottish Independence and social media