Speedy Spotlight: Angie Solomon's SilverSpoon London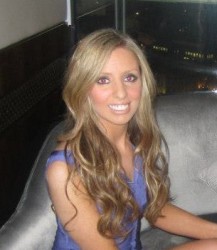 An interview with Angie Solomon, author of the lifestyle, food and travel blog SilverSpoon London. Angie (soon to be Mrs Silver) spoke to us about the exciting mix of content that makes up her blog, working with PRs and why Twitter has over-taken Facebook as her social media love. 

Why should people read your blog?
My blog is about the life and times of a London girl. SilverSpoon London features stylish restaurants, parties, bars and nightclubs but most of all it's about food and having fun! I want my readers to get to know me through my blog posts so they feel that they can trust my advice and recommendations. My other great passion is travel, and the blog specifically focuses on luxury travel, beautiful hotels, fantastic restaurants and cultural highlights. I try and give the reader a bit of a laugh and some stunning photography along the journey.
What makes your blog different?
SilverSpoon London is not quite a lifestyle blog and not quite a food blog, it fuses both together to make something exciting and fabulous! There are so many lifestyle blogs out there and many that focus on luxury London lifestyle coupled with high-end travel, but each blog is driven by a different personality. My blog is all about my adventures in and outside of London particularly with my other half, Mr Silver. I never want anyone to accept second best so I'll recommend places that are totally amazing and those to avoid. My standards are very high and I would never recommend somewhere not SilverSpoon-worthy!
What's your favourite blog and why?
I have a couple of favourites and I was inspired by the first blogs that I started to read. Those were Cocktails and Caroline and The Londoner. They are both stylish lifestyle blogs by ladies enjoying London, parties, travel, fashion and beauty. What makes a blog unique is the personality of the writer. Anyone can write about London lifestyle, but there is only one you.
What advice would you give to someone who wants to start a blog?
It can be intimidating to put yourself out there but just start and it'll grow organically. Always write about what you are truly passionate about and your love for the subject will shine through. Bells and whistles such as amazing design, SEO and marketing strategies can come later so just start by developing some really great content both in terms of writing and photography. Write how you speak so that you blog comes across naturally and is personal. Remember your blog is not a broadsheet journal and you can use slang; just be yourself.
Intersperse your blog with lots of personal anecdotes and photos of your friends and family so that readers get to know you. Make sure that you know your audience so that you can keep you blog posts relevant
How does a good PR work with you?
A PR should have read my blog before contacting me so that they really understand what I'm about and what I like to feature. It's really important to target products, venues and events correctly otherwise it's not the best use of time. Press releases should be tailored towards me individually and reference specifically from my blog. The introductory email or phone call should be exciting and energetic so that I'm really keen to get involved. My blog is supposed to be fun, so a bit of banter with a PR goes a long way!
What do PRs do that's bad?
I've received press releases that haven't been tailored personally and are not particularly relevant to me; a personal touch is always much appreciated and helps to open lines of communication and to establish a relationship. Not checking facts and getting names and locations wrong is very bad practice.
A follow up is a good idea, it's easy to miss a press release or invitation in the ether, and a subsequent email or phone call can be really helpful.
92% of UK journalists are on Twitter, how important is it to bloggers?
In terms of social media, Facebook was my first love! But I've now come to find a new favourite. I think Twitter is by far the best way of promoting a blog. Without Twitter I wouldn't be able to reach out to other bloggers and form communities with like-minded people. It is one of the best ways to open communications with brands, restaurants and PR contacts. Facebook is great for friends and I love Instagram for the visual side of things but its got to be Twitter to open up new avenues and meet new people! It's so immediate, everything is up to the moment and in real time.
Editorial information on Angie Solomon and thousands of other media contacts and outlets, can be found in the CisionPoint Media Database.
Priyanka Dayal
https://www.vuelio.com/uk/wp-content/uploads/2023/09/vuelio-logo-200px.png
Priyanka Dayal
2014-02-27 11:03:02
2014-02-27 11:03:02
Speedy Spotlight: Angie Solomon's SilverSpoon London