Speedy Spotlight: John Adams, Dad Blog UK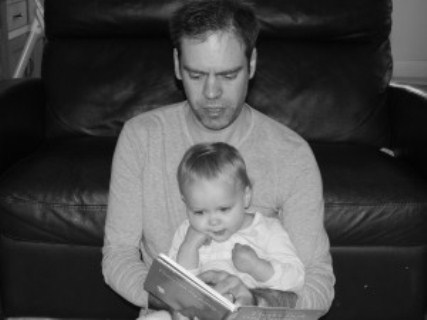 An interview with John Adams, author of the parenting blog, Dadbloguk.com. John, a former journalist is now a stay-at-home dad, taking care of his two daughters while his wife works full time. He was inspired to start blogging after being invited to "one too many mother and toddler groups." His blog covers all aspects of parenting, including pregnancy and birth, early years education and childcare, but he is particularly passionate about highlighting the gender barriers men face as parents. Dadbloguk also features reviews and a men's style section, which was recently added and has proved very popular.  
Why should people read your blog? What makes it different? I think my blog stands out because it is a parenting blog written by a man who is responsible for the childcare and running of the home. Granted, there are an increasingly number of dad bloggers but the majority are working dads.
People should read my blog because it is a real mix of family life, commentary on gender equality and also reviews men's style and fashion (I launched a style section in May 2014 and it has been incredibly popular).
How do you measure the success of your website? I like to measure influence and I believe I write an influential blog. I am regularly approached by charities to promote campaigns and I have taken part in government policy discussions. It's interesting to note who reads my blog; academics, policy advisers, childcare and education specialists in addition to mums and dads who relate to the struggles I face every day and the fun I have along the way.
I do of course keep an eye on visitor numbers. They've been steadily rising since I launched the blog 19 months ago. So long as it keeps going that way, I'm happy.
What's your favourite blog and why? I'm occasionally asked this and I never quite know how to reply because I hate to choose favourites. I'm going to break the rules and list three:
One Dad 3 Girls – very good dad blogger who is behind the exceedingly popular #MySundayPhoto hash tag, not to mention the Love All Dads blogger showcase.
Dads the way I like it – a dad blogger never afraid to tackle the issues us guys face as parents.
Vevivos –Written by Victoria Welton who was, for very good reason, shortlisted in the Brilliance in Blogging awards 2013 in the innovation category.
What advice would you give to someone who wants to start a blog? Don't do what I did and launch your blog just before your second child is born! Jokes aside, just do what you want and have fun. There are blogging purists who believe you should stick to certain conventions but I say it's your personal part of the internet, do what you like with it (within the law!).
How do you work with marketers and PRs? I often work with PRs. I was originally a journalist and later moved into PR and communications so you'll find me approachable. PRs often suggest story ideas or brands they wish to promote, maybe via a review of giveaway. If you have an idea, please do approach me. I won't necessarily say yes, but I'm always happy to hear from PRs.
Who do you work with in brand marketing? PRs? SEOs? Anyone else? I work with PRs, SEOs and marketing specialists. I also sit on one or two panels and give advice as to how brands should be marketed to mums and dads. I think the male voice is crucial in this sector. Although there are very few dads in my position, men are getting increasingly involved as fathers. If you're going to market nappies, wipes, pushchairs, whatever – you must market to both parents. I boycott brands that don't do this and I'm not the only man to do so.
My message; this is the 21st century, market your products to mum and dad or it'll hit your bottom line.
What can marketers do better in working with you? Firstly, include me / other dad bloggers as part of your marketing strategy. As I say, this is vital in the parenting sector. Also, give feedback as to what has worked well and what hasn't. I often work on campaigns and sometimes when it's finished you never hear from the other party again.
Also, appreciate the fact that bloggers often do it for the love and they don't all have a PR background like me so don't necessarily understand what it is you need. Writing a blog post, making it SEO friendly, sourcing an image, adding ALT tags, shooting a bit of YouTube video and promoting on social media takes time. You're probably talking at least a couple of hours per blog post.
The majority of marketers are very good at recognising this. I have on occasion, however, been on the receiving end of quite rude, group emails from marketers demanding "coverage" by a certain date. I've ignored such requests when they've been made in this way.
What was your blogging highlight of 2013? My highlight for 2013 was probably being asked to speak at the BritMums Live blogging conference. I was one of only a very small number of men to speak and so it was a real honour to take part and contribute to that event. I must add that BritMums Live is a fantastic event. While men attend in only small numbers, we do go along!
What will be big in your blogosphere in the coming months? I see myself doing three things. First of all, working with some more charities. I've done this to great effect recently and I like the fact my blog can highlight and raise the profile of worthwhile causes. I will probably focus on charities working with parents facing particular issues.
Secondly, I will expand my style section. I toyed with the idea of launching it for about a year and when I check my Google Analytics stats I wish I had done it a year ago! It complements the other content on my blog and has introduced me to new readers.
Third, I'm tempted to go back into travel writing. When I was a journalist, I spent time as a travel writer and I've been sked to do a couple of travel assignments recently. It's not something I'd have considered before because of the age of my children but they're a bit older so they're more manageable now.
https://www.vuelio.com/uk/wp-content/uploads/2014/07/dad-blog-uk.jpg
320
427
Priyanka Dayal
https://www.vuelio.com/uk/wp-content/uploads/2019/09/vuelio-logo.png
Priyanka Dayal
2014-07-10 10:44:05
2014-07-10 10:44:05
Speedy Spotlight: John Adams, Dad Blog UK