The Top 10 PR stories of 2013
In continuation of our Top 10 Top 10s, here's a look at the leading stories in public relations this year, according to @DayalPriyanka. Read up on the top 10 news that made, shook and shaped the UK PR industry in 2013. 
1. Horsemeat scandal
2013 got off to a hectic start for PRs of major Irish and British supermarket chains and food companies embroiled in the horsemeat scandal that first came to light on 15 January. Comms teams scrambled to pull together a strategy that would protect the damaged reputation of their brands while restoring consumer confidence. Apart from raising concerns about European health and food safety standards, the horsemeat scandal highlighted the importance of crisis management for the entire PR industry.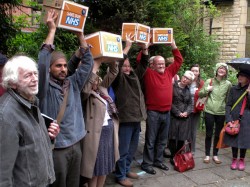 2. NHS' £13 million public relations spend
In March,  BBC unveiled the £13 million NHS spend on public relations of the last three years which was enough to recruit 600 nurses, a much needed measure for the cash-strapped, short-staffed health service provider. 
Critics called for "medical doctors not spin doctors", pointing to longer waiting times and cancelled operations.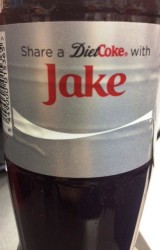 3. Coca-Cola's Share a Coke campaign
Coca-Cola's Share a Coke campaign launched this summer was one of the most successful PR/marketing stories of the year. The campaign removed branding 'Coca-Cola' from the bottle, and replaced it with 250 of Britain's most popular names. Each bottle carried the hashtag #shareacoke to encourage users to promote the brand online on multiple social media touchpoints. It was not long before Twitter and Facebook feeds were filled with people posting their personalised bottles of Coke.
According to the Guardian: 'from a social perspective, Coca-Cola has seen its Facebook community grow by 3.5% and globally by 6.8%. The hashtag has also been used 29,000 times on Twitter (Brandwatch, 2013). 
4. The Omnicom and Publicis merger
The merger between France's Publicis and America's Omnicom  announced in July created the world's biggest marketing and advertising powerhouse, ending WPP's four-year dominance of the industry. The Guardian reported that the 'French and US multinational will be worth nearly $23 bn in revenues, beating previous sector leader WPP's $10.4bn.'
Haymarket Group's PRWeek  warned of cost saving consequences the deal will have on ad and PR.
5. M: Communications closes doors
M: Communications, one of London's leading PR firms with revenues of £14 million, closed operations mid-year following the resignation of its founders and other senior members of staff.
According to PRWeek, a number of other businesses have spun out of M: Communications with members of the energy team forming Vigo Communications, its Russian practice launching EM and the agency's former healthcare division spinning out into Consilium Strategic Communications. Many of M:'s former clients have migrated to these start-ups, while a number of others have since moved to M:'s former rivals.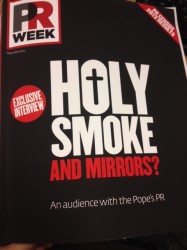 6. PRWeek goes monthly
PRWeek, a leading trade title in communications and PR news, relaunched its weekly print edition in September as a monthly, but kept the magazine title unchanged.
Apart from industry news coverage PRWeek, part of the Haymarket Business Media, added a monthly interactive app in November.
Group publishing director George Buckingham said: 'The way our readers consume information has been transformed in the past ten years and we will ensure that PRWeek's essential mix of news, views and in-depth knowledge is available to them wherever, whenever and however they want it.'
7. #PRFail: Twitter Q&A's
In October, British Gas director Bert Pijls was slammed as he engaged the public in a Twitter Q&A session the very day it announced a 9.2% price hike. A week later, low cost carrier Ryanair's chief executive Michael O'Leary made the same mistake by hosting a Q&A session with the public in an attempt to rectify the airline's reputation for poor customer service. But it all went downhill for the company when he inappropriately responded to the first person who asked him a question with 'Nice pic. Phwoaaarr! MOL', using the #GrillMOL hashtag. British Gas' and Ryanair's attempt at being "open and transparent" quickly became dubbed as the year's worst 'PR disaster.'
JPMorgan Chase took note and cancelled its Q&A session on Twitter after it prompted a tirade of verbal abuse from thousands of people on the site, according to The Telegraph. Despite bailing out, at least two-thirds of 80,000 tweets sent using the hashtag #AskJPM were negative, according to Topsy, a company which analyses Tweets.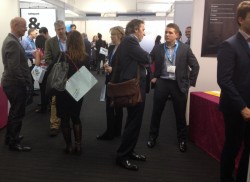 8. The Public Relations Show 2013
The inaugural Public Relations Show hosted by the Chartered Institute of Public Relations (CIPR) took place in November at the Business Design Centre in central London. The free-to-attend event allowed the 1,000 PR professionals in attendance a chance to network, discuss business ideas and shop for the latest tools and solutions in the market to best match their PR strategy.
The show included an Advice Hub by leading PR agency Ketchum; a Careers Centre sponsored by F1 recruitment; CIPR Taster Workshops and an exhibition featuring an array of leading public relations products and service providers.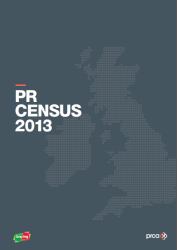 9. 2013 PR Census: Industry contributes £9.62 billion to UK economy
The UK PR industry is worth £9.62 billion – up £2 billion from two years ago, according to the 2013 PR Census released in December. 
The number of professionals employed in the industry is also slightly ahead at 62,000 people as compared with 61,600 in 2011. This is probably because the profession has become more rewarding with salaries averaging at £54,000, with the most popular bracket being £30,000- £40,000 applying to 18% of professionals.
The results indicated that overall optimism in the sector is also on the rise in terms of rewards, revenues and recruitment.
10. Person of the Year: Pope Francis 
Pope Francis is a lesson in PR done right. Time Magazine voted him its Person of the Year, and so did The Advocate magazine, a leading gay rights publication, despite his strong stance against same-sex marriage.
Nancy Gibbs, managing editor of Time Magazine said: 'In his nine months in office, he has placed himself at the very center of the central conversations of our time: about wealth and poverty, fairness and justice, transparency, modernity, globalization, the role of women, the nature of marriage, the temptations of power.'
As columnist Adam Brereton argued, 'Pope Francis, Time person of the year, should be rebranded as the PR Pope.'
Priyanka Dayal
https://www.vuelio.com/uk/wp-content/uploads/2023/09/vuelio-logo-200px.png
Priyanka Dayal
2013-12-20 12:56:33
2013-12-20 12:56:33
The Top 10 PR stories of 2013