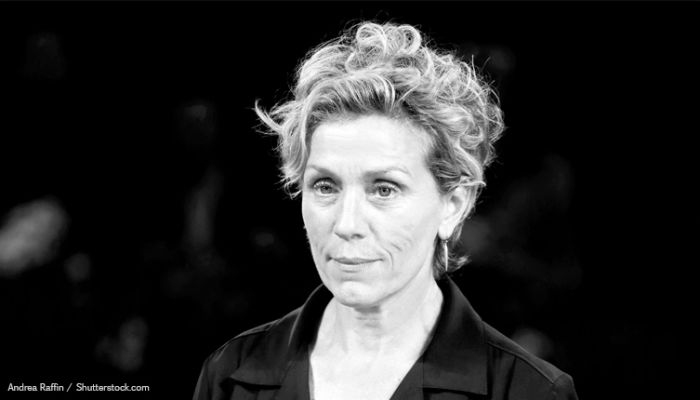 At last night's Oscars, #MeToo and Time's Up were both recognised; host Jimmy Kimmel highlighted the movements in his opening; and Frances McDormand used her acceptance speech to urge every nominated woman to stand, drawing attention to successful women that STILL need the industry's support.
McDormand also used her speech to promote 'inclusion riders' – but what are these and how can the PR industry use them?
An inclusion rider is a clause in an actor's contract that insists on 50% diversity in the film's cast and crew. Backstage, McDormand said that 'trends' were not good enough – whether it's African Americans 'trending' or women 'trending', it misses the point. The industry doesn't need trends, the industry needs real change that lasts.
Sexual harassment in PR
The PR industry was last week rocked by the sexual harassment survey from PRWeek, the PRCA and Women in PR, which revealed that one in six women in PR has been sexually assaulted at work, and a quarter said they had experienced sexual harassment.
This is disgusting.
In nearly 45% of the sexual harassment incidents, the offending behaviour was from a line manager or senior member of staff. No one should ever be made to feel unsafe, uncomfortable or lesser in any way at work, and no one deserves their place in management if they abuse it.
The industry is making moves to improve diversity – the PRCA includes it as a feature in their audits, the sexual harassment survey was commissioned by three leading PR groups and the Taylor Bennett Foundation is growing after recently celebrating its tenth anniversary. But it's not enough – more needs to be done.
Do we need an inclusion rider?
In PR in the UK, 67% of PR professionals are female but a recent study showed that just three years into their careers, women are already earning £10,000 less than men at the same point – and for the most experienced in-house practitioners, this number becomes £75,000.
More diversity doesn't mean more women in the company or more female faces in the industry, it means more encouragement, support and opportunities for women to rise to the top. It means women at every level, in every department, making all types of decisions. More women in senior roles make "boys' clubs" harder to exist and start a change in the PR industry that is long overdue.
Ethnic diversity is also struggling in the industry. White people make up 91% of the industry – though this figure is changing with future generations, dropping to 79% among 18-24 year olds. FuturePRoof has pointed out that while 13% of the population is from BME or mixed background (suggesting the PR figures are not too awful), 58% of PR businesses are based in London and 40% of London's population is BME or mixed background.
An inclusion rider for the PR industry should not just focus on increasing broad numbers but on encouraging people from all backgrounds, genders, cultures and races to have the same opportunities as the homogenous mass.
The ironic thing about privilege is that if you have it, you rarely notice it. You may see women or colleagues from BME or mixed backgrounds in your office and think that's enough. But do they have the same opportunities to advance as you? Are they being paid the same for the same work as you? Are they woefully lacking among the senior management team and board meetings?
Well time's up. Enough. No more.
Don't put it on the agenda, don't wait until International Women's Day this Thursday to make a 'statement', don't schedule a meeting for tomorrow. Start today. Start now. Make the changes we need, and make PR the amazing industry it deserves to be.
https://www.vuelio.com/uk/wp-content/uploads/2018/03/Frances-Mcdormand.jpg
430
760
Jake O'Neill
https://www.vuelio.com/uk/wp-content/uploads/2019/09/vuelio-logo.png
Jake O'Neill
2018-03-05 11:02:04
2018-03-05 11:02:04
Time's Up for PR