Today's Political Headlines – 29 November 2017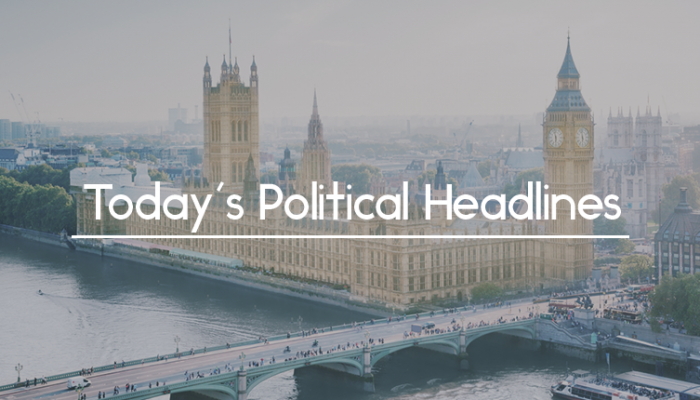 A round-up of the latest political headlines, including the Brexit divorce bill, a new rail strategy, a 50-year citizen threatened with deportation and David Davis accused of contempt. 
Britain settles EU divorce bill
In an exclusive, The Daily Telegraph revealed that the UK has agreed to a financial settlement with the EU. Two sources told the paper that terms were agreed last week following back-channel discussions led by Oliver Robbins, the UK's chief negotiator. The final figure will be between €45bn and €55bn, with a gross settlement (before deductions) of €100bn. This leaves just two major obstacles before the meeting of the European Council on December 14-15: the role of the European Court of Justice in governing citizens' rights and the Irish border. May will deliver an offer covering all three areas on December 4.
Government unveils new rail strategy
The Times has spoken to Transport Secretary Chris Grayling, who unveils his new rail strategy today. Headline measures include re-opening some lines closed in the 1960s Beeching cuts to unlock housing development, grow business or relieve overcrowding. Other reforms include breaking up large franchises, joining-up Network Rail and train operators to co-ordinate disruption and engineering work, setting a deadline for the introduction of smart card and contactless payments, and creating a new independent rail ombudsman.
Woman threatened with deportation, despite living in the UK for 50 years
The Guardian tells the story of 61-year-old Paulette Wilson, who was detained at Yarl's Wood detention centre and then nearly deported, despite having lived in the UK since she was ten. The paper says that migrants' rights charities are 'increasingly' coming across similar cases, where people have no documents proving their right to live in the UK because they moved before there was a legal need to apply for leave to remain.
Davis accused of contempt over Brexit impact papers
The Financial Times reports on Brexit Secretary David Davis's decision not to hand over unredacted versions of the Government's Brexit impact analyses to Parliament. Labour's Shadow Brexit Secretary, Keir Starmer said 'Whether he is in contempt of parliament is a matter we will come to at a later date but he is treating parliament with contempt. This is not a game.' Commons Speaker John Bercow has told Davis to explain himself to MPs.
Damian Green to stand in at Prime Minister's Questions
First Secretary of State Damian Green is to stand in at today's Prime Minister's Questions, The Daily Telegraph says. Theresa May is visiting the Middle East to champion women's rights, but said that Damián Green, currently under investigation following allegations into his behaviour towards women, would do a 'good job'.
Universal Credit hotline to close over Christmas
The Mirror reports on a letter to Theresa May written by Frank Field, chairman of the Commons Work and Pension Committee. He highlights the fact that the Universal Credit hotline will be open fully for just two out of ten days this Christmas, and told the paper that he was 'fighting against hunger'.
MPs attack NHS over data loss
The Daily Mail has details of a report by the Public Accounts Committee on the NHS's response to the loss of almost 900,000 medical documents by a private firm. 18 months after the scandal was revealed, the NHS still can't say if any patients were harmed. Meg Hillier, the committee's chair, said 'we are far from confident health officials are on top of the issues.'
Tulip Siddiq makes 'threatening' remark to journalist
The Telegraph reports that Tulip Siddiq told a Channel 4 journalist to be 'very careful' and told a pregnant producer 'Hope you have a great birth, because child labour is hard.' The journalists were questioning her about human rights in Bangladesh, where her aunt is prime minister.
Learn how Vuelio political services can help you. 
https://www.vuelio.com/uk/wp-content/uploads/2017/11/Todays-Political-Headlines.png
430
760
Thomas Stevenson
https://www.vuelio.com/uk/wp-content/uploads/2019/09/vuelio-logo.png
Thomas Stevenson
2017-11-29 09:28:41
2017-11-29 09:28:41
Today's Political Headlines - 29 November 2017