Vlogger Spotlight: Jack & Ben, Our Swirl Life
After two years together, Jack and Ben decided to create an Instagram account to capture their lives together as an interracial gay couple. Within weeks the London-based duo picked up a 10k following. Wanting to expand on their huge Instagram following, Jack and Ben launched their YouTube channel in April, which became an instant success generating over half a million views. Now successful vloggers in their own right, Jack and Ben use their YouTube channel to answer fan questions from their large following, offer relationship advice, as well as film themselves doing fun popular online activities like the the boyfriend tag and the yoga challenge. In this spotlight we chat to Jack and Ben about their meteoric online success, why being a British interracial couple has been an asset to their brand, how they respond to homophobic and racist comments on YouTube, how they like to work with PRs, why they only promote things that they are passionate about and why they want to use their channel to make a difference.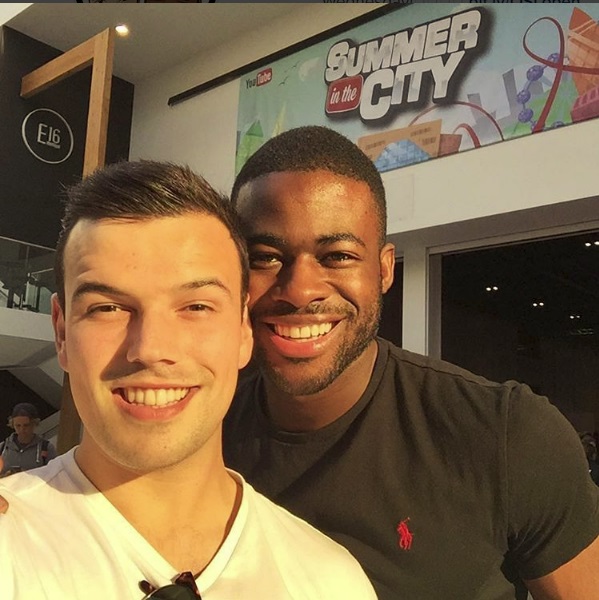 What made you decide to start vlogging? 
Jack: The inspiration came about as a result of a conversation with a very successful YouTuber, who is actually Ben's colleague at Google. He had seen some of our couple photos on our personal Facebook accounts, and mentioned that he hadn't seen an interracial gay couple on YouTube (especially not British), so maybe we could be the first.
Ben: The first step we took was creating an Instagram account, in February 2016, to build up a bit of a buzz around our upcoming channel, and once the account unexpectedly reached 10,000 followers (in around two months), we jumped into making videos. Our hopes are that through vlogging about our relationship, we can add to the 'normalisation' of healthy gay relationships, provide a voice for LGBT ethnic minorities, and ultimately inspire people like us to be more proud of their sexualities.
What are your individual backgrounds? 
Jack: I actually grew up in Wales, in a tiny town where everybody knows everybody. There's not much diversity there, so moving to London was a big culture shock – in a great way! I was closeted until twenty-one and had only dated girls until that point. I studied advertising and branding at university, and I am now working within the industry at an agency in London.
Ben: I'm a Londoner, born and raised, although my parents are from Guyana and Jamaica. I studied Neuroscience at a university in Malaysia, on a full scholarship, and dabbled in broadcast journalism whilst I was there, before moving back to the UK and starting a job at Google, as a Strategic Partner Manager. I dated girls until I was eighteen but when I came out as gay, I never looked back!
How did you come up with your brand name, Our Swirl Life? 
Jack: We wanted to name our blog something fun, unique, and visual. For a few weeks we really struggled to come up with anything that we both loved. We kept having what we thought were brilliant ideas, then consulted our friends on them, and soon found ourselves back at square one.
Ben: Until we started watching Orange Is The New Black, and heard the character 'Crazy Eyes' describe her potential interracial relationship as a "chocolate and vanilla swirl", we heard the line, paused Netflix because we were laughing so hard, and then set about checking social media for potential usage.
What is it like to be a part of the vlogging community? 
Ben: It sounds cliché, but even after only three months of vlogging, it has been life changing. Last weekend, YouTube invited us to Summer In The City, an annual weekend expo celebrating their online content creators. Through attending the event's numerous meet-ups, panels, and after-parties, we have now made amazing friends within the vlogging community, and seen how tight-knit the online LGBT community is.
Jack: Our fellow creators were eager to share so many tips with us, from recommending recording equipment, to suggesting content, to pitching collaborations, and we loved it. To be so new to the game, yet be accepted so warmly by some of the most influential online stars within the UK and the world, it's wonderful.
Your YouTube vlogging channel has received over 575,403 views in the space of four months. Why do you think it has been so successful in such a short space of time? 
Ben: Well, I think we're quite different to the norm, and this has worked in our favour. Being completely honest, neither of us really watched YouTube before beginning our own channel, especially not for LGBT related content, so we entered the ring blindly, not totally sure what we were doing, and I guess people liked how we did things differently.
Jack: A good example of this would be how we engage with our viewers. Since we started our Instagram and YouTube channel, we have responded to every comment, direct message, and email, just because we thought that's what we were supposed to do!
Ben: It was only after continually receiving comments like "OMG you guys actually responded!!" that we had a look at other channels and realised that it really isn't the norm to do that (which sadly does make some sense, as it takes a lot of time!).
Jack: Another point would be our content; we only have twenty videos up at the moment, but we've already had vlogs from our American road trip, reaction videos, couple challenges, and a highlights reel of our two years together. The content is varied, and maybe that helps, because nobody knows what's next (especially us!).
Ben: Finally, we think that being a gay British interracial couple has helped; for whatever reason, people are interested in our story, and our journey.
On your YouTube channel you have used vlogging as a platform to break down misconceptions around interracial dating, which still carries some stigma. What has been the response to the content you have posted online?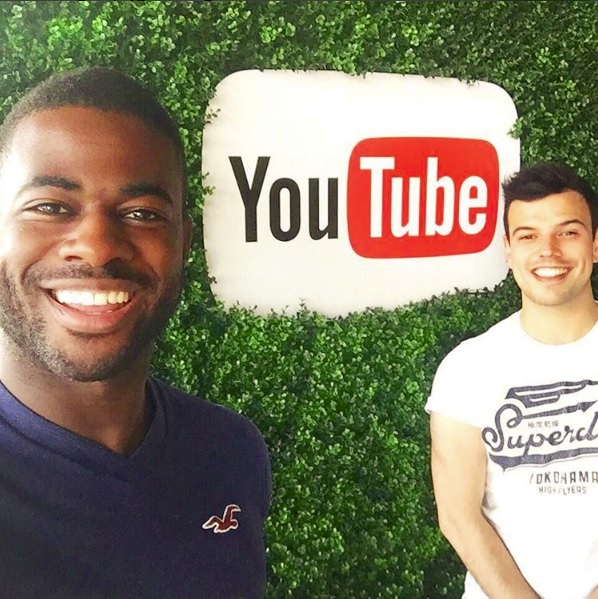 Ben: Appreciating that YouTube's comments section is known to feature racists, homophobes, and bigots, you would think that we'd receive a lot more hate than we actually do! Any video featuring us hugging or kissing always gets more hate than the rest, but the positive responses always outweigh the negative. One of the best things about the community which we've quickly established online is that they will actually patrol our comments section, and quickly shut down anybody who hates unnecessarily. It is an amazing thing to see, and really gives you faith in the world.
You also have a massive following on Instagram with 34k followers. Do you use Instagram differently to how you use YouTube? 
Ben: We post on Instagram on a daily basis, whereas we post on YouTube on a weekly basis. The return on investment on Instagram is a lot more significant, as photos do not take a long time to post, and as a result of the engagement which each of our posts receive, the Instagram algorithm seems to be on our side! YouTube videos take quite a while to plan, record, edit, and upload, so even though we'd love to have more videos, we really do not have the time.
Jack: Instagram allows us to keep our engagement high throughout the week, and almost certainly drives interest in our YouTube.
How do you work with marketers and PRs?
Jack: Since our various accounts were started, many brands have reached out to us, asking us to shoutout their products or feature their events. We decided early-on that we would only promote things which we have a genuine passion about, and ideally, we would be happy to recommend to a friend.
Ben: Over the past few months, we have worked with Disney, NBC, Broadway PR agencies, gaming apps, NGOs, and cosmetics brands. As we're so new to social media, we're probably less open to promotions than other accounts, and we're fine with that for now, as we're still trying to find our feet. We are looking forward to continually growing our audience and being offered more opportunities!
How do you feel about sponsorship disclosure? 
Jack: Well, it's actually a legal requirement to do this now.
Ben: Google and YouTube take this very seriously. We've even heard of channels being wholly taken down for not disclosing sponsorship deals.
List best practices PRs need to follow for better vlogger outreach? 
Ben: Be respectful! PR agencies need to remember that every social media influencers goal is to grow their following and nobody knows if or when their mass success will come about. This is important, because the 'small and non-influential' creators reaching out to them asking for sponsorship today, could be the 'Zoellas' of tomorrow. Respond to emails! Be polite and stay humble, because you never who you're potentially turning away.
Ben: Use vloggers related to your campaign: There is nothing more awkward than reading through the comments section of a sponsored post on YouTube or Instagram and seeing dedicated followers discussing why they have been subjected to a random advert. Whereas, there is nothing better than seeing the opposite; a well-targeted campaign, with followers mentioning how beneficial the post has been, or will be, to their lives. Whilst it's the responsibility of the content creator to filter the campaigns they are approached with, PR agencies should also appreciate that sometimes creators are blinded by money; both parties need to realise how a badly targeted campaign can affect them in the long run.
Jack: Set realistic deadlines: To integrate a product and brand into a video or post, in a natural and honest way, it does takes time. Most bloggers and vloggers have an unrelated full-time job too, which means that setting an unrealistic deadline applies pressure to both sides of the deal, and just increases the likelihood of failure.
What has been your vlogging highlight? 
Ben: After the awful Pulse nightclub shootings, we uploaded a video to YouTube discussing the attack and our change of travel plans – as at the time it happened we were actually heading to Orlando from New York. The video 'trended' on YouTube, and received over 100,000 views within a day, but the 'highlight' in this came from a random conversation in Universal Studios Florida. As we walked into the Hardrock Cafe within the theme park, a waitress approached us, telling us how she had seen our video, and how it had helped her to come to terms with the death of her friend who died in the attack. After she left us, we both sat in silence for a few minutes, realising the huge reach of YouTube, and the fact that our seemingly 'bit of fun' channel had already made a difference, just two months in.
Jack: Another highlight was very recent; this week we were featured in Attitude, Huffington Post, NBC News, and other publications, celebrating "Gay Uncles Day"! We were not actually contacted by any of the news agencies, so it was very weird to receive messages from friends and family who had seen our faces on the cover of several news stories! It was really cool either way!
What will be big in your vlogosphere in the coming months? 
Jack: We are really looking forward to using our channel to talk deeply about issues which affect several minority communities. Ben & I are happy to talk, debate, and even argue about topics; we're both very strong-minded, so it should make for some interesting viewing!
Ben: Last week we talked about open relationships within the gay community, and the video attracted nearly 1000 comments, this week we're uploading a vlog from Amsterdam Gay Pride. We're not even four months into this journey yet, but we're doing pretty cool things, so we would love for your readers to subscribe to us, enjoy our content, and hopefully get involved!
Jake O'Neill
https://www.vuelio.com/uk/wp-content/uploads/2023/09/vuelio-logo-200px.png
Jake O'Neill
2016-08-17 13:16:43
2016-08-17 13:16:43
Vlogger Spotlight: Jack & Ben, Our Swirl Life