4 tips for mastering digital PR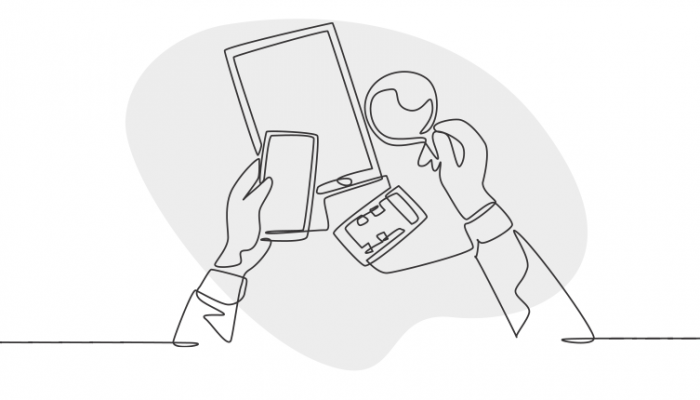 PR has changed a lot since the early days of clippings books, printed features lists and heavy media directories either weighing down office shelves or stacked up under desks.
If you are very early in your PR career, you might not know what any of those very 80s/90s extremely cumbersome things even are – and lucky for you, you don't have to. We are now firmly in the era of digital PR, so here is advice from Connective3's guide to digital PR to help you navigate this Brave New World and nail it, too.
Download the full Digital PR Starter Pack from Connective3.
1) Learn from the best
The wonderful thing about working in the creative industries is that inspiration can come from anywhere – but industry-based inspo is particularly useful.
Keep up with big news happening in the wider PR, marketing, comms and media industry by signing up for newsletters from outlets like PRWeek, Campaign, The Drum and Vuelio to make sure you are always in the loop.
Want extra insight from industry leaders? Some extra advice from us – check out these 10 Top UK PR Blogs regularly sharing takes on new campaigns from big brands, as well as emerging trends you need to be aware of. And even digital PRs can benefit from more traditional publication formats – here are the best books for PR professionals to read.
2) Brainstorm
Blank pieces of paper, empty whiteboards and the open expectant faces of colleagues and clients – terrifying and not exactly conducive to creative thinking and ideation.
Connective3 recommend breaking down your brief before diving headlong into brainstorming. Remember at school when teachers would recommend reading all of the questions before starting your answer? Same thing here – decide where to start by reading over the key information first and keep your 'why' at the centre of your mind. Remember that no idea is 'bad' and try different approaches – writing, talking, different team combinations and session formats.
3) Download some data
Data can not only back up the points you are looking to hit in campaigns or content but can also help during the planning and post-campaign measurement phase.
Connective3 has suggestions for data sources you can tap including the Office for National Statistics (ONS), Freedom of Information Requests (FOIs) and YouGov while we can also recommend Media Monitoring (we happen to have that) to see how different media channels are reporting on your topics of interest. Social listening tools like Pulsar can also track the online conversations of your intended audiences.
4) Newsjack
With advice from industry greats, knowledge of what is happening in the wider industry, good ideas and decent data, it is time to find a hook for your story. Newsjacking, also known as reactive PR, is a useful skill for connecting your message to an issue already in the minds of the public and being covered by the media.
The Digital PR Starter Pack has a full list of Dos and Don'ts to take note of before you start newsjacking, but the basics just happen to be the building blocks of PR.
Back in the analogue days, much was done with press releases and/or the offering of expertise. Digitalisation has not changed this as a PR approach, especially for newsjacking.
Ready a calendar of events and awareness days happening throughout the year that campaigns can be pinned to. Alongside your calendar, prepare press releases with useful hooks and relevant links to the news you are hitching your story to as well as information journalists, broadcasters and influencers will need when reporting. Finally, ensure you share your releases with those who will find them useful – a media database can help.
Expertise is a valuable commodity for the media – in addition to the trusty press release, there are other online options for offering it out. Services like the ResponseSource Journalist Enquiry Service enable PRs to connect with journalists asking for expert comment in specific niches, with no need for dragging out those dusty media directories of old.
Check out more advice from Connective3 in the Digital PR Starter Pack. 
https://www.vuelio.com/uk/wp-content/uploads/2022/10/Digital-PR.png
430
760
Phoebe-Jane Boyd
https://www.vuelio.com/uk/wp-content/uploads/2023/09/vuelio-logo-200px.png
Phoebe-Jane Boyd
2022-10-31 09:00:00
2022-10-31 11:28:01
4 tips for mastering digital PR