An interview with Jade Delaney of Epoch Design, this year's Creative Shootout winners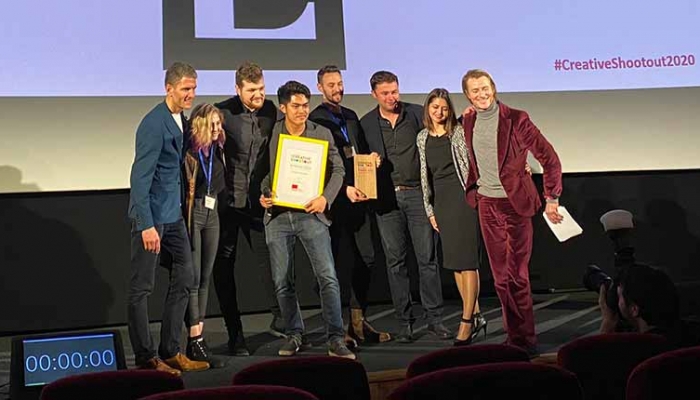 Meet the winning team from Epoch Design who put together the pitch that impressed at this year's Creative Shootout and won the opportunity to work on a campaign for Crisis. Creative writer (and copy crack shot) Jade Delaney takes us through the work that went into her and Marco (the planner), Tom (the team player) and Aaron's (the A-gamer) A-Team-level entry.
Tell us a bit about why Epoch Design decided to enter Creative Shootout this year?
It's a wonderful opportunity to get involved with a charity that does such a great job in supporting homeless people. It's something close to our hearts personally and also as an agency.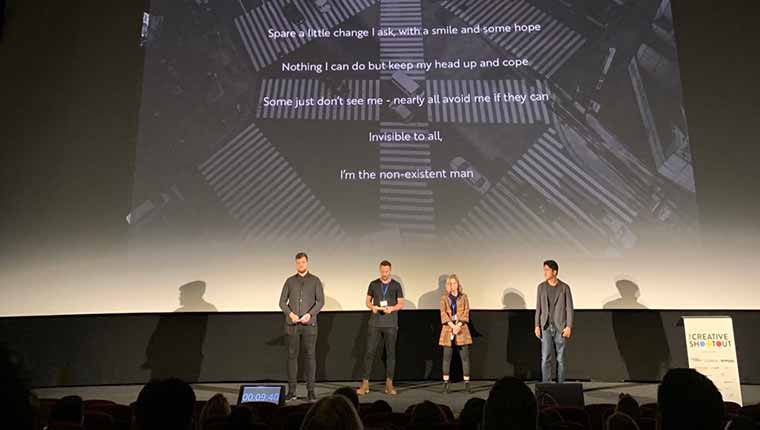 Who were the team working on the entry on the day, and what skills/experience did each person bring to the final pitch?
We have Marco, a skilled planner and talented public speaker. He brings the strategic story to life in a captivating way.
Tom, one of the creatives, is a strong conceptual thinker and a real team player. Tom approaches things with positivity and always manages to make us laugh.
Aaron is the daddy of the group, a creative well-versed in presenting and conceptualising ideas. He always brings his A game to new challenges.
And I'm Jade, a creative copywriter with a close link to homelessness, able to share my insights (I also bring snacks).
How did you come up with the idea for your entry?
We did our research before the big day. Reading accounts of people who had experienced homelessness and speaking to others who were currently sleeping rough.
As a group, we spoke about our hopes for the day. Agreeing that above all else we had to represent homeless people in a respectful way. We wanted to change the tone of the stories being told about homeless people, instead celebrating the diversity of people living rough or in transient housing, creating something positive and true to our approach as an agency.
Once we had the brief, Marco led the team in building the strategy and piece by piece we formed the story that would set up the creative.
We split into two groups, while Tom and Aaron started thinking conceptually, Marco and I went out to speak to people in London. We gained insights that would inform the next steps we took creatively.
Many rough sleepers in Bristol create art and even perform poetry for money. We wanted a way to showcase the talents of homeless people and put them first in the pitch. That's when we found a poem written by Ian Smith, who at the time he wrote The Non-Existent Man was sleeping rough in Bristol. His poem really resonated with what we had found in our research. We decided to share this poem in the pitch and put the homeless community first.
Regrouping, we spoke through initial ideas and spent some time fleshing out the concepts. We created the deck and finessed the story.
What is the process like on the day, for teams thinking of entering next year?
It's not your average day. It's very intense, quite tiring, but a lot of fun.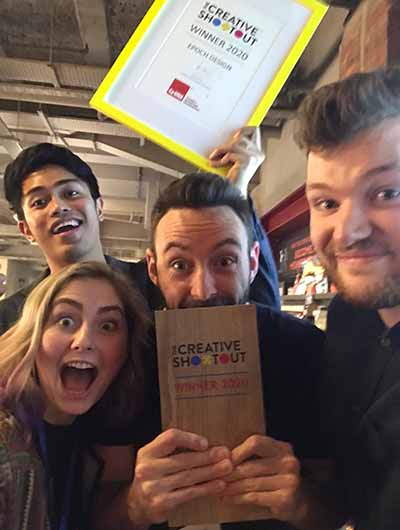 What are the advantages of having to put something together so quickly, rather than working on a pitch over a longer period?
The advantage of working under extreme time pressure is that it showed us how well we work together as a team. We didn't work independently but together throughout the day, making sure to clearly communicate. We were open with each other, welcoming any ideas and also steering clear of being too precious with concepts. Focused throughout, we made sure that what we created aligned with our proposition.
Would you recommend agencies take part in competitions like this – what skills will they strengthen from taking part?
I would recommend it – it allows you to strengthen your bond as a team. It pushes you out of your comfort zone creatively to show an audience of 400 your initial ideas, without amends, in its raw state. The whole performance is very empowering.
At the end of our pitch, each one of us felt like we did our agency proud and ourselves proud. We all felt that regardless of the award we were already winners, in our hearts.
How will this win/what you've learned from taking part this year inform how your agency works in the future?
Epoch is a branding agency working with FMCG clients, often hosting design sprints. This style of working has equipped us to work well under pressure and maintain clear communication; perfect for the Creative Shootout.
Is the charity arena somewhere PR can make real change while creating interesting and important work?
At Epoch we put the consumer first, focusing on brand identity, communications and positioning briefs, exclusively for the FMCG sector. It's a privilege to work on a campaign for Crisis because we see so many people sleeping rough in our home city of Bristol. Traditionally Epoch has created an Xmas gift for our clients, but over the last few years we have decided to put our efforts towards giving to charity. Last Christmas we donated £4,000 to a local homeless charity and we continue with our plans to support homeless charities as part of our CSR. It's a crisis that can be solved and we believe it's our duty to help make this happen.
What can we watch out for in your campaign with Crisis?
We are looking forward to forming a relationship with Crisis, learning from them and helping to create a campaign that really reflects their values and respects the wishes of homeless people. We're excited to push our original ideas further and aim to create something that will help the community.
Read about the day of competition at this January's Creative Shootout and get tips on creating successful campaigns on a budget with advice from charities Tiny Tickers and The Wildlife Trusts.
https://www.vuelio.com/uk/wp-content/uploads/2020/02/Creative-Shootout-Interview-1.jpg
430
760
Phoebe-Jane Boyd
https://www.vuelio.com/uk/wp-content/uploads/2019/09/vuelio-logo.png
Phoebe-Jane Boyd
2020-02-05 15:14:11
2020-02-05 15:14:11
An interview with Jade Delaney of Epoch Design, this year's Creative Shootout winners